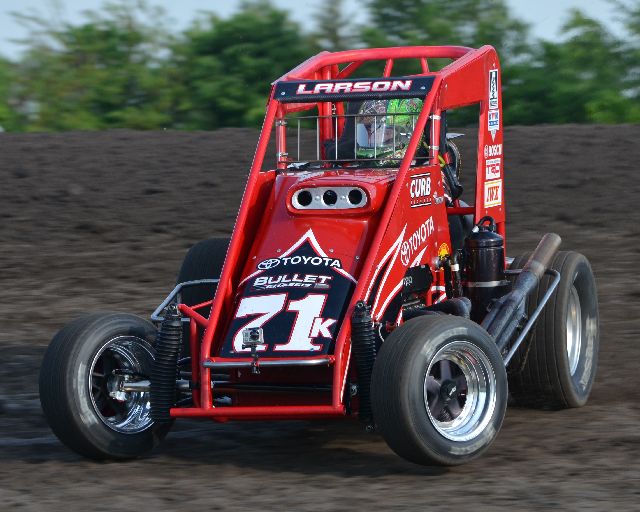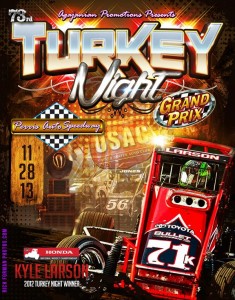 From Scott Daloisio
Perris, CA — (November 18, 2013) — The historic running of the 73rd Annual Turkey Night Grand Prix at Perris Auto Speedway on Thanksgiving Night will be streamed live to racing fans around the world on "The Cushion." The race will feature the Honda USAC National and Western Midgets.
"We want to thank Loudpedal Productions and Turn Two Media for making this significant webcast possible for fans who cannot attend the race in person," Perris Auto Speedway promoter Don Kazarian said. "Fans can watch some football in the day, have their Thanksgiving meal and then sit back and watch Midget racings best drivers in the longest running and most historic Midget race in the world live online."
After 13-years on pavement, the prestigious race made a sensational and much heralded return to dirt at Perris Auto Speedway last Thanksgiving. 2014 NASCAR Sprint Cup Rookie of the Year candidate Kyle Larson won the 98-lap main event over a stellar field of cars and a large, vocal crowd.
"When the Agajanian's called us last year and we got together and announced that the Turkey Night Grand Prix was returning to dirt, the excitement was so thick you could cut it with a butter knife," Kazarian smiled. "Now, with the race just 10-days away, the excitement is building to a crescendo all over again. The drivers are excited, the fans are excited and we are excited. And, with the broadcast of the race on "The Cushion," fans all over the world are getting excited about it, too."
Cost of the PPV broadcast of the Turkey Night Grand Prix is $24.95. There is a 100-mile blackout radius around the track. Fans who wish to get more information, to purchase the PPV or to see what other races "The Cushion" has On-Demand, can visit the web site at: http://thecushion.com/
For those who wish to attend the race in person, tickets will be available at the ticket office on the day of the race. Advance tickets are available 24-7 by calling 1-800 595-4849 or by visiting the following link online: http://pas.tix.com/Schedule.aspx?OrgNum=7
Fans attending the race in person who would like to camp at the track can do so for $25.00 per night. The campground will open at noon on Tuesday, November 26th. Fans can tailgate in the spectator parking lot on Thanksgiving.