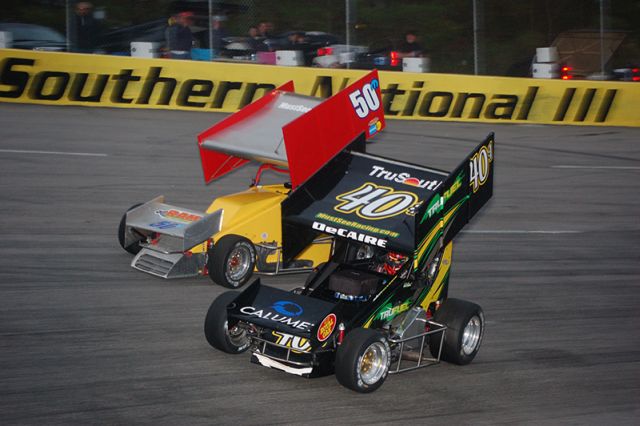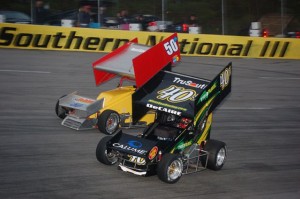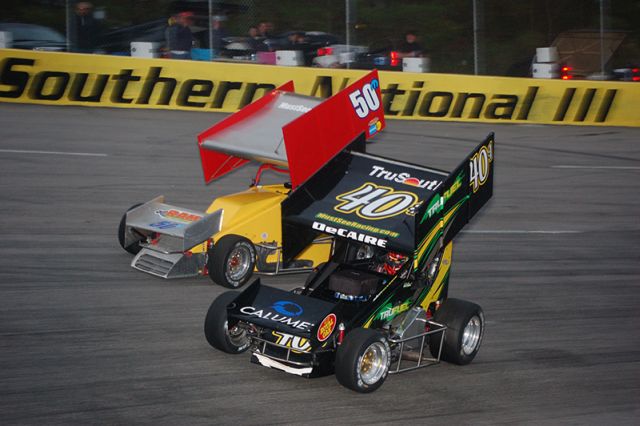 From David Sink
Keley, N.C. — (November 23, 2013) — Recently crowned 2013 TRUFUEL Must See Racing Xtreme Sprint Series (MSRXSS) champion Brian Gerster put an explanation point on his 2013 season. Gerster turned in a dominating performance in Saturday's Mason Dixon Meltdown at Southern National Motorsports Park in Kenly, NC.
The Fishers, IN driver claimed the 30-lap non-points MSRXSS season finale and the $5,000 winner's purse along with $500 for setting quick time earlier in the night.
The MSRXSS participated in the eighth annual Mason Dixon Melldown for the first time in the history of the event. The PASS Super and Pro Late Models were also part of the event. A good crowd was on hand to witness 410 c.i. winged asphalt sprint cars make their first appearance in the Carolina's since 1989.
Gerster dictated that he would be a force to be reckoned with over the course of the weekend when he turned an unofficial lap of 12.7 seconds during Friday's open practice. Gerster's unofficial time bettered nineteen other competitors.
Saturday began where Gerster left off on Friday, when Gerster turned a lap of 12.077 seconds to lead qualifying on his American Racer tires.
Gerster, who started in the eight starting position, wasted no time and was in command of the event after only nineteen circuits. Early race leader Jimmy McCune set a torrid pace early in the event after taking the point on the start. Gerster slowly worked his way to the front and overtook the lead on lap nineteen and never looked back.
"We had a really good weekend" Gerster stated in victory lane. "The track was a little bit low on grip. We really fought all weekend to get the car to stick. Relatively speaking, we were pretty good but still struggled a little bit and were trying to make it better. The way it worked out in the feature, we got right to the front quickly. We got tied up with a lapped car late in the race and McCune got close to us. Fortunately, it worked out and we got it done. All the Stock car fans stuck around after the PASS race to watch the Sprint Cars, so that was also pretty cool" concluded Gerster.
Jimmy McCune finished second followed by Jo Jo Helberg, Brian Olson, and Mike Larrison rounding out top five. Heat wins went to Gerster, McCune, and Aaron Pierce.
For more info on the MSRXSS please log onto www.mustseeracing.com or follow us on Twitter and Facebook.
OFFICIAL FINISH: 1. Brian Gerster (50m), 2. Jimmy McCune (88), 3. Jo Jo Helberg (7), 4. Brian Olson (71), 5. Mike Larrison (50a), 6. Aaron Pierce (26), Dave Baumgartner (38), 8. Troy DeCaire (40a), 9. Jacob Wilson (07), 10. Jeff Bloom (26), 11. Brian Tyler (81), 12. Sondi Eden (26e), 13. Kyle Edwards (11), 14. Kevin Blue (6), 15. Billy Norfleet (2t), 16. Jim Sheets (18), 17. Cody Gallogly (27), 18. DJ Hamilton (60), 19. Barry Gallogly (17), DNS Todd Fayard