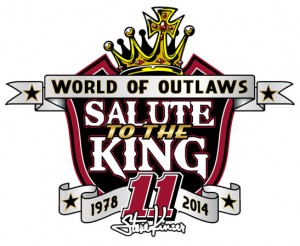 From Bill Klingbeil
(Dec. 11, 2013) – Steve Kinser, the 20-time World of Outlaws (WoO) STP Sprint Car Series champion, announced today the upcoming 2014 WoO campaign will be his final season chasing the series championship. The Tony Stewart Racing (TSR) driver, who won the series' first championship during the WoO inaugural season in 1978, is looking to join a long list of greats who have closed their career hoisting championship hardware. His final season with the WoO, called "Salute to the King," kicks off in February with the DIRTcar Nationals in Florida.
Kinser, an icon in short-track racing, has dominated the WoO series during his 35 seasons of competition. The Bloomington, Ind., native has earned 576 career WoO A-Feature triumphs and has filled the record book with accomplishments that likely will not be matched. His goal for this 2014 season is to add to those records while battling for the title.
"We're really excited to make one more run at a World of Outlaws championship," said Kinser, who will celebrate his 60th birthday June 2. "Racing with the Outlaws has been my life for almost 40 years. It's all I've known. My family has been around it. I've had the pleasure of running up and down the road racing all across this incredible country, and even in Canada, Mexico and Australia with this series. I knew it wasn't going to last forever. I feel like we have a great team here capable of winning a lot of races and challenging for the championship this year."
The "Salute to the King" campaign begins in Florida with the DIRTcar Nationals at Volusia Speedway Park in Barberville as the WoO kicks off its 37th season. A complete schedule with more than 90 nights of racing at 53 tracks will be released in the coming days. Throughout his remarkable career, Kinser has won WoO A-Features at 142 facilities, including 42 that will be part of this year's schedule. Kinser has experienced the enormous success at the most prestigious dirt tracks in the country. He has 34 career WoO A-Feature wins at both Eldora Speedway in Rossburg, Ohio, and Knoxville (Iowa) Raceway and 26 WoO A-Feature triumphs at historic Williams Grove Speedway in Mechanicsburg, Pa. Those three tracks will host multiple events in 2014, providing Kinser with more opportunities to add to his already lofty numbers.
"Steve Kinser has been an icon in short-track racing for decades and has been the face of the World of Outlaws, really, since he won his first three titles starting in 1978," WoO CEO Brian Carter said. "We are extremely thrilled for him to chase his 21st title with the World of Outlaws STP Sprint Car Series this year. It's going to be an amazing season."
Kinser won his first career WoO A-Feature at Eldora Speedway in May 1978 and, even though many things have changed since that first win, a number of constants remain. His competitive spirit has never wavered, and it's what drives him to keep competing for victories night after night. That drive to win was one of the things that motivated another young Hoosier to follow his dream of becoming a racecar driver. WoO races at Indiana dirt tracks in the 1980s were can't-miss attractions for a kid from Columbus, Ind., named Tony Stewart. "The King of the Outlaws" was Stewart's idol growing up and, for the past four seasons, Kinser has competed with the WoO in a car owned by Stewart. Having Kinser drive for TSR has fulfilled a dream for the three-time NASCAR Sprint Cup champion.
"I never missed an Outlaw show in the area when I was growing up," Stewart said. "We waited for those nights like they were holidays. It was incredible watching Steve race with Sammy (Swindell) and Doug (Wolfgang). He was our guy, being from Indiana, and when he won, it gave us all something to brag about. And he won a lot. A few years ago, when we had the chance to get him to drive for TSR, it was like a dream come true. When we got him on board, my goal was for him to drive for us for the remainder of his career. I'm really excited for him to go out and have a great season. He's the best ever and I couldn't be more proud."
In each of his 35 WoO seasons, Kinser has driven the No. 11 and represented several brands throughout his career. Last season, Bad Boy Buggies partnered with TSR and Kinser carried their colors in front of packed grandstands from coast to coast. The company, a leader in off-road utility vehicles for hunting and outdoor lifestyles, is extremely thrilled to be riding with Kinser on the No. 11 Bad Boy Buggies/J.D. Byrider/Chevrolet Performance Maxim during the upcoming "Salute to the King" season in 2014.
"We're excited and proud to be a part of Steve's final run at another championship with the Outlaws," said Eric Bondy, vice president, consumer business, Bad Boy Buggies. "His place in history is guaranteed, but his fire to compete and win races is as strong today as it was 30 years ago. We look forward to an awesome year together."
The "Salute to the King" season will include a number of special promotions. The first of several announcements to will be made in late January prior to the season-opening events in Florida. Details will be available at www.tonystewartracing.com, www.WorldofOutlaws.com,  www.stevekinser.com and www.BadBoyBuggies.com and promoted on Facebook at www.facebook.com/TonyStewartRacing and Twitter at @TonyStewart_rcg.
Steve Kinser  Driver of the No. 11 Bad Boy Buggies/J.D. Byrider/Chevrolet Performance World of Outlaws STP Sprint Series Car