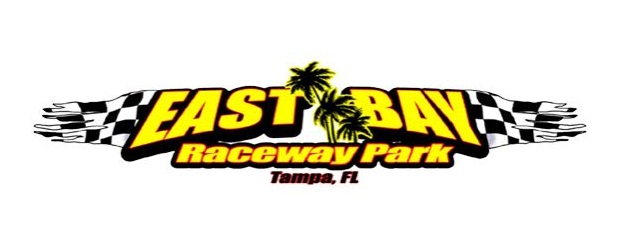 From East Bay Raceway Park
Tampa, FL — (March 22, 2014) — Wayne Johnson had his Charlie Fisher powered- XXX chassis dialed in to perfection and his driving skills were never sharper than Saturday night when he started on pole and left his competition, mainly young Rico Abreu, searching for 40 laps for a way around the Knoxville, Iowa resident.
The occasion was the l3th Annual Ronald Laney Memorial at East Bay Raceway Park where Johnson put an exclamation point to the 38th Winternationals standing in victory lane with his $10,000 check and wearing the crown for being "King of the 360's" for the second time in four years. His repeat win in the race was an emotional time for Johnson, because he counted Ronald as a good friend for many years and misses him a lot.
"Even though the track was different tonight from last night when I won, we made very few changes to the car and the only trouble I had was on the last restart when my tire was going down and I had to keep the heat in it to build up the pressure. My crew Daryl Turfurd and Conner Nelson had the car really nice and Scott Billish is back on board as a sponsor after being away for four years. Brad Benic builds Momentum Shocks while Russell Swartz proved the 'Outlaw Wings' that we run are not junk!"
He also acknowledged his other sponsors Miles Hill, Todd Carlisle, Ray Williams and Vern Rengen.
With Johnson and Bryan Sebetto in the front row and Abreu inside Parker Price-Miller in the next row and a pair of Danny's Wood and Lasoski making up row three, the red flag halted everything on lap two when Lou Kennedy got upside down on the back stretch, but was able to walk away from his car.
Abreu was in hot pursuit trying inside and outside moves to get by Johnson when they came upon lapped traffic on lap eight, but when the leader chose the high groove to maneuver through, so did Abreu. By the half-way mark, the front two-some had put three lapped cars between themselves and third place runner Price-Miller. Seven laps later that margin increased to four lapped cars when the yellow came out for a blown engine on Danny Martin's machine in turn four.
Abreu from Rutherford California making his first appearance at East Bay, driving the Abreu Vineyards ART chassis that was built in a small shop in Sacramento and having Paul Silva aboard as a chief mechanic was a serious threat the entire race, but especially on the last restart on lap 33 when Johnson noticed his loss of tire pressure. Rico explained it like this,"I tried to drag race him into turn one and I had my wing back pretty far." His Shaver powered machine pulled inside Johnson, but the leader was relentless in his pursue of this win and mustered ahead by the time the two were half-way between turns one and two.
Abreu didn't give up and according to him, "I like East Bay, it's a lot like some of the tracks in California." He wanted to give special recognition to Jeanie and Bryan Butler for their special help with helmets, safety equipment and seats. Abreu gained early driving experience spending four years in Outlaw Go-Karts and now has four years in sprint cars. Tonight he had to settle for second behind Johnson who led by 0.624 seconds at the finish.
Eleventh starting Terry McCarl came on late to finish third and admitted in his interview that this was the best track in Florida because it had a top, a middle and a bottom groove. His Singer powered ART chassis is sponsored by Morgan Strawberry Farms and Randy Bernette. He thanked his wife Lori for putting up with three drivers in the family.
Jason Sides finished fourth followed by David Gravel, Christopher Bell, Jac Haudenschild, Greg Hodnett, Danny Smith and Danny Lasoski in the top ten. Heats were won by Sides, Smith, McCarl, Lou Kennedy, Hodnett and Tom Kennedy.
Thanks, Jean Lynch for East Bay Raceway Park
Professional MotorSports Services
360 Sprints 2/22/2014
A-Main:1. Wayne Johnson (Knoxville, IA), 2. Rico Abreu (Rutherford, CA), 3. Terry McCarl (Altoona, IA), 4. Jason Sides (Bartlett, TN), 5. David Gravel (Watertown, CT), 6. Christopher Bell (Norman, OK), 7. Jac Haudenschild (Wooster, OH), 8. Greg Hodnett (Thomasville, PA), 9. Danny Smith (Chillicothe, OH), 10. Danny Lasoski (Dover, MO), 11. Bryan Sebetto (Fremont, OH), 12. Danny Wood (Norman, OK), 13. Parker Price-Miller (Kokomo, IN), 14. Etienne Girard (Drummondville, ON), 15. Greg Wilson (Benton Ridge, OH), 16. Thomas Kennedy (Winnipeg, BC), 17. Russ Hall (Des Moines, IA), 18. Danny Martin Jr (Tampa, FL), 19. Chad Kemenah (Findlay, OH), 20. Lou Kennedy (Winnipeg, BC),
B-Main 1:1. Greg Wilson (Benton Ridge, OH), 2. Jac Haudenschild (Wooster, OH), 3. Scotty Thiel (Sheboygen, WI), 4. Sam Hafertepe Jr. (Sunnyvale, TX), 5. Danny Holtgraver (Pittsburgh, PA), 6. Carson McCarl (Altoona, IA), 7. Johnny Gilbertson (Plant City, FL), 8. Brandon Hanks (Burlison, TN), 9. Dain Naida (Tecumseh, MI), 10. Klint Angelette (Thibodaux, LA), 11. Terry Gray (Bartlett, TN), 12. Lance Hester (Long Beach, MS), 13. Todd Fayard (Saucier, MS),
B-Main 2:1. Christopher Bell (Norman, OK), 2. Chad Kemenah (Findlay, OH), 3. Channin Tankersley (Highlands, TX), 4. Michael Miller (Ocean Springs, MS), 5. Shawn Dancer (Delphos, OH), 6. Ryan Moore (Moss Point, MS), 7. Robbie Smith (Tampa, FL), 8. Todd Hoddick (Cheektowaga, NY), 9. Josh Baughman (Odessa, TX), 10. AJ Maddox (Tampa, FL), 11. Gene Lasker (Tampa, FL), 12. Tyler Godwin (Tampa, Fl),
B-Main 3:1. Danny Martin Jr (Tampa, FL), 2. Russ Hall (Des Moines, IA), 3. Glenn Styres (Ohsweken, ON), 4. Tim Shaffer (Aliquippa, PA), 5. Danny Straton (Birdsboro, PA), 6. Morgan Turpen (Cordova, TN), 7. Freddie McCall (Brewton, AL), 8. Tony Agin (Fort Myers, FL), 9. Gary Floyd (San Angelo, TX), 10. Joe Zuczek (Venice, FL), 11. Kevin Ward Jr (Port Leyden, NY), 12. Jerod Roller (Hernando, MS),
Heat Race 1:1. Jason Sides (Bartlett, TN), 2. Jac Haudenschild (Wooster, OH), 3. Carson McCarl (Altoona, IA), 4. Danny Holtgraver (Pittsburgh, PA), 5. Brandon Hanks (Burlison, TN), 6. Klint Angelette (Thibodaux, LA), 7. Lance Hester (Long Beach, MS), 8. Todd Fayard (Saucier, MS),
Heat Race 2:1. Danny Smith (Chillicothe, OH), 2. Chad Kemenah (Findlay, OH), 3. Shawn Dancer (Delphos, OH), 4. Michael Miller (Ocean Springs, MS), 5. Gene Lasker (Tampa, FL), 6. Robbie Smith (Tampa, FL), 7. Josh Baughman (Odessa, TX),
Heat Race 3:1. Terry McCarl (Altoona, IA), 2. Danny Martin Jr (Tampa, FL), 3. Danny Straton (Birdsboro, PA), 4. Tim Shaffer (Aliquippa, PA), 5. Morgan Turpen (Cordova, TN), 6. Freddie McCall (Brewton, AL), 7. Joe Zuczek (Venice, FL),
Heat Race 4:1. Lou Kennedy (Winnipeg, BC), 2. Greg Wilson (Benton Ridge, OH), 3. Sam Hafertepe Jr. (Sunnyvale, TX), 4. Johnny Gilbertson (Plant City, FL), 5. Scotty Thiel (Sheboygen, WI), 6. Dain Naida (Tecumseh, MI), 7. Terry Gray (Bartlett, TN),
Heat Race 5:1. Greg Hodnett (Thomasville, PA), 2. Christopher Bell (Norman, OK), 3. Channin Tankersley (Highlands, TX), 4. AJ Maddox (Tampa, FL), 5. Todd Hoddick (Cheektowaga, NY), 6. Ryan Moore (Moss Point, MS), 7. Tyler Godwin (Tampa, Fl),
Heat Race 6:1. Thomas Kennedy (Winnipeg, BC), 2. Russ Hall (Des Moines, IA), 3. Glenn Styres (Ohsweken, ON), 4. Kevin Ward Jr (Port Leyden, NY), 5. Gary Floyd (San Angelo, TX), 6. Tony Agin (Fort Myers, FL), 7. Jerod Roller (Hernando, MS),