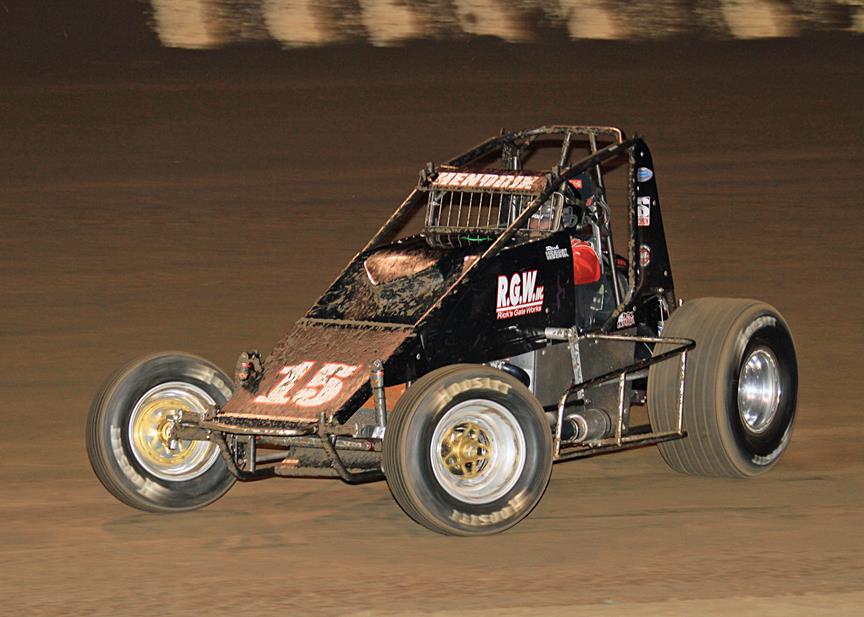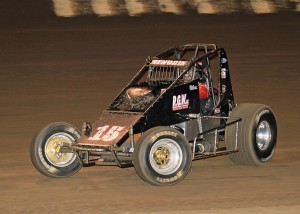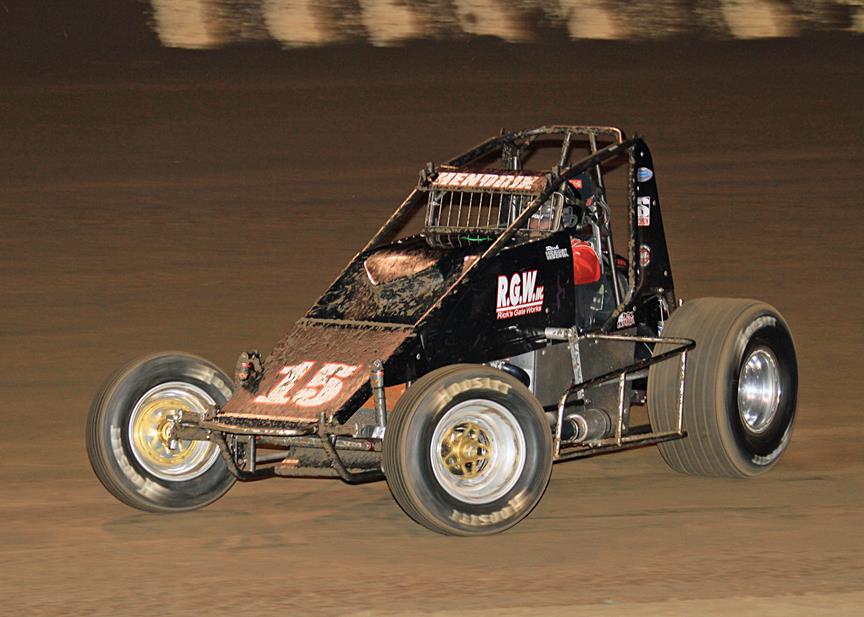 From Scott Daloisio
Perris, CA — (March 12, 2013)  — Perris Auto Speedway's Senior Sprint Car and Young Gun Sprint Car Series' will open their 2014 season this Saturday night, March 15th, along with the Amsoil USAC/CRA Sprint Cars and the California Lightning Sprint Cars at the annual Sokola Shootout.  It will be the fourth season of action for the Senior Sprints and the second season for the Young Guns.  Spectator gates will open at 5:00 PM and racing will commence at 7:00.
The Senior Sprints is for drivers 45-years-old and over and the Young Guns is for drivers from the 14-21.  The Young Guns cannot have any prior sprint car racing experience when they enter the series.  The Seniors are more than welcome to do double duty and also run with the USAC/CRA portion of the show.  The Young Guns cannot.
"Originally we allowed younger USAC/CRA drivers to run with the Young Guns when we started the class last year," promoter Don Kazarian said.  "We quickly learned that was a mistake/.  They have too much experience for the new Young Guns and it showed on the track.  That is not what this is all supposed to be about.  It is about younger drivers with like ability coming out and getting their laps in and honing their skills.  Then, when it is their time, they will be able to comfortably move up to the USAC/CRA Series."
Last year's champion, 18-year-old Logan Williams of Yorba Linda, is moving up to the USAC/CRA Series full-time this season after spending a full season with the Young Guns.  He will be racing alongside his Hall of Fame father Rip and old siblings Cody and Austin.  Kazarian thinks he will do well in the series and thinks his time in the Young Guns will help him.
"Logan ran all but one race in the Young Gun Series last season and all of those laps will help him," Kazarian said.  "It will give him more confidence and it will do the same for other Young Guns who move up.  They will be prepared."
Over the years a lot of teams came out with a driver they thought was ready only to be humbled once they got on the track in the USAC/CRA Series/.  Humbled to the point that they wrecked cars (theirs and other drivers) and quit or they just could not keep up the pace and quit as well.  Thus, many racing careers ended before they could really get started.
"I have said it before and I will say it again, a driver jumping into the USAC/CRA Series before he is ready is like feeding him to the lions," Kazarian said.  "USAC/CRA is one of the best sprint car series in the nation.  The drivers are bona fide stars and they do not mess around.  How can somebody who has never raced before not be nervous when they line up for their first heat race and Damion Gardner, Mike Spencer and Cory Kruseman are in it?  No way in heck they cannot be nervous.  It is the same with new drivers in the Senior Sprint Series."
Unlike the Young Guns, the Senior Sprints is a mixed bag of drivers.  On one hand, you may have a guy who has sat in the stands all of his life, but who never had the time or the funds to do it.  Now that he is a little more established, he gives it a try.  You also have a lot of drivers who have raced for years in the upper divisions of open wheel racing.  They still want to race, but they want to do it in a more subdued atmosphere.
In the first three years of The PAS Senior Sprint Car Series, the three champions – Bill Badger of Sana Clarita, Bruce Douglass of Ventura and Palmdale's Rick Hendrix – have all been over 60-years of age.  Defending champion Hendrix is a three-time USAC champion (Western Midgets, TQ's and Western Sprints).
"Many of the drivers in the Senior Sprints have been racing for a long time," Kazarian said.  "They can jump in and run with the USAC/CRA guys and hold their own quite well."
Both of the classes are essentially trophy only classes.  The Young Guns do have a $2,900.00 point fund they are racing for in 2014.  Ironically. that was mostly put up by the guys associated with the Senior Sprint Series.
Kazarian noted that interest is up for both classes for 2014 and lots of new drivers have been testing at the track.  Drivers in each class run hot laps, a heat race and a main event.  Based on the quality of the driving exhibited by the Young Guns in 2013, Kazarian has increased their main events from 12 to 15-laps.  The Senior Sprint main events will be 20-laps.
Adult tickets for Saturday are $25.00.  Seniors 65 and older get in for $20.00.  For active military members with proper id, teens 13-18 with their school id and kids 6-12, it just $5.00.  Children 5 and under are admitted free.
For more information on The PAS call: (951) 940-0134.
Camping for all events at The PAS is available for $25.00 per night.  The campground will open at noon on Friday.  Tailgating in the spectator parking lot will begin at 1:00 PM for all PAS events as well.
Perris Auto Speedway wants to thank its corporate sponsors for the 2014 season. 1-800LoanMart, 777 Racecars, All Coast Construction, Amsoil, Ayers Hotel and Spa, BlueLine Rental, Budweiser, CamGuard, Champion Towing, City of Perris, Daytona Boat & RV Storage, Edelbrok, Engine Pro, HD Industries, Hoosier Tires, K&N Engineering, McMahon's RV, Pep Boys, P.I.P.E., Pepsi-Cola, Pick-A-Part Auto Salvage, Prolong Super Lubricants, Running Waters Hospice, Scott Sales, Shaver Racing Engines, Sprint Car Driving Experience, Square H, Swedish Speed, Trench Shoring, US Foods and Valley Auto Salvage.
To keep up with all of the latest Perris Auto Speedway news, photos, gossip and receive special offers, sign up at The PAS Facebook site at:  https://www.facebook.com/pages/Perris-Auto-Speedway/113876798686480?ref=hl
You can also keep up with the latest news and receive special offers from The PAS Twitter site: http://twitter.com/perrisautospdwy.
You can also keep up with the latest news and receive special offers from The PAS Twitter site:  http://twitter.com/perrisautospdwy.