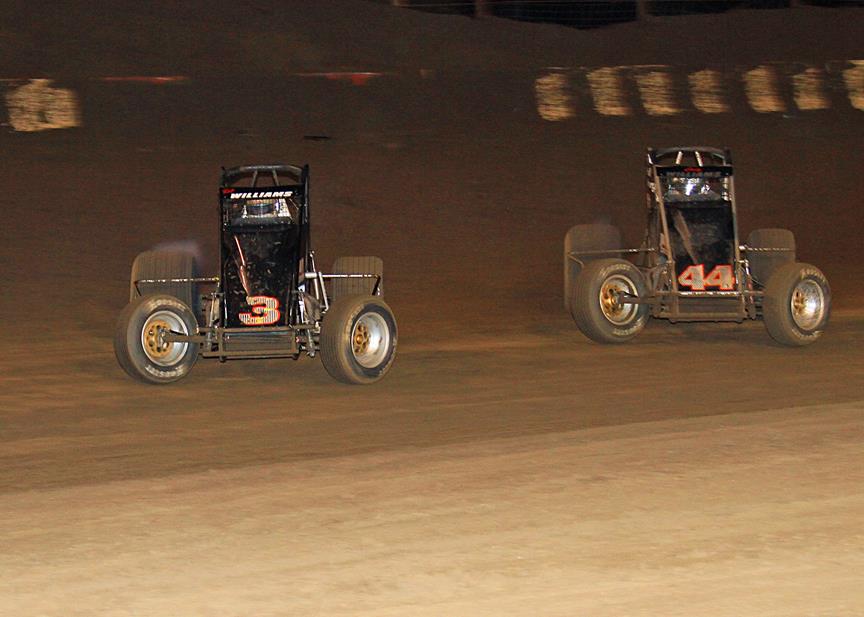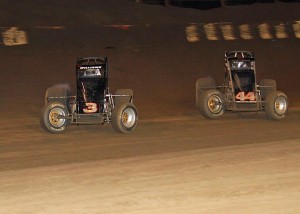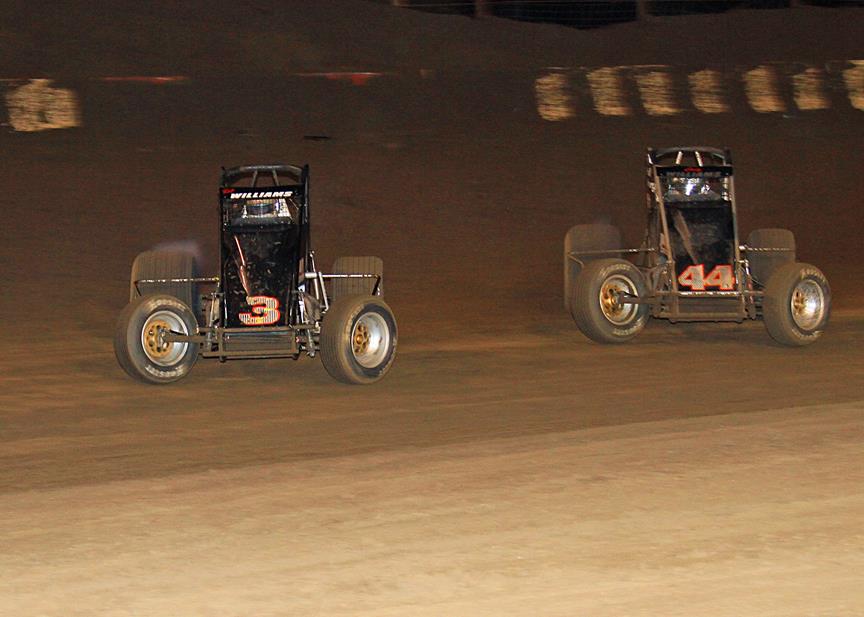 From Scott Daloisio
Perris, CA — (March 11, 2013) — When Perris Auto Speedway opens its 19th season with the Sokola Shootout for the Amsoil USAC/CRA Sprint5 Cars this Saturday night, March 15th, the busiest area of the pits will like usual be the John Jory Corporation hauler that brings the Williams family to the famous Riverside County half-mile clay oval. There will be at least three of the famous black race cars in the pits and possibly four as there will be most of the season. Spectator gates will open at 5:00 PM and the first race will take the green flag at 7:00.
For the past few seasons, National Sprint Car Hall of Famer Rip Williams has had the pleasure of competing against his two oldest sons, Cody and Austin. In 2014, the 57-year-old Yorba Linda resident will also be racing versus his youngest son Logan.
"It is fun you know," Williams laughed when asked what it is like competing with his boys. "I have always been a real serious racecar driver. Now it is time to just go out there and relax some more and have some fun. They (his sons) saw me doing it for all those years out at Perris and they all said they wanted to do it, so when they all finished high school football we started putting them in the cars."
Last season youngest sibling Logan won the PAS Young Gun Sprint Car championship. For 2014, the team is moving the recently turned 18-year-old El Dorado (Placentia) High School senior up to the big time with USAC/CRA and he is going to face a big adjustment.
"He is going to have to get used to the speed," the proud father stated. "He is coming from a restricted 410 engine last year to an unrestricted one this year. It is going to be quite a jump for him. He is jumping into a car that is 800 horsepower so a lot of adjustments need to be made. He ran a bit last year with a 410 in the URA or whatever they called it and he ran once at Victorville. He was not like my other kids. They ran quite often. He does not have that many sprint car rides."
Williams' illustrious career began in 1978 when he was named co-Rookie of the Year in the original CRA. Since then he has raced every single year and has won over 100 main events and was the inaugural USAC/CRA champion in 2004. The stocky racer has always been known far and wide as a hardnosed competitor who is willing to give back anything that is given to him when he is on the track. However, he does have a soft spot when it concerns his sons racing.
"Watching the kids is the most fun," he offered when asked if it was more fun for him to win a main event or see one of his boys do it.
However, when queried if he would give one of his boys some extra room if it came down to battling with them coming off turn four for a main event win, Williams was adamant in his answer.
"No," he said with a how could you ask that kind of laugh. "No."
Racing against three sons is quite rare, but in the future Williams could be racing against his three sons and his daughter in law. Last October, Cody married"Hurricane Heidi" Tresler, a talented sprint car driver from Victorville.
"I don't know if she is going to race," he said. "She just became a nurse. She is an RN now and I don't what she plans on doing (when it comes to racing). She is just trying to get established with that. They found a house out by the Corona airport. They are just getting settled into that"
Since he began in the sport, things have changed and not all of the change have been for the good in Williams' eyes.
"Back in the day you had drivers and owners," he stated. "Now you have mostly dad or an uncle or something like who owns the racecar. Only a few guys now do not have a family connection. Like Damion (Gardner). He is driving for the Alexander's. Me and my kids drive for Jack Jory and Faas (Nic) drives for Keith Ford. Other than that there is not that many drivers who have rides. Most of the others, their dad owns the car."
"When I first started, the goal was always to get in somebody else's car and drive it," the veteran driver stated. "However, that avenue has pretty much closed down for now. I mean, the top five or six drivers can get rides, but most of all of the others are in family owned cars.
Amazingly, Williams has driven for Jack & Sharon Jory for 18-years now. That length of time is just about unheard of in open wheel racing. And, consider the fact that the team has added three cars for Williams' three boys and they are at every race.
"We just communicate and take care of his money," Williams responded when asked how they have stayed together so long. "I don't waste his money. And, we have always gotten along. I never do anything without asking. He tells me I do not have to ask, but I always ask anyway. You have to keep them (car owners) informed on what you are doing and why you are doing it. You have to ask them to help make decisions. You just can't go in there and spend a bunch of money and not tell a guy what's up."
Another thing that has changed since "The Ripper: launched his sprint car career 37-springs ago are the driver's styles.
"Times have changed, you know," he said. "People drive differently. Before there wasn't any such thing as slide jobs. Now you see that a lot. If you give someone a slide job, he is going knock you over the fence in the next corner. Things are evolving and changing all of the time."
Williams is not sure how many more years he is going to drive, but he is not ready to retire. Having said that, he may miss Saturday's race at The PAS as he is getting over a case of pneumonia.
"I missed last week's race in Arizona and don't know if I will be ready to drive at The PAS," he stated. "I am trying to get over it and the first priority is to get well. I have to build my lungs back up so I can drive."
Even if he us not racing on Saturday, the legendary driver will be in the pits helping his sons in the tough USAC/CRA Series.
There will be three other divisions in action on Saturday. The PAS Senior Sprint Car for driver's 45-years-old and over. The PAS Young Guns Sprints for drivers aged 14-21 and the California Lightning Sprint Cars.
Adult tickets for Saturday are $25.00. Seniors 65 and older get in for $20.00. For active military members with proper id, teens 13-18 with their school id and kids 6-12, it just $5.00. Children 5 and under are admitted free.
For more information on The PAS call: (951) 940-0134.
Camping for all events at The PAS is available for $25.00 per night. The campground will open at noon on Friday. Tailgating in the spectator parking lot will begin at 1:00 PM for all PAS events as well.
Perris Auto Speedway wants to thank its corporate sponsors for the 2014 season. 1-800LoanMart, 777 Racecars, All Coast Construction, Amsoil, Ayers Hotel and Spa, BlueLine Rental, Budweiser, CamGuard, Champion Towing, City of Perris, Daytona Boat & RV Storage, Edelbrok, Engine Pro, HD Industries, Hoosier Tires, K&N Engineering, McMahon's RV, Pep Boys, P.I.P.E., Pepsi-Cola, Pick-A-Part Auto Salvage, Prolong Super Lubricants, Running Waters Hospice, Scott Sales, Shaver Racing Engines, Sprint Car Driving Experience, Square H, Swedish Speed, Trench Shoring, US Foods and Valley Auto Salvage.
To keep up with all of the latest Perris Auto Speedway news, photos, gossip and receive special offers, sign up at The PAS Facebook site at: https://www.facebook.com/pages/Perris-Auto-Speedway/113876798686480?ref=hl