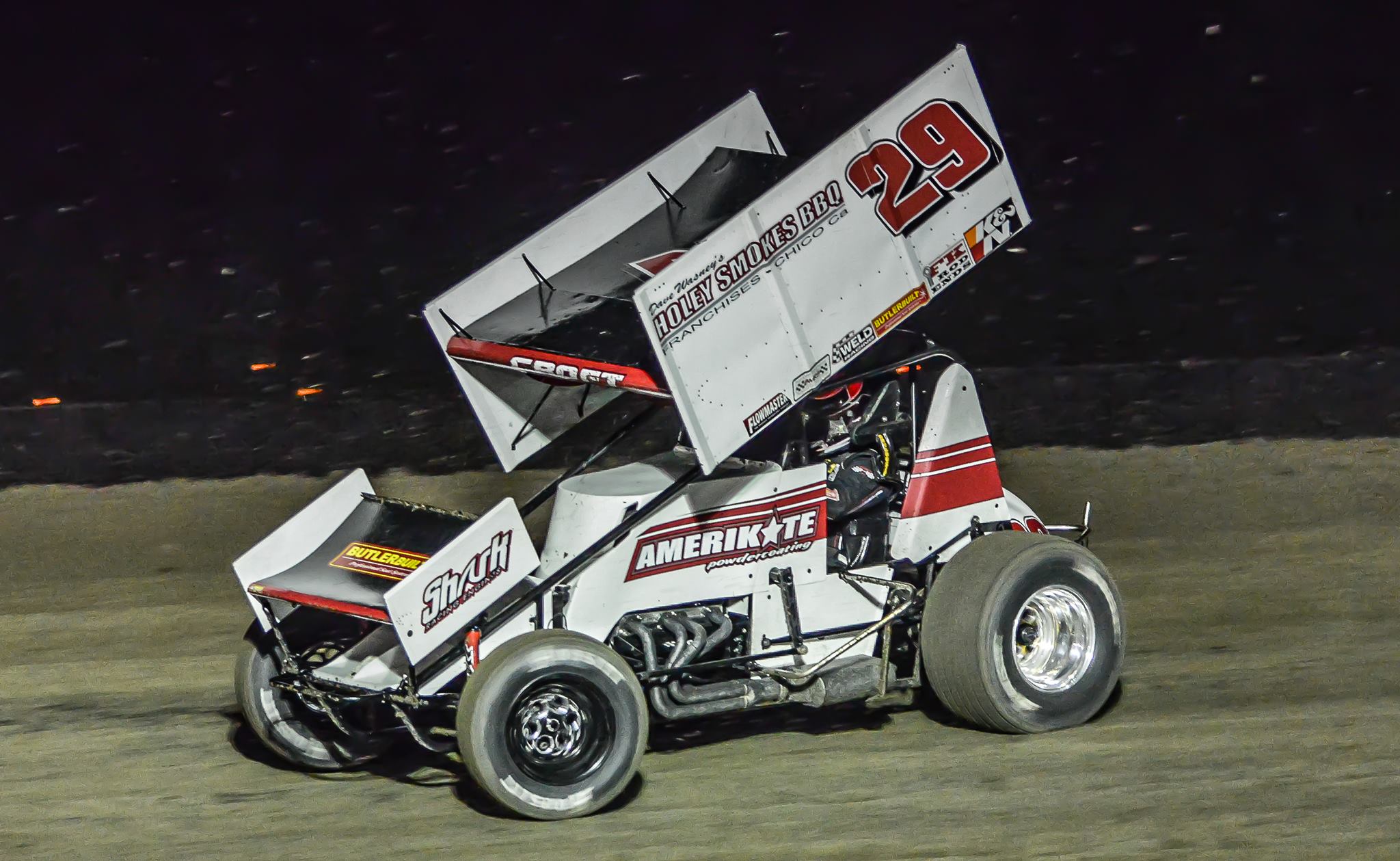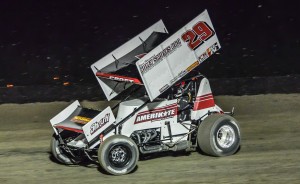 From Peterson Media
One week after a wreck sidelined him from Civil War competition, Willie Croft returned to action Friday night at the Stockton Dirt Track, and again early contact hampered him, however the Sacramento driver would complete the race aboard his wounded No. 29 machine.
"There was a restart early in the race that I don't think many people knew what was going on, and there was chain reaction wreck, and our nose wing got knocked off, and we got a flat tire," Croft said.
Timing his Holey Smokes BBQ/Christian Stover Foundation/A.R.T. backed entry in eighth fastest against the 33 cars checked into the event.
Lining up in the second row of his heat, 'Double Down' picked up a third place finish, moving him to the feature where he lined up in the 11th spot.
When the green flag waived for the 30-lap feature event, Croft got off to a strong start as he raced his way inside the Top-10 on the lightning fast surface, until the yellow waived on the seventh lap.
The ensuing restart was chaotic, as half the field seemed to line up in double file formation, and the other half was in single file, and as officials let the race restart, a couple cars got out of shape in the first corner, and Croft came away with a left rear flat, and a broken nose wing.
Making a trip to the work area, Croft's crew along with member of other teams, got his left rear changed, and attempted to get his nose wing back functional, but when the race resumed, the wing collapsed, and Croft had a handful to deal with the rest of the night.
Keeping his nose clean, Croft was able to cross the stripe in the 13th spot.
"It got a little wild on one of the restarts, and pretty much ended our night," Croft said. "I have to thank everyone who was in the work area lending us a hand, it means a lot to see so much help, and it was nice to make some laps."
Willie Croft Racing would like to thank Holey Smokes BBQ, The Christian Stover
Foundation, ButlerBuilt , Brown and Miller, FK Rod Ends, Hinchman Indy, Schoenfeld, K&N, Smith Precision Products, All Pro Cylinder Heads, Shark Racing Engines, A.R.T., M.R.O. Industrial Supply, Redline Oil, Kaeding Performance, PaPa's Beef Jerky, Dan Olson Products, Vortex Wings, AIC Powdercoating, and GUTS for their support in 2014.
2014 BY THE NUMBERS: Races-2, Wins-0, Top 5's-0, Top 10's-0.
ON TAP: Croft will return to action on Saturday night at the Antioch Speedway for round two of the Civil War Series Presented By Flowmaster.
STAY CONNECTED: Stay connected with Willie Croft Racing by visiting www.williecroftracing.com. You can also follow him on Twitter @wcroft29.