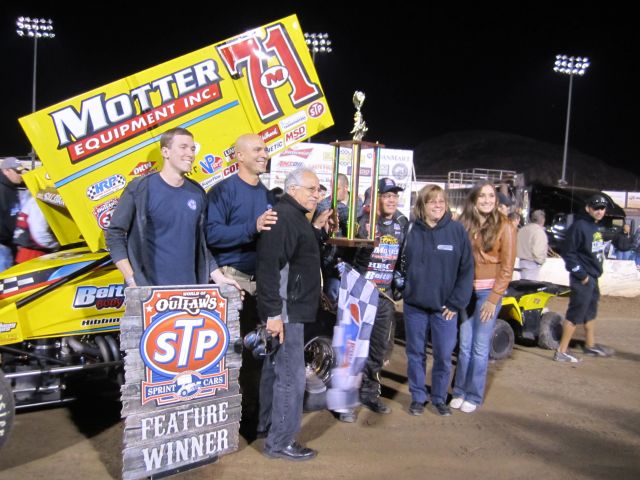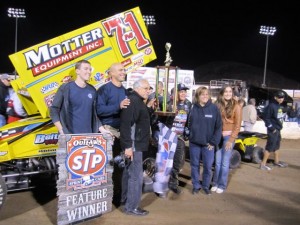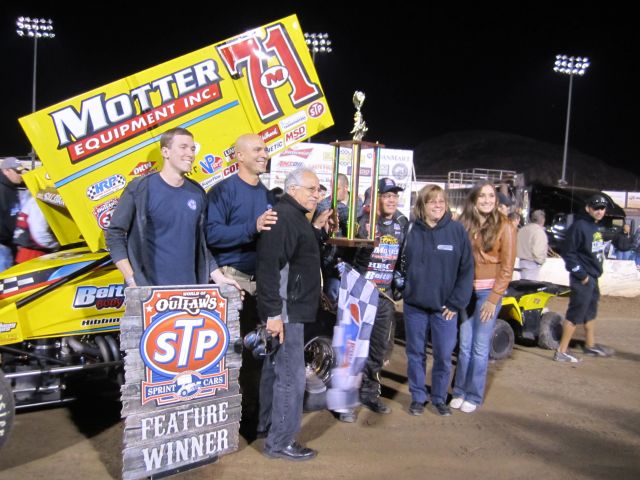 From Sam Martin
Perris, CA – (April 12, 2014) – Joey Saldana converted his seventh quick time of the season into his first World of Outlaws STP Sprint Car Series victory of the season on Saturday night in the SoCal Showdown at Perris Auto Speedway.
Daryn Pittman made him earn it. Saldana was forced to hold off repeated slide job attempts by the defending series champion before eventually taking the checkered flag. Pittman wound up second with his KKR teammate Brad Sweet in third. Sammy Swindell and Paul McMahan rounded out the top five.
Saldana has been remarkable in qualifying this season, setting the pace for the night by earning his seventh quick time in 14 events behind the wheel of the Motter Equipment HE&M Saw #71M to guarantee him a starting position in the dash, where for the second consecutive night a "0" was drawn for the invert.
The 30-lap A-main showcased a battle between Saldana, who won in 2012 at Perris, and Pittman, who won last season at Perris. Saldana won the original start, but a spin in turn one by Friday night winner Cody Darrah forced a complete restart. Pittman, who was on the pole, took a run into turn one to try a slide job on Saldana, but as Pittman slid up the track Saldana again powered around him for the lead.
A caution on lap 2 gave Pittman another chance, and on the restart on Saldana chose the top line, but Pittman used some grip on the bottom to power to the lead in the Great Clips #9 Kasey Kahne Racing machine. Pittman was forced into a defensive stance as Saldana threw a slide job in turn two on the following lap. Saldana, too, slid up the track allowing Pittman to hold the lead.
Then a caution flew again on with five laps complete. Pittman chose the bottom, which put to the outside Saldana. Pittman looked for the grip, but Saldana got a strong run as well. Pittman led into the corner on the bottom, but Saldana surged to the lead to make the pass to go in front, where he remained for the rest of the way.
Pittman and Sweet closed the gap to Saldana on lap 11, and pulled to Saldana's bumper on lap 13 before another caution flew. Saldana chose the top and used a great restart to cruise to the win.
Saldana and his team celebrated its first victory of the year with a few special guests with the team.
"We have Workshops for Warriors here tonight and we owe a lot to them or we couldn't be out here racing," said Saldana, of the Brownsburg, Ind. "If it wasn't for all the veterans out there that work hard for us, I couldn't do what I love to do, which is race. A great night for us, we'll take it Daryn definitely made me work for it, it was tough. It was just a good night. Thanks to Dan Motter, he's is in Chile at the moment, but I'm sure he was pretty excited. Actually Daryn pretty much showed me the track was kind of moving down a little bit and had some drive, but up until that point it was crazy on those restarts."
Pittman kept the pressure on Saldana all night, really closing the gap in the waning laps.
"I felt like we probably had the best car, even after he got the lead we could run him back down," said Pittman, the 2013 World of Outlaws STP Sprint Car Series champion from Owasso, Okla. "Unless he made a mistake and I was able to get some speed on him on the straight away it was hard to pull the trigger and slide him, the track was just tough. We had a good car, really felt like those restarts were critical and just didn't know what to do. I probably could have used more race track on the front stretch to slow down his momentum on the starts and a couple of the ones I bailed out on maybe I didn't have to."
After winning last weekend in Calistoga, Sweet was the lone native of the Golden State on the podium on the final night of the California Spring Break Tour, which has featured eight races in California over the past several weeks. Sweet held off a late-race charge from Swindell to put the SureTestSupplies.com #49 of Kasey Kahne Racing on the podium.
"We'll take it after last night," said Sweet, a native of Grass Valley, Calif., who had a rough night on Friday at Kings Speedway. "We were good all night, like Daryn said it was just tough to get a run. I've got my grandparents here and some friends and family so it's always good to run in front of them. I'm pretty happy to come home in third. I raced pretty hard with Sammy [Swindell] for third and fourth and we were able to bring it out here on the front stretch so that's all you can ask for tonight and we'll go on to the next one."
Five-time champion Donny Schatz continues to lead the World of Outlaws STP Sprint Car Series championship standings, taking a seven-point advantage into Tuesday's race in El Paso, Texas. McMahan is hanging tough in second as Pittman gained ground and trails Schatz by only 12 points. Saldana is in the fourth place only 39 points behind while Sweet rounds out the top five trailing by 46 points.
The World of Outlaws STP Sprint Car Series returns to action on Tuesday night, April 15, at El Paso Speedway Park, where last year Steve Kinser picked up his first win of the season.
PERRIS AUTO SPEEDWAY NOTES – Joey Saldana was the fastest qualifier around the semi-banked, half-mile of Perris Auto Speedway with a time of 13.997 seconds and earn five championship points. Also earning points were Daryn Pittman (4 points), Brad Sweet (3), Sammy Swindell (2) and Paul McMahan (1). Brad Sweet, Tim Kaeding, and Sammy Swindell won heat races. … The dash draw was a 0 for the third time this year and the second time in as many nights. … Daryn Pittman won the dash for the third time this year. … Through 14 events, Saldana has set quick time in seven events, and has earned qualifying points on all but two race nights.
World of Outlaws STP Sprint Car Series Statistical Report; Perris Auto Speedway; Perris, Calif.; April 12, 2014
A-Main – (30 Laps): 1. 71M-Joey Saldana [2] [$10,000]; 2. 9-Daryn Pittman [1] [$5,500]; 3. 49-Brad Sweet [3] [$3,200]; 4. 1-Sammy Swindell [4] [$2,800]; 5. 51-Paul McMahan [5] [$2,500]; 6. 15-Donny Schatz [12] [$2,300]; 7. 83-Tim Kaeding [6] [$2,200]; 8. 21-Brian Brown [8] [$2,100]; 9. 29-Kerry Madsen [10] [$2,050]; 10. 5W-Lucas Wolfe [14] [$2,000]; 11. 4-Cody Darrah [7] [$1,500]; 12. 7S-Jason Sides [15] [$1,200]; 13. 11K-Kraig Kinser [11] [$1,100]; 14. 1A-Jacob Allen [16] [$1,050]; 15. 1S-Logan Schuchart [9] [$1,000]; 16. 11-Steve Kinser [13] [$900]. Lap Leaders: Joey Saldana 1, 6-30; Daryn Pittman 2-5. KSE Hard Charger Award: 15-Donny Schatz [+6]
Qualifying: 1. 71M-Joey Saldana, 13.997; 2. 9-Daryn Pittman, 14.282; 3. 51-Paul McMahan, 14.296; 4. 4-Cody Darrah, 14.332; 5. 21-Brian Brown, 14.347; 6. 1S-Logan Schuchart, 14.388; 7. 49-Brad Sweet, 14.437; 8. 29-Kerry Madsen, 14.454; 9. 1-Sammy Swindell, 14.455; 10. 11K-Kraig Kinser, 14.490; 11. 83-Tim Kaeding, 14.550; 12. 15-Donny Schatz, 14.552; 13. 11-Steve Kinser, 14.559; 14. 5W-Lucas Wolfe, 14.655; 15. 7S-Jason Sides, 14.694; 16. 1A-Jacob Allen, 14.846
Heat 1 – (8 Laps – Top 6 finishers transfer to the A-feature): 1. 49-Brad Sweet [2]; 2. 4-Cody Darrah [3]; 3. 71M-Joey Saldana [4]; 4. 11-Steve Kinser [5]; 5. 1A-Jacob Allen [6]; 6. 11K-Kraig Kinser [1]
Heat 2 – (8 Laps – Top 6 finishers transfer to the A-feature): 1. 83-Tim Kaeding [1]; 2. 29-Kerry Madsen [2]; 3. 9-Daryn Pittman [4]; 4. 21-Brian Brown [3]; 5. 5W-Lucas Wolfe [5]
Heat 3 – (8 Laps – Top 6 finishers transfer to the A-feature): 1. 1-Sammy Swindell [2]; 2. 15-Donny Schatz [1]; 3. 1S-Logan Schuchart [3]; 4. 51-Paul McMahan [4]; 5. 7S-Jason Sides [5]
Dash – (6 Laps, finishing order determined first 6 starting positions of A-feature): 1. 9-Daryn Pittman [2]; 2. 71M-Joey Saldana [1]; 3. 49-Brad Sweet [4]; 4. 1-Sammy Swindell [5]; 5. 51-Paul McMahan [3]; 6. 83-Tim Kaeding [6]
World of Outlaws STP Sprint Car Series Championship Standings