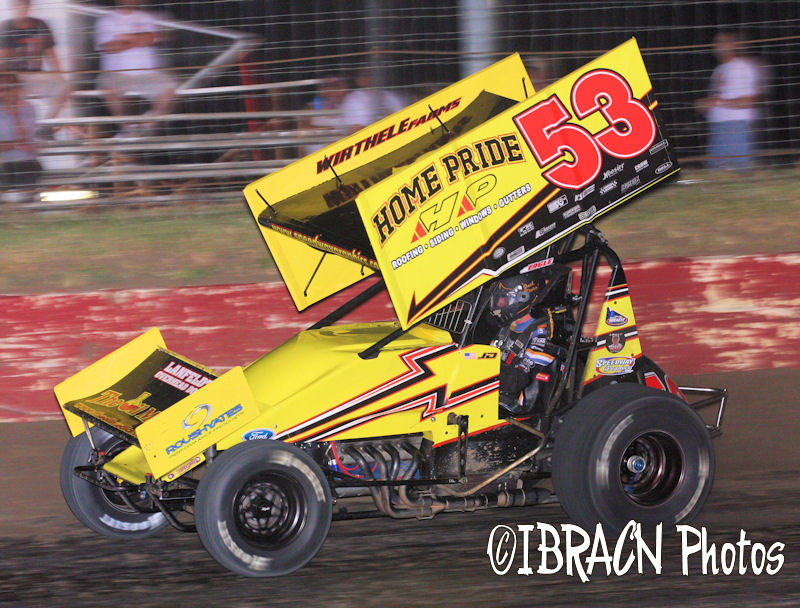 Inside Line Promotions
– JEFFERSON, S.D. (April 22, 2014) – Jack Dover recorded his best finish of the season last Saturday when he nearly captured his first victory of the season during the Nebraska 360 Sprints vs. Minnesota Mafia event at Raceway Park.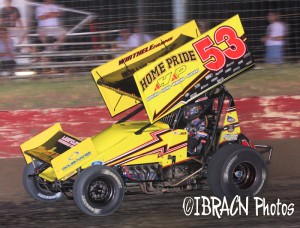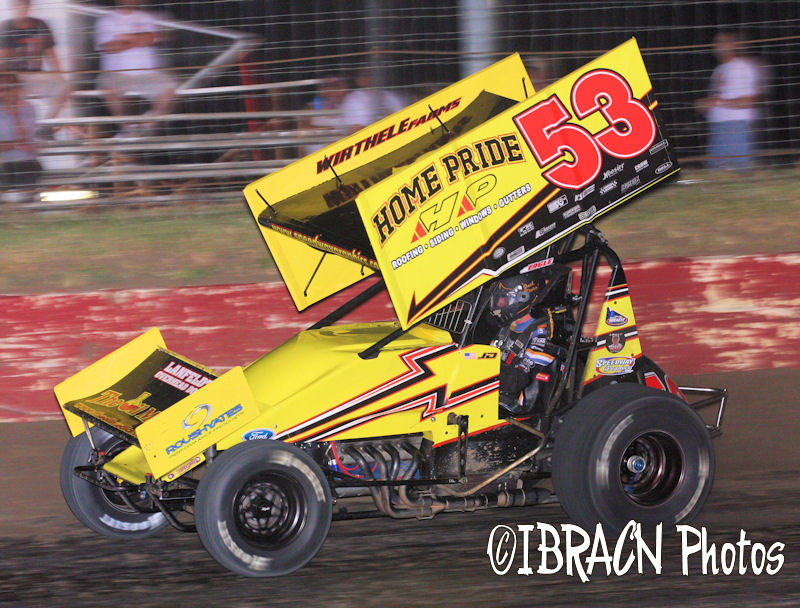 "I always wanted to go race at that place," he said. "It was a lot of fun. I hope we get to race there again."
Dover started the night by advancing from fourth place to win his heat race.
"We got to second right away," he said. "Kaley Gharst had about a straightaway distance on me. The last three laps I made the distance back up by going high entering the corner and exiting low. We got him at the last corner and passed him by about two feet."
That was Dover's first heat race win of the season and put him second in points, which earned a trip to the feature redraw. He then pulled the No. 3 to start the main event on the inside of the second row.
"We ran second for the first four laps and then we got the lead," he said. "We led the whole thing up until the last lap. Everybody was running the bottom because there was really good moisture. I got impatient and decided to go high and Gregg Bakker stayed patient and he beat me."
After taking the white flag, Dover went to the top to maneuver through traffic and Bakker stuck to the bottom, which propelled him into the top spot down the backstretch.
"On the last corner I tried going high and railing the top," Dover said. "We were beating him until the middle of the corner. He was down in the moisture and beat me off the corner."
Dover finished second by a car length, which was his first podium result of the year.
"It's disappointing, but I consider myself a better 3/8 or half-mile driver," he said. "I don't do as well on short tracks. After the result we had there, I'm disappointed but I'm happy."
Dover is scheduled to take this weekend off before competing with the Nebraska 360 Sprints on May 2 at Eagle Raceway in Eagle, Neb.
QUICK RESULTS –
April 19 – Raceway Park in Jefferson, S.D. – Heat race: 1 (4); Feature: 2 (3).
SEASON STATS –
3 races, 0 wins, 2 top fives, 3 top 10s, 3 top 15s, 3 top 20s
UP NEXT –
May 2 at Eagle Raceway in Eagle, Neb., with the Nebraska 360 Sprints
MEDIA LINKS –
Website: http://www.JackDoverRacing.com
Twitter: https://twitter.com/JackDoverRacing
Facebook: https://www.facebook.com/jackdoverracing?fref=ts
SPONSOR SPOTLIGHT – Moss Racing Engines
Moss Racing Engines manufactures Ford racing engines. The company was started by Chris Moss, who worked under the Roush Yates Racing Engines banner before creating his own company in 2013.
"You can call Chris any time of the day or night and he'll help you," Dover said. "The engines are reliable. He hasn't had any engine failures so that says a lot for his name and product."
Dover would also like to thank Certified Transmission, Home Pride Companies, Inc., Eagle Motorsports, Thorpe's Body Shop, Trail Performance Coatings, Inc., The Oil Medics, ButlerBuilt Professional Seat Systems, Keizer Wheels, Schoenfeld Headers, Shaver Racing Engines, Langfeldt Overhead Doors, K&N Filters, FK Rod Ends, DMI, Speedway Motors and Vortex Wings for their continued support.
PARTNERSHIP OPPORTUNITIES –
Jack Dover Racing is close to being able to compete across the country by returning to the Lucas Oil ASCS National Tour, where Dover has finished in the top 10 both seasons he has raced full time with the premier 360 sprint car series. He is also ready to compete with the World of Outlaws STP Sprint Car Series en route to his dream of racing in NASCAR. The only variable missing is a reliable truck and trailer. For more information on partnership opportunities, e-mail teamdover@gmail.com.
INSIDE LINE PROMOTIONS –
Inside Line Promotions specializes in affordable public relations and media management for motor sports drivers, teams, sponsors, tracks, series, events, organizations and manufacturers. ILP Founder Shawn Miller leverages professional journalism with new media technologies and social networking to improve your exposure and the return on investment for your sponsors.
To meet the media relations needs of your program and to join Team ILP, contact Shawn at 541-510-3663 or InsideLinePromotions@gmail.com. For more information on Inside Line Promotions, visit http://www.InsideLinePromotions.com.