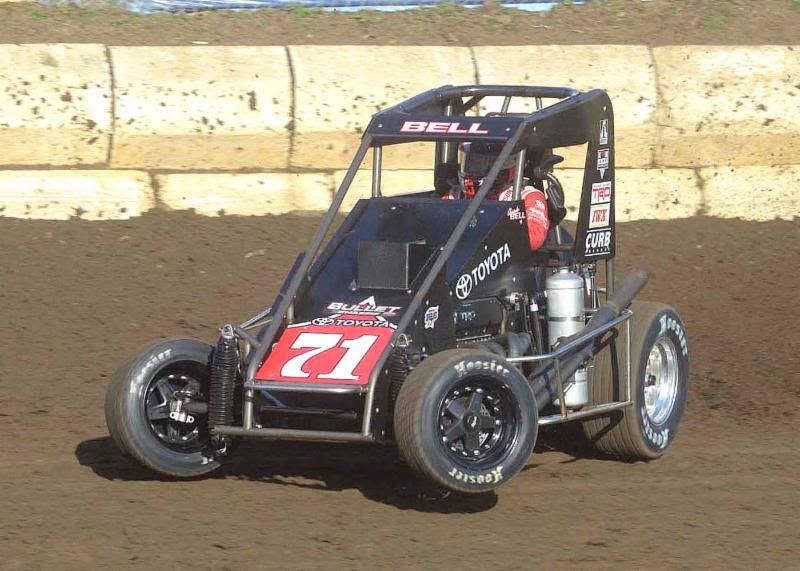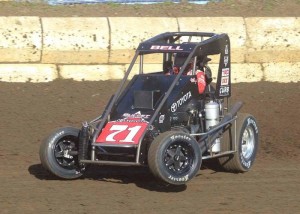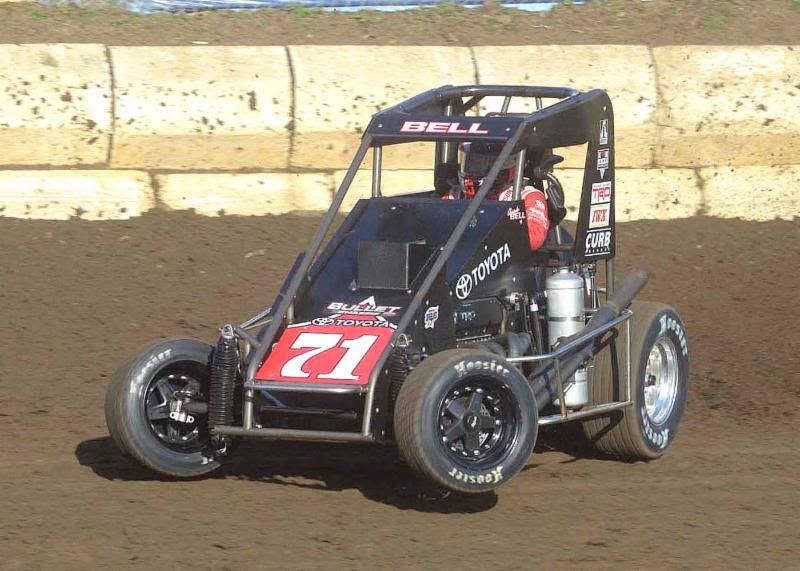 From Derek Schuett
Jacksonville, IL — (April 25, 2014) — Christopher Bell held off repeated attempts by his fellow Keith Kunz Motorsports teammates Rico Abreu and Tanner Thorson to take home the victory at the semi-banked, ¼ mile Jacksonville Speedway in the POWRi Lucas Oil National Midgets Series and Joe B. Miller used lap traffic to keep second-place finisher Scott Sawyer at bay long enough to win his first POWRi Speedway Motors Outlaw Micro Series feature of 2014.
Christopher Bell of Norman, Oklahoma started on the outside front row, but it would be his Keith Kunz Motorsports teammate and pole sitter Tanner Thorson of Minden, Nevada who would take the point at the drop of the green flag with a commanding lead. Holding off challenges from native Californian Rico Abreu, following two yellows Thorson would lead Abreu, Tyler Thomas, Christopher Bell, and Alex Bright into heavy lap traffic until Brandon Waelti's nasty flip brought out by the only red of the feature, halting the battle.
After the red, Bell would overcome Tyler Thomas and the trio of Thorson, Abreu, and Bell driving Keith Kunz/Curb-Agajanian Motorsports' Toyota-powered Bullets would engage in a tight battle filled with thrilling slide jobs and lap cars in the mix. "On the restart, Rico slid me so I knew I had to step it up, I knew my teammate was behind me," explained Tanner Thorson. In the mix of Thorson and Abreu's battle, Bell was able to sneak by. "We got racing in traffic and I tried getting Tanner [Thorson] for the lead a few times and Christopher [Bell] snuck by," explained Rico Abreu.
In the end, it would be Christopher Bell taking the victory, followed to the line by Rico Abreu and your pole sitter Tanner Thorson, making this the second record event for Keith Kunz Motorsports sweeping the podium. "It was a really fun race," explained winner Christopher Bell. "It's definitely an accomplishment for Keith Kunz Motorsports. Night in and night out we're always three of the best cars. It really is cool to be able to run for this team."
Driving his Speed Shack Performance-powered Hyper Chassis, Joe B. Miller was able to capitalize on Aaron Andruskevitch's misfortune and craftily held off the Engler-injected Sawyer Chassis piloted by Sawyer Chassis' own Scott Sawyer of Broken Arrow, Oklahoma to take home his first POWRi Speedway Motors Outlaw Micro Series win of 2014. "We had a good run, just not enough tonight for Joe B.," explained Scott Sawyer. "It is a very tough series and we like coming to the POWRi races. They put on a good show, lots of good competition."
Nic Harris of Atlanta, Illinois took the third position in his Yamaha-powered Stallard Chassis. "We're happy with a top three," explained Harris. "Lap traffic always helps."
Miller inherited the lead 3 laps in after current race leader Aaron Andruskevitch of Riverton, Illinois threw a chain on the restart, ending his night and bid for the win. "The plan was to get up front and run with them," explain Joe B. Miller. "Aaron took off really well and had a chain break. It sucks to win one like that, but we'll take it."
POWRi Lucas Oil National Midget Series feature results (30 laps): 1. 71 – Chris Bell 2. 97 – Rico Abreu 3. 67 – Tanner Thorson 4. 91T – Tyler Thomas 5. 55 – Nick Knepper 6. 3F – Alex Bright 7. 5D – Zach Daum 8. 50 – Daniel Adler 9. 9P – Parker Price-Miller 10. 57D – Daniel Robinson 11. 2st – Danny Stratton 12. 88 – Terry Babb 13. 5C – Colten Cottle 14. 25 – Jake Blackhurst 15. 17 – Derek Holmwood 16. 91 – Dereck King 17. 4 – Scott Hatton 18. 11C – Chet Gehrke 19. 56 – Darren Hagen 20. 6A – David Gough 21. 15 – Brandon Waelti 22. 57F – Andrew Felker 23. 911 – Ronnie Gardner
POWRi Speedway Motors Outlaw Micro Series feature results (20 laps): 1. 51B – Joe B. Miller 2. 29 – Scott Sawyer 3. N2 – Nic Harris 4. 81X – Frank Flud 5. 37H – Nick Howard 6. 17C – Chris Openshaw 7. 77W – Joey Wirth 8. 3N – Jake Neuman 9. 23 – Jeremy Camp 10. 3B – Shelby Bosie 11. 99 – Alec Long 12. 40 – Devin Feger 13. 7H – Lindsey Howard 14. 32X – Brad McDaniel 15. 28V – Luke Verardi 16. 20 – Dylan Benscoter 17. 44 – Ayrton Gennetten 18. 30S – Kyle Schuett 19. 21Z – Jeremy Zumwalt 20. 7X – Max Pozsgai 21. 21 – Aaron Andruskevitch 22. 2B – Nathan Benson 23. 1 – Dereck King