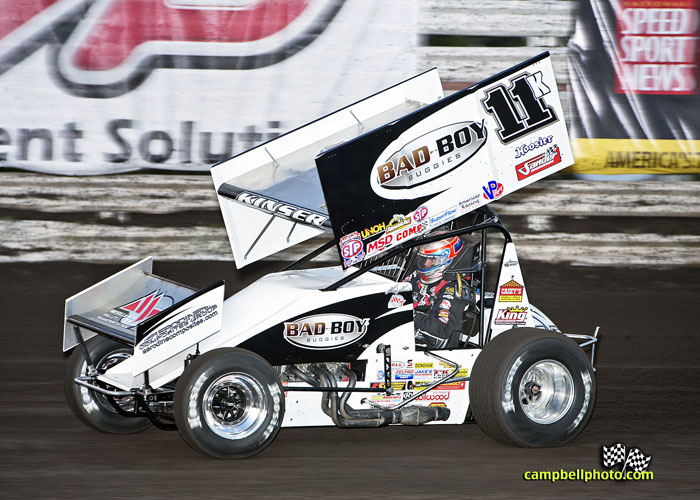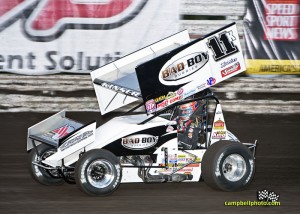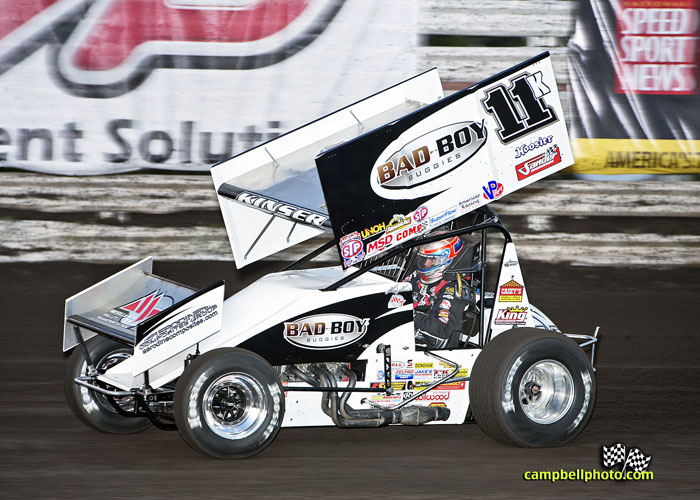 By Kraig Kinser Racing PR
BLOOMINGTON, Ind. — April 27, 2014—Kraig Kinser and his team never give up and that's the approach it takes to compete night in and night out with the World of Outlaws STP Sprint Car Series. After having several strong runs cut short by bad luck over the early portion of the season, they continued to battle and turned in their best back-to-back races of the year with the series this weekend, finishing a season-best third at Salina Highbanks Speedway in Oklahoma, on Friday, April 25, and were eighth at Federated Auto Parts Raceway at I-55 in Pevely, Mo., on Saturday, April 26, after leading a trio of laps in a thrilling 40-lap main event.
Kinser took the green flag at Salina Highbanks Speedway in the fourth position aboard the Mesilla Valley Transportation/Casey's General Store/King Racing Products Maxim. He gained a spot on the opening lap, before falling back to fifth. The first yellow flag of the night flew on lap-17, and Kinser used a very strong restart to jump into third. One more caution flag would come out on lap-23, leading officials to call for a green-checkered finish, due to track conditions. Kinser would cross the line in third, earning his first top-five finish of the season.
The native of Bloomington, Ind., opened the night by recording the third-quickest lap in time trials of the 25 drivers in attendance. He started fourth in the third heat race and finished third, earning a spot in the dash by way of his position in time trials. With a dash invert of zero, Kinser started third and finished fourth in that six-lap contest.
"Qualifying where we did set us up for the rest of the night," said Kinser. "With how the track was, it was very important to start toward the front and try to maintain. We've had a tough last month or so and this is the kind of finish we needed to start turning things around, especially with a lot of tracks we traditionally run well at coming up."
At Federated Auto Parts Raceway at I-55, Kinser took the green flag seventh for the 40-lap main. He lost a few spots in the early going, before making a charge that would eventually see him take the lead on lap-19, after a four-car battle for the top spot, and would pace three circuits, before a restart saw eventual winner Sammy Swindell get by for the top spot. Kinser would drop back to eighth at the finish. Three yellow flag periods and two red flags slowed the proceedings.
The 2005 winner of the Knoxville Nationals was 12th-fastest in time trials at Pevely, which put him on the pole of the third heat race. He would win that eight-lapper to earn a spot in the dash, where he came home seventh.
"We definitely needed a weekend where things went our way," said Kinser. "We were able to qualify in the right spot both nights, which always helps. We also had good set-ups in the feature and showed what we are capable of. The competition is so tough out here right now, that just being off a little takes you out of contention. It was good to lead some laps at Pevely and definitely gives us something to build on for Eldora."
Kinser, who is currently 10th in the World of Outlaws STP Sprint Car Series standings, is back in action next weekend at the famed Eldora Speedway in Ohio, for a two-night event at the high-banked, half-mile.
Kraig Kinser Racing would like to thank Casey's General Stores, Mesilla Valley Transportation, King Racing Products, Maxim, Aerodine Composites, Sander Engineering, Integra Shocks, All Star Performance, FK Rod Ends, Brown & Miller Racing Solutions, Bell, KSE Racing Products, ButlerBuilt, Schoenfeld Headers, Donovan Engineering, Fel-Pro, Brodix, Wilwood, Dyer's, Barnes Systems, Ringer Gloves, Jakes Custom Golf Carts, and Ben Cook Racing Limited for their continued support.
Keep up with all the action
For the latest news on Kraig Kinser, visit http://www.kraigkinser.com, and follow Kraig on Twitter at http://twitter.com/kraigkinser11k and receive live updates from the track each and every race night.
Tune in
Listen live to each and every World of Outlaws event on DIRTVision.com with "The Voice of the World of Outlaws STP Sprint Car Series" Johnny Gibson on the call. Visit www.DIRTVision.com for live audio of each and every World of Outlaws Sprint Car Series event.