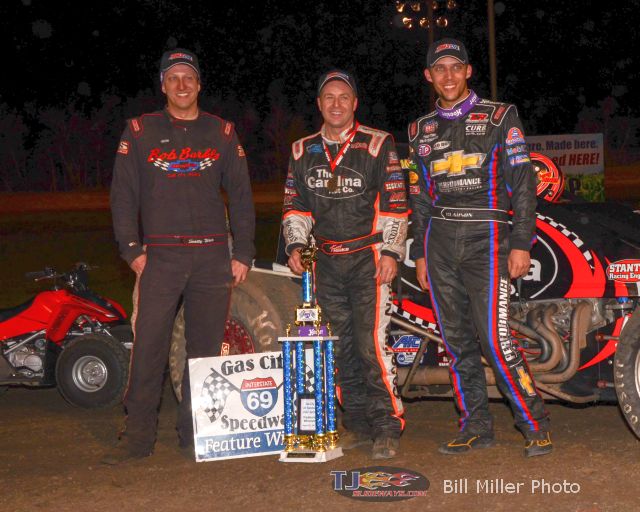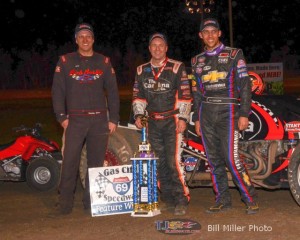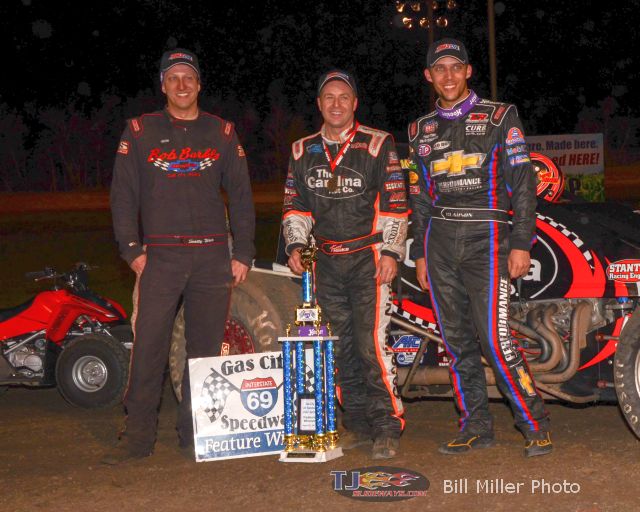 By Tracy Hines Racing PR
NEW CASTLE, Ind.—April 27, 2014 — Tracy Hines continued his climb in the USAC record books this weekend. He first was victorious at Gas City (Ind.) Speedway on Friday April 25, to move into a tie for third on the all-time Amsoil USAC National Sprint Car Series win list, tying Hall of Famer Jack Hewitt, with 46 triumphs. Then, on Saturday, April 26, at Tri-State (Ind.) Speedway in Haubstadt, Hines raced in his 1,000 career USAC National feature event, joining Dave Darland, as the only other driver to reach the five-digit mark.
"It's pretty neat to be tied with Jack (Hewitt) on the win list," said Hines, who drives The Carolina Nut Company DRC. "I learned a lot from him over the years and he was a mentor to me. I was fortunate enough to race against him as well and that's how you learn the most from someone is by racing against them."
Hines started 10th at Gas City and quickly began working his way forward on a surface that proved to be treacherous for many drivers. The native of New Castle, Ind., used the low side of the quarter-mile to get around Shane Cottle on lap-25, and paced the final six circuits to score his first Amsoil USAC National Sprint Car Series win of the 2014 campaign. A total of five yellow flags and one red flag slowed the rough-and-tumble 30-lap contest.
"The top was really tough at Gas City, so I stuck to the bottom and eventually it paid off and worked out for us," he noted. "I lost my rhythm before that last restart and probably went a little too slow trying to find it, but I didn't want anyone to get under me."
Hines opened the night at Gas City as the eighth-fastest driver in time trials of the 32 entries. He finished fifth in the fourth heat race, coming up one spot short of transferring to the main event. This put him in the B-main, where he finished second to earn a spot in the A-Feature.
On Saturday, April 26, at Tri-State (Ind.) Speedway, Hines finished 14th in the 30-lap main event. He was the 13th-fastest driver in time trials and followed that up with a second-place finish in the first heat race to earn a spot in the main event. Hines took the green flag from the 13th position. Prior to the main event, the veteran driver was honored for making his 1,000 USAC National start and received an Oakley watch for the accomplishment.
"Reaching 1,000 starts is a testament to all the owners, crew members and sponsors that supported me," said Hines. "I've been pretty fortunate to get to do this for quite a few years and hopefully I'll get to continue for years to come."
Following the pairs of races, Hines is sixth in the Amsoil USAC National Sprint Car Series championship standings, just four markers out of the top-five. He has finished sixth or better in four of six starts in 2014, including earning three podium finishes.
Hines returns to action with the Amsoil USAC National Sprint Car Series on Friday, May 2 at Eagle Raceway in Nebraska, followed by an event on Saturday, May 3, at Junction Motor Speedway, also in the Cornhusker State.
Tracy Hines Racing would like to thank Primary Sponsors:  The Carolina Nut Company, Hansen's Welding Inc,  Elliott's Custom Trailers and Carts, and MPHG Promotions Inc. Associate Sponsors for 2014 include: ProSource Professional Resources, Turbines Inc., Daum Crop Insurance, Parker Machinery,  Stanton Racing Engines and Schipper Family Farms. Product Sponsors that are part of Tracy Hines Racing in 2014 include: Afco Racing Products, Schoenfeld Headers, Autonet Mobile, Indy Race Parts, Bell Racing, Kenny's Components, Race Bumpers, Hoosier Racing Tires, CSI Competition Suspension, Shadow Graphix, Driven Racing Oil, Sander Engineering, Hugh Brothers and Midwest Sheet Metal.
For more information on Tracy Hines Racing, visit http://www.tracyhinesracing.com. Follow Tracy on Twitter at www.Twitter.com/TracyHinesRacin and "Like him" on Facebook at: https://www.facebook.com/Tracyhinesracing.