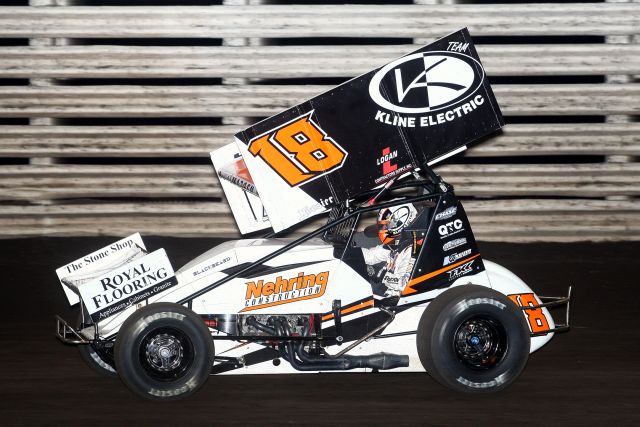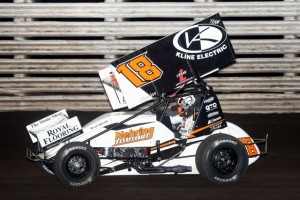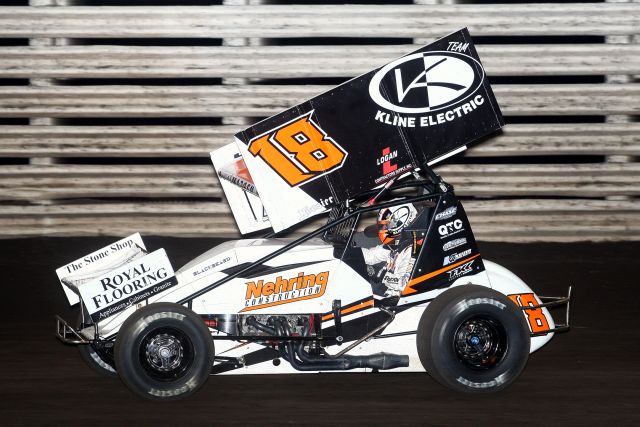 From Bill W
One week after picking up the Opening Win at the Knoxville Raceway, Ian Madsen backed up his performance with a fifth place finish during a soggy night in Marion County.
With 31 cars on hand to do battle at the historic facility, Madsen timed his KCP Racing/Nehring Construction/Kline Electric entry in fourth fastest, putting him in the first heat.
Lining up in the third row, the St. Marys, NSW transplant got to fourth on the start of the race, where he finished, safely putting him in the 20-lap feature event.
As cars began lining up for the main, the rain began to fall, but it was light enough where officials still deemed it safe to race.
Lining up in the fifth spot for the A, Madsen got stuck on the bottom on the start of the feature event, and lost a few spots, and found himself in the ninth spot as things got sorted out.
On a track that was tricky with the weather, Madsen was slowly able to start working his way back forward aboard his Logan Contractors Supply/Royal Floor/Greenland Homes of Iowa No. 18.
When Doug Clark's checkered flag waived, Madsen had rallied back to a fifth place finish.
"It was the first time I'd ran a feature in the rain here at Knoxville, but it was a good night for us," he said. "We qualified well, ran well in our heat race, and after a subpar start, we had a really good car and was able to carve our way back forward."
After two races at the raceway, Madsen currently sits third in the very competitive Knoxville Championship Cup standings.
Friday night, Madsen and his team traveled to Salina, OK to take on the World of Outlaws at the Salina Highbanks.
Timing in 11th fastest, Madsen fell to a sixth place finish in his heat race, though he did transfer to the night's feature event with his qualifying time, putting him in the sixth row.
On a track that took rubber very early in the race, Madsen ran inside the Top-10 most of the night, until his right-rear tire began going flat with the track conditions.
Making his car a little difficult to drive, Madsen would hang on and finish, but slipped back to 15th at the stripe.
Ian and his KCP Racing team would like to thank Nehring Construction, Team Kline Electric, Logan Contractors Supply, Royal Flooring, Greenland Homes of Iowa, Quality Traffic Control, Factory Kahne, Rider Racing Engines, JRS Excavating, Brown and Miller Racing Solutions, Kent Performance, The Stone Shop, Aspen Air Inc. Heating and Cooling, Gator Excavating, TammyHeckart.com, Kent Performance, Revolution Race Gear,  Lucas Oil, Wings Unlimited, and Kustom Concrete Pumping for their support.
2014 BY THE NUMBERS: Starts-29, Wins-3, Top-5's- 12, Top 10's-16
ON TAP: The KCP Racing team will be in Lincoln, IL with the MOWA on Friday night before another round of Knoxville Championship Cup action on Saturday.
STAY CONNECTED: To keep up with Ian make sure you follow him on twitter by clicking over to www.twitter.com/IanMadsen. You can also visit the teams website at www.kcpracing.com.