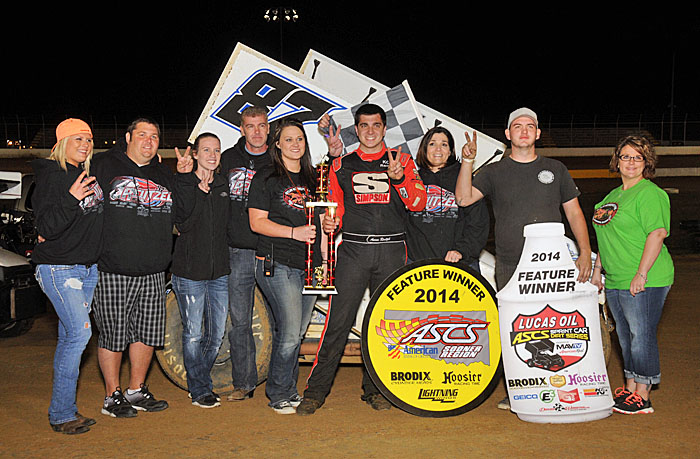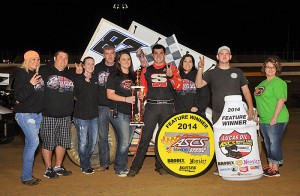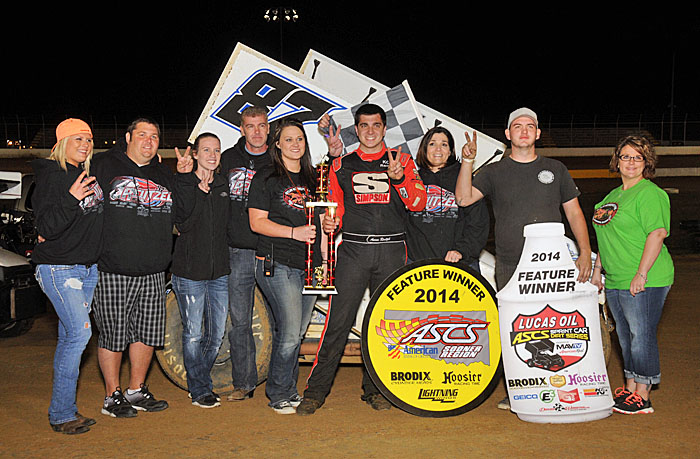 From Bryan Hulbert
Muskogee, OK —  (May 2, 2014) — Lapped traffic was the teller of tales at the Outlaw Motorsports Park on Friday night with the Lucas Oil American Sprint Car Series presented by MAVTV American Real as Aaron Reutzel took the battle three wide for nearly two laps leading up to Lap 17 to capture the lead, and the win for the second time in as many races.
Starting third, Reutzel jumped to second on the start, nearly taking the lead from Jason Johnson on the opening lap.
"I can't believe this. I took so long to get one, and now we have two of them back-to-back, there's just no words to describe this." Asked about the start of the race and nearly taking the lead then, Reutzel explained, "I knew if I couldn't get him on the start, I had to get him in traffic."
Jason Johnson held on to finish second, posting his best finish of the season in Lucas Oil ASCS National Tour competition and in doing so, earned his 300th top-ten finish in Lucas Oil ASCS National competition. He joins Gary Wright as the only other driver to exceed 300 top-ten finishes.
"My car was really good. I made some good laps but when we got to lapped traffic, he could just go," said Johnson of his pursuit of Reutzel. "I was on the mat. I don't know what he was doing to get off the corners, but I really had a great car. I can't thank my guys enough."
Dustin Morgan worked past Jeff Swindell on Lap 21 to earn the final podium step.
"The car felt good. I can't thank Jones and the crew enough. We're on a roll right now and I'm definitely looking forward to tomorrow night."
Brad Loyet worked to fourth on Lap 23 with Jeff Swindell ending his night fifth.
Brian Brown moved up from eighth to sixth with Johnny Herrera from ninth to seventh. Tony Bruce, Jr. advanced from fourteenth to finish eighth with Danny Wood ninth. The top ten rounded out with Sam Hafertepe, Jr.
Joined by the American Bank of Oklahoma ASCS Sooner Region, Dustin Morgan was the highest finishing Sooner Region driver. Danny Wood earned second place points with Sean McClelland, Mike Goodman, and Alex Sewell taking fifth place points for the region
Four Heat Races saw Danny Wood, Jason Johnson, James Mosher, and Brian Brown earning wins. The night's lone B-Feature went to Tim Crawley.
The Lucas Oil ASCS presented by MAVTV American Real moved to the Riverside International Speedway for the 6th annual Rock 'N Roll 50 on Saturday, May 3 in West Memphis, Ark. Races are scheduled to begin at 7:30 P.M. (CT). For continued updates on the Lucas Oil ASCS presented by MAVTV American Real, log onto http://www.ascsracing.com.
Lucas Oil ASCS presented by MAVTV American Real
Outlaw Motorsports Park – Muskogee, Okla.
Friday, May 2, 2014
Car Count: 32
Heat Races presented by SpeedMart – 8 Laps, winners plus top 12 in passing points to A-Feature.
Heat 1 (8 Laps): 1. 81W-Danny Wood[2]; 2. 17-Blake Hahn[1]; 3. 15H-Sam Hafertepe Jr[4]; 4. 1-Sean McClelland[6]; 5. 95-Matt Covington[3]; 6. 11AM-Mike Goodman[5]; 7. 23-Seth Bergman[7]; 8. 57-Kyle Chady[8]
Heat 2 (8 Laps): 1. 41-Jason Johnson[2]; 2. 93-Dustin Morgan[3]; 3. 17X-Josh Baughman[4]; 4. 45X-Johnny Herrera[7]; 5. 4J-Tim Crawley[8]; 6. 40-Howard Moore[5]; 7. (DNF) 17W-Harli White[1]; 8. (DNF) 29-Brandon Hahn[6]
Heat 3 (8 Laps): 1. 12-James Mosher[2]; 2. 87-Aaron Reutzel[6]; 3. 18-Tony Bruce Jr[4]; 4. 5$-Danny Smith[7]; 5. 92-Jordan Weaver[5]; 6. 8M-Kade Morton[8]; 7. (DNF) 7M-Chance Morton[3]; 8. (DNF) 13-Taylor Tidmore[1]
Heat 4 (8 Laps): 1. 21-Brian Brown[1]; 2. 94-Jeff Swindell[3]; 3. 05-Brad Loyet[5]; 4. 3H-Brandon Hanks[6]; 5. 8-Alex Sewell[4]; 6. 9$-Kyle Clark[7]; 7. 85-Forrest Sutherland[2]; 8. 33-Kris Miller[8]
Smiley's Racing Products B-Features – Top 6 advance to the A-Feature.
B Feature 1 (12 Laps): 1. 4J-Tim Crawley[1]; 2. 8M-Kade Morton[2]; 3. 95-Matt Covington[6]; 4. 8-Alex Sewell[4]; 5. 11AM-Mike Goodman[7]; 6. 23-Seth Bergman[9]; 7. 40-Howard Moore[8]; 8. 57-Kyle Chady[11]; 9. 33-Kris Miller[12]; 10. 7M-Chance Morton[10]; 11. 85-Forrest Sutherland[13]; 12. 17W-Harli White[14]; 13. 13-Taylor Tidmore[16]; 14. (DNF) 9$-Kyle Clark[5]; 15. (DNF) 92-Jordan Weaver[3]; DNS 29-Brandon Hahn
Protect the Harvest A-Feature
A Feature (25 Laps): 1. 87-Aaron Reutzel[3]; 2. 41-Jason Johnson[1]; 3. 93-Dustin Morgan[5]; 4. 05-Brad Loyet[6]; 5. 94-Jeff Swindell[2]; 6. 21-Brian Brown[8]; 7. 45X-Johnny Herrera[9]; 8. 18-Tony Bruce Jr[14]; 9. 81W-Danny Wood[4]; 10. 15H-Sam Hafertepe Jr[12]; 11. 1-Sean McClelland[15]; 12. 3H-Brandon Hanks[16]; 13. 11AM-Mike Goodman[21]; 14. 17-Blake Hahn[11]; 15. 95-Matt Covington[19]; 16. 8-Alex Sewell[20]; 17. 23-Seth Bergman[22]; 18. 5$-Danny Smith[10]; 19. 8M-Kade Morton[18]; 20. 17X-Josh Baughman[13]; 21. 12-James Mosher[7]; 22. (DNF) 4J-Tim Crawley[17]
Lap Leader(s): Jason Johnson 1-16, Aaron Reutzel 17-25
KSE Hard Charger: Mike Goodman +8
Hawk Performance Fastest Lap: Jason Johnson 16.536 seconds
CSI Rebound: Jordan Weaver
Provisional(s): N/A