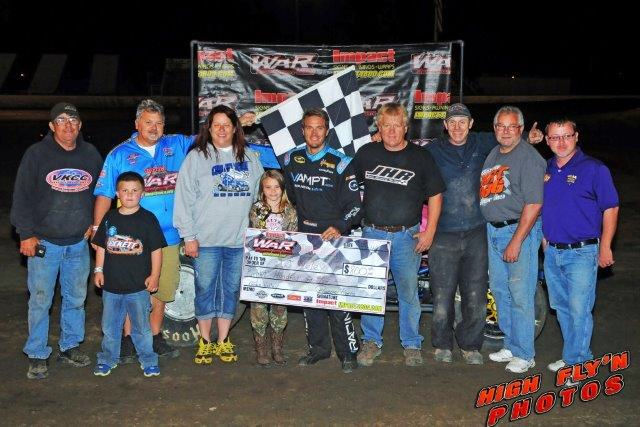 By Chad Buford
Grain Valley, MO(May 9, 2014)- After qualifying for tomorrow night's Sprint Cup race at Kansas Speedway, JJ Yeley made the short trip to Valley Speedway on Friday night and picked up his first WAR Series presented by Impact Signs, Awnings, and Wraps win.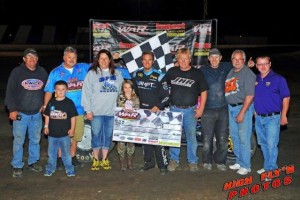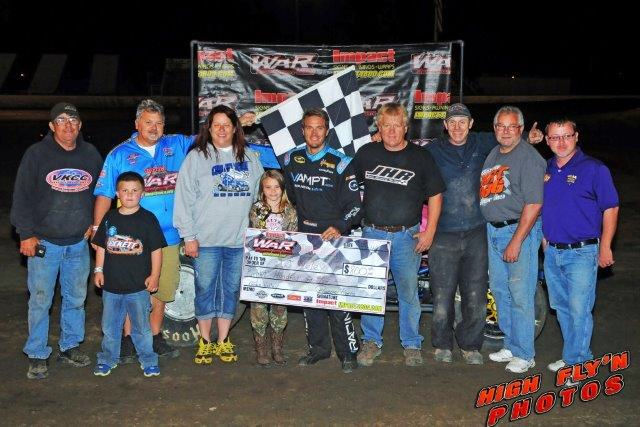 Yeley immediately took over the lead from his outside front row starting position as he was trailed early by Chris Parkinson, Mitchell Moore, and Cody Baker.
Lap by lap, Yeley extended his lead as the action picked up behind him.  Moore would work his way past Parkinson on lap five as Baker continued to run fourth.
On lap nine, Baker was able to work his way past Parkinson for third.
Yeley stretched his lead out in heavy lapped traffic as Moore and Baker had a great battle going for the second spot.
By the time the race had its first yellow with twenty-two laps complete for a Chad Tye spin, Yeley had lapped well into the top ten.
With six lapped cars between Yeley and Moore on the restart, Yeley jumped out to a big lead as Moore continued to feel the pressure from Baker.  Moore went hard into turn three and got into a lapped car causing him to spin out.  As Moore spun, a huge group of drivers were left with nowhere to go.   Bob Thoman got over a wheel and flipped hard over the turn four bank.  Luckily Thoman was uninjured.  Baker suffered major front end damage ending his evening as well.  Also involved in the accident were Josh Stephens and J.D. Black, who had both been running in the top six.  Moore, Stephens, and Black would be able to continue at the back of the pack as they were three of only six drivers left on the lead lap.
On the restart, Brent Fasse spun in turn two bringing out the final caution of the evening.
When the field restarted, Yeley shot back into the lead and went on to a dominant win in his Jack Hockett-owned  Korte Transportation DRC with Don Ott power.  Parkinson continued his strong runs with a second in his 54th Street Grill and Bar/Ozark Barge and Dock Service DRC with Parkinson power.
Robert Black was third with Moore and Stephens rounding out the top five. J.D. Black came home sixth with Devon Huff, Chad Goff, John Helm, and Casey Baker rounding out the top ten.
The WAR Series presented by Impact Signs, Awnings, and Wraps will next be in action on Sunday May 26th at the Quincy Raceway in Quincy, Illinois.
Please go to warsprints.com or to the WAR  Facebook page to learn more about Wingless Auto Racing.
Valley Speedway-5/9/14
25 cars
Time Trials-  1.  51-Mitchell Moore, Edgerton, KS- 13.658, 2. 38-Cody Baker, Lone Jack, MO-13.844, 3. 77-J.J. Yeley, Charlotte, NC-13.937, 4. 27-Bob Thoman, Higginsville, MO-14.114, 5. 3B-Robert Black, Blue Springs, MO-14.154, 6. 93-Taylor Walton, Warrensburg, MO-14.199, 7. 77X-J.D. Black, Grain Valley, MO-14.237, 8. 65-Chris Parkinson, Gladstone, MO-14.282, 9. 1-Michael Ell, Raymore, MO-14.328, 10. 9X-Casey Baker, Lone Jack, MO-14.427, 11. 9-Chad Goff, Spring Hill, KS-14.456, 12. 12-John Helm, Kearney, MO-14.458, 13. 88-Chad Tye, Independence, MO-14.550, 14. 19s-Steven Cross, Clinton, MO-14.611, 15. 70-Pete Palazzolo-Pacific, MO-14.628, 16. 55-Kenny Potter, Harrisonville, MO-14.742, 17. 09-Josh Stephens, Buckner, MO-14.860, 18. 23F-Matt Fox, Hughesville, MO-14.998, 19. 4U-Devon Huff, Nixa, MO-14.999, 20. 23-Brent Fasse, Independence, MO-15.403,  21. 8-Jeff Wingate, Centertown, MO-15.417, 22. 55J-Jason Pardock, Melrose, IA-15.434, 23. 10-Will Register, Sedalia, MO-16.052, 24. 65ss-Warren Tarr, Osage Beach, MO-16.583, 25. Rickey Lee Stangl-Lee's Summit, MO-NT
1st Heat-8 laps
1.  51-Mitchell Moore (7)  2. 88-Chad Tye (4) 3. 77X-J.D. Black (6)  4. 23-Brent Fasse (2) 5. 9X-Casey Baker (3) 6. 10-Will Register (5) 7. 65ss-Warren Tarr (1)  DNS: 55 Kenny Potter, 27-Bob Thoman
2nd Heat-8 laps
1.  09-Josh Stephens (2) 2. 3B-Robert Black (6) 3. 9-Chad Goff (4) 4. 65-Chris Parkinson (5) 5. 38-Cody Baker (7) 6. 19s-Steven Cross (3) 7. 8-Jeff Wingate (1) 8. 23F-Matthew Fox (8)
3rd Heat-8 laps
1.   77-J.J. Yeley (6) 2. 4U-Devon Huff (2) 3. 12-John Helm (4) 4. 70-Pete Palazzolo (3) 5. 1-Micheal Ell (5) 6. 55J-Jason Pardock (1)  DNS: 93-Taylor Walton, 24-Rickey Lee Stangl
B-Feature-8 laps (top four advance to A)
1.   27-Bob Thoman (1) 2. 8-Jeff Wingate (5) 3. 55J-Jason Pardock (2) 4. 23F-Matt Fox (3) 5. 10-Will Register (4) 6. 65ss-Warren Tarr (7) 7. 55-Kenny Potter (6)-DNF  DNS: 93-Taylor Walton
A-Feature-25 laps
1.   77-Yeley (2) 2. 65-Parkinson (1) 3. 3B-R. Black (6) 4. 51-Moore (5) 5. 09-Stephens (11) 6. 77X-J.D. Black (5) 7. 4U-Huff (14) 8. 9-Chad Goff (7) 9. 12-John Helm (9) 10. 9X-Casey Baker (12) 11. 70-Pete Palazzolo (13) 12. 1-Michael Ell (10) 13. 8-Jeff Wingate (18) 14. 88-Chad Tye (18)  15.   55J-Pardock (19) 16. 23-Fasse (16) 17. 38-Cody Baker (4)-DNF 18. 27-Bob Thoman (17)-DNF 19. 23F-Matt Fox (20)-DNF  20. 19s-Steven Cross (15)-DNF