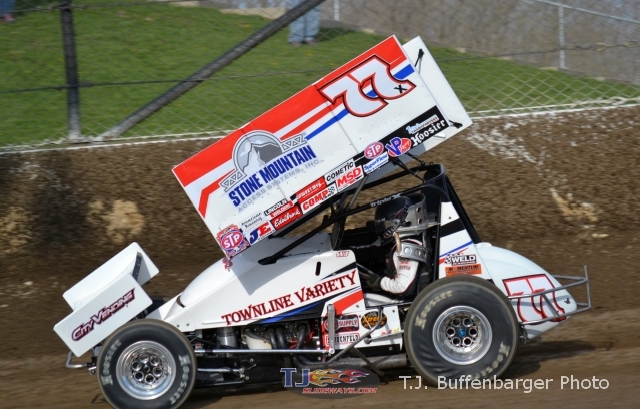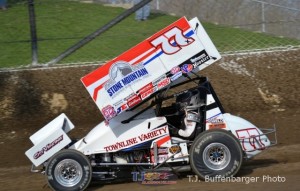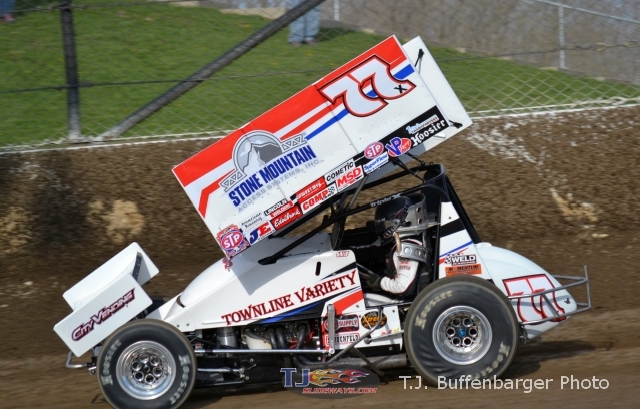 By Bill W
May 14, 2014 – The Wayne Johnson Racing #77x team will have their hands full this weekend at Knoxville when they run both the 410 and 360 classes Saturday night.  The team is coming off good qualifying efforts with the World of Outlaws at Jacksonville (IL) Speedway and Wilmot (WI) Raceway.
The Outlaws visited Jacksonville on Wednesday and Wayne timed in 11th quick in the 40-car field.  "I really like Jacksonville," he says.  "I wish the races they had there paid a little more, because we'd go over there a lot more.  We were pretty decent in qualifying."
He would earn a spot in the Dash with a heat race win as well.  "We were able to win that thing by a pretty good margin," says Wayne.  "We started on the front row, but (Donny) Schatz was right behind us, so it wasn't a 'gimmie'.  I was pretty happy with that."
After running third in the Dash, Wayne started inside row two of the 40-lap feature.  "We ran the top three there for a while," he says.  "We just got too loose and couldn't run with those guys.  We fell back to sixth.  I really felt we had a sixth place car at that point, and I figured that's where we would run.  Unfortunately, our mag box took a dive."
After originally thinking it was a motor issue that sidelined him at Jacksonville, the mag box news was good.  It was on to Wilmot Friday night, where Wayne timed in 9th quick.  He ran fourth in his heat and 16th in the feature there.  "We were way too tight all night long really," he says.  "We couldn't rotate the corner like we needed to there.  We had plenty of forward drive, and we had been struggling with that, so that was good.  We helped the racecar that way…it was just at the wrong time."
The team came home to Knoxville on Saturday night and qualified 17th quick.  "We didn't qualify that well," admits Wayne.  "We did some things at Wilmot to kill some power.  I just don't think you need all that power at those places.  It makes it harder to drive.  We put in some longer stacks and changed nozzles.  When we got to Knoxville, we thought it would be o.k., but it wasn't."
He would finish fourth in the toughest heat of the night.  "The thing didn't take off well in the heat," says Wayne.  "I had a vibration all night long, really.  We were looking it over after the heat, and we thought it may be a motor issue.  We did have some oil leakage."
With the issues, Wayne decided to start and park in the main event.  "We decided to pull it in after taking the green," he says.  "The way our luck is, we didn't want to do anything to the motor.  We are down to one right now.  Charlie (Fisher) is redoing the other ones.  We found out when we got it home that something was going on with the driveshaft.  It had a lot of whip in it and was rubbing on the torque tube.  We replaced all of that stuff, and checked the motor over.  We didn't find anything wrong with that, so we'll come back this week and see what we have."
The team will be busy this weekend.  "We're going to run double duty," says Wayne.  "My buddy Dennis Parks built this 360 in his garage.  We finally got it dyno-ed at Charlie's.  We had run it a couple of nights, but we have a tune-up on it now.  We'll see how it runs!"
Take Advantage of Wayne's Deals on Apparel!
New Wayne Johnson Racing #77x t-shirts and sweatshirts are in!  With any purchase of this year's apparel, you can get a free t-shirt from 2013 while sizes and supplies last!
Follow Updates on Facebook!
Wayne will update as his race night commences at his Facebook page.  Find it by searching for Wayne Johnson Racing or clicking the following link…
http://www.facebook.com/#!/WayneJohnsonRacing
Outlaw Wings – "The Wing with an Attitude"
Check out the new "recessed rivet" design put out by Outlaw Wings.  Talk to Wayne about purchasing Outlaw Wings for your car! Outlaw Wings – "The Wing with an Attitude"!
Wayne's Fast Facts
Wayne won in 410 competition two years ago on May 5 at the Knoxville Raceway.  Dustin Selvage was second, ahead of Danny Lasoski, Terry McCarl and Mike Reinke.
Partner of the Week – Rod End Supply
Whether you are running a go-cart, micro, mini-sprint, midget, modified, late model, sprint or a tractor, Rod End Supply has the assortment of rod ends, radius rods, and specialty products that will help you lead the field in performing at your maximum potential. At Rod End Supply, "They don't just sell 'em, they race 'em! Visit them on the web at www.RodEndSupply.com or call 1-800-284-2902 today!
"
Wednesday's

with Wayne"

"Wednesday's With Wayne" is an up close look at the past, present and future of colorful and talented sprint car driver Wayne Johnson. You'll never know what to expect next with Wayne, so don't miss us on Wednesdays!

To receive "Wednesday's with Wayne", send an e-mail to sprntcar@hotmail.com with"Wayne" in the subject line.

Wayne Johnson Racing would like to thank partners, Todd Carlile, Vern Rengen, Miles with Townline Variety, Russell with Outlaw Wings, Ray with City Vending, Scott with Stone Mountain Access Systems and product sponsors Bill with The Oil Medics, Byron with Sebastian Sandblasting & Powdercoating, Jeff with 517 Design, Shawna and Kaleb with Triple X Race Components, Bob with Rod End Supply, Dave with Astro Titanium, Mark and Doug with Schoenfeld Headers, Desiree at Simpson, Jeannie at Butlerbuilt, Tom at Xtreme Accu-Tach, Carl with Kustom Sprint Car, Brad with Momentum, Charlie with Fisher Racing Engines, Team Achieve and Tim with Canyon Apparel.