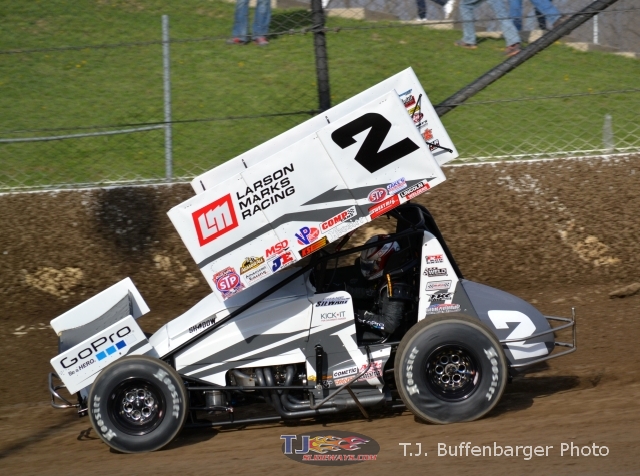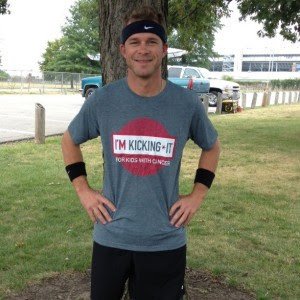 From Spire Sports + Entertainment
Cornelius, N.C. — (May 15, 2014) — Larson Marks Racing, a 410 winged sprint car team with driver Shane Stewart, has partnered with Kick-It, a grassroots fundraising program that partnered with the Jeff Gordon Children's Foundation to raise money for children's cancer research.
Kick-It will be an associate sponsor on the No. 2 Larson Marks Racing winged sprint cars throughout their 50-plus 2014 race schedule. They'll also be a co-primary on the car for the famed Knoxville Nationals August 6-9 in Knoxville, Iowa.
"I am excited that our Kick-It program will be partnering with Larson Marks Racing for the 2014 sprint car season," said Gordon. "The sprint car community has rallied around the Kick-It program since its 2012 debut in the sport by raising funds and awareness for childhood cancer research."
Kick-It entered the sprint car scene in 2012 when they joined Stewart as his primary sponsor for select races. Together, they won the 360 Knoxville Nationals in both 2012 and 2013 and helped make Kick-It a household name in the sport. Larson Marks Racing co-owner and NASCAR driver, Kyle Larson, also drove a Kick-It sponsored sprint car to victory lane in 2012, winning the Gold Cup Race of Champions at Silver Dollar Speedway in Chico, Calif.
"I'm happy that Kick-It is continuing its presence in sprint car racing and has chosen to do so with Larson Marks Racing," said Stewart. "It means a lot to me that we can continue to help this foundation grow and make people aware
Driver Shane Stewart prior to a Kick-It event.
that so many children and their families need our help. The impact of the sprint car world in under two years has been incredible. I'm proud to be a race car driver every day, but when you see what we can do collectively to make a difference, it takes it to a whole new level."
Co-owner, Justin Marks, echoes Stewart's statements. "As a new member of the sprint car community, it's an honor that a well-known foundation with such a great cause is on board with us. Shane and Kyle have obviously been great representatives for the foundation in the past and we hope to break some records and raise even more money for Kick-It this season."
Off the track, Stewart helped launch the inaugural Kick-It kickball game at the 2012 Knoxville Nationals. The game, featuring two teams of sprint car drivers and a live auction, raised more than $20,000 for children's cancer research. Since then, the sprint car community has held 29 Kick-It events around the world and has raised more than $490,000.
"It's been really neat to be a part of Kick-It with Jeff (Gordon) and everyone over at his foundation," Larson said. "The games are fun. The drivers get a chance to hang out together and the fans see a side of us that they don't in the pits at night. We'll have some fun again this year at Knoxville and I'll see if I can beat Jeff at the go-kart track again."
Kick-It will again host the second-annual Tony Stewart Kick-It Cup on Friday, August 8 in Knoxville, Iowa as well as the second-annual Go-Kart Spectacular at Slideways Karting Center on Wednesday, August 6. Confirmed games will also be held at Fremont (Ohio) Speedway, the Gold Cup Race of Champions, Cottage Grove (Ore.) Speedway, Williams Grove National Open, and World of Outlaws World Finals, as well as the 2015 Chili Bowl Nationals and Grand Annual Sprintcar Classic in Australia.
Donations to Kick-It can be made at any time at www.kick-it.org/donate. For more information on Kick-It and how you can host a kickball game to raise money for children's cancer research, visit www.kick-it.org. For more information on the Jeff Gordon Children's Foundation, visit www.jeffgordonchildrensfoundation.org.