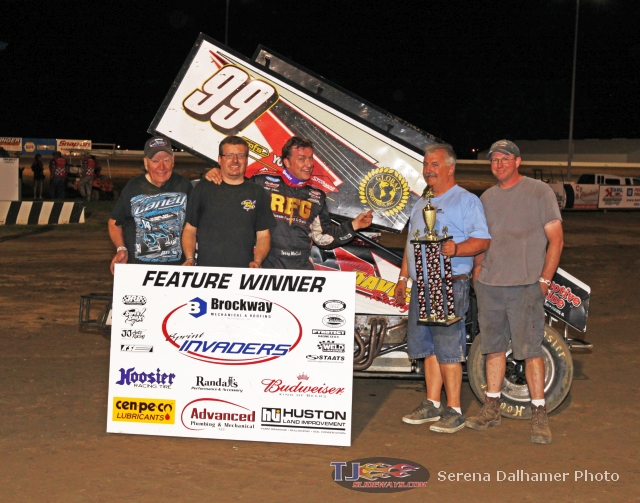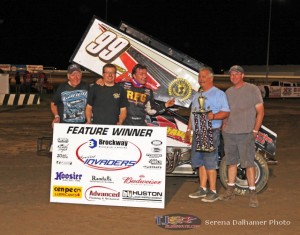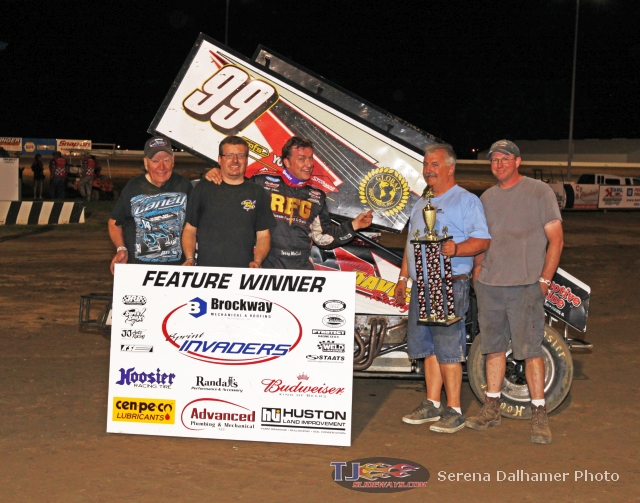 From Bill W
Independence, IA — (May 30, 2014) — Jimmy Davies was looking for a driver, and Terry McCarl answered the call.  McCarl won for the second year in a row at the Independence Motor Speedway in Independence, Iowa with the Brockway Mechanical & Roofing Sprint Invaders Friday night.  The win was the eighth in series' history for the Altoona, Iowa driver and came aboard Davies' #99 machine sponsored by Fangman & Sons, Global Industries and Automotive Machine.
Pole-sitter Tony Shilling shot out to an early lead in the 25-lap main event that was slowed after two laps for a cone that was kicked out onto the frontstretch.  McCarl had already moved into second from his starting spot inside row three, ahead of Jarrod Schneiderman.
Russ Hall flipped after contact with Cole Wood a lap later.  He was uninjured.  Ensuing tries at green saw Mike Houseman Jr. and Tasker Phillips spin to bring out caution.  Once under green, McCarl slid under Shilling entering turns one and two and taking the point.  Meanwhile, young Chris Martin shot into the top five from his row six starting spot.
Martin worked by Jon Agan for fourth and then assumed third when Jarrod Schneiderman spun while running in that spot with fifteen laps in the books.  The restart saw McCarl leading Shilling, Martin, Agan and Bobby Mincer back to green.  Agan slid by Martin on the restart, but the youngster returned the favor on the next go-around.
McCarl held on for the win by a straightaway over Shilling, Martin, Mincer and Agan.  Josh Schneiderman, hard-charger Bret Tripplett, Austin Johnson, CJ Houseman and Wood completed the top ten.  Jarrod Schneiderman, Shilling and Agan won heats and McCarl took the Dash.
"I have to thank Jimmy Davies for giving me this opportunity," said McCarl afterwards.  "He has good equipment, we've been friends, and I've seen him around the track for a long time.  Scott Bonar, our crew chief tonight is one of the best out there.  I've tried to hire him for myself before.  He had the car so nice all night long.  This is such a fun racetrack.  It's easy to say that when you've won, but it's really one of my favorite tracks.  It's really wide.  No matter where you start, if your car is hooked up, you can get to the front."
"We had a great car," said Shilling.  "About three laps in, we lost a cylinder.  We don't know what's going on.  I had to cheat the cushion a little bit and bogged the motor down.  We weren't able to stay in front of Terry.  I think we had a good car, it's just unfortunate the motor let us down.  It was still a good finish and we're sitting well in points.  We'll get this motor fixed and be back for the next show."
"The last restart, I went into one and two a little deep," said Martin.  "(Agan) got by me, but I was able to get back underneath him.  It was fun racing with him.  Last year was my first full year and I've always looked up to him.  It was cool racing with him.  I can't thank Josh Higday enough, for setting this car up.  He's been our crew chief this year, and we've been a rocket every night.  Tonight we got some lucky breaks and I feel fortunate."
The Sprint Invaders return to action, Thursday, June 19 at the Lee County Speedway in Donnellson, Iowa, and they will also be in action the following night, Friday, June 20 at the Bloomfield Speedway in Bloomfield, Iowa.  For more information, visit www.SprintInvaders.com!
Results
Brockway Mechanical & Roofing A main (started), 25 laps: 1. 99, Terry McCarl, Altoona, IA (5) 2. 22T, Tony Shilling, Knoxville, IA (1) 3. 44, Chris Martin, Ankeny, IA (12) 4. 15, Bobby Mincer, Burlington, IA (8) 5. 4, Jon Agan, Knoxville, IA (6) 6. 49, Josh Schneiderman, West Burlington, IA (21) 7. 22, Bret Tripplett, Lincoln, IL (23) 8. 81, Austin Johnson, Pleasant Hill, IA (10) 9. 80x, CJ Houseman, Des Moines, IA (7) 10. 17w, Cole Wood, Auburn, CA (9) 11. 50P, Harold Pohren, Lowell, IA (18) 12. 40, Andy Huston, Roseville, IL (11) 13. 8L, Tom Lenz, Marion, IA (3) 14. 68, Mike Houseman Jr., Des Moines, IA (14) 15. 9D, Daniel Bergquist, Burlington, IA (20) 16. 83, Dave Getchell, Sperry, IA (17) 17. 10T, Tim Moore, Rock Island, IL (24) 18. 12G, Kelly Graham, Collins, IA (22) 19. 6, Mitchell Alexander, Knoxville, IA (16) 20. 85, Chase Wanner, Agency, IA (19) 21. 11s, Jarrod Schneiderman, West Burlington, IA (2) 22. 7TAZ, Tasker Phillips, Pleasantville, IA (4) 23. 29, Russ Hall, Pleasant Hill, IA (13) 24. 27, Carson McCarl, Altoona, IA (15). Lap Leaders: Shilling 1-3, T. McCarl 4-25. KSE Hard-charger: Tripplett.
Advanced Plumbing & Machine Heat one (started), 8 laps, top two to Dash: 1. Jarrod Schneiderman (3) 2. Tasker Phillips (1) 3. CJ Houseman (5) 4. Austin Johnson (2) 5. Russ Hall (7) 6. Mitchell Alexander (4) 7. Chase Wanner (6) 8. Kelly Graham (8)
Huston Land Improvement Heat two (started), 8 laps, top two to Dash: 1. Bret Tripplett (6) 2. Tom Lenz (2) 3. Bobby Mincer (7) 4. Andy Huston (1) 5. Mike Houseman Jr. (8) 6. Dave Getchell (5) 7. Daniel Bergquist (4) 8. Bret Tripplett (3)
CenPeCo Lubricants Heat three (started), 8 laps, top two to Dash: 1. Jon Agan (2) 2. Terry McCarl (3) 3. Cole Wood (5) 4. Chris Martin (6) 5. Carson McCarl (1) 6. Harold Pohren (7) 7. Josh Schneiderman (4) 8. Tim Moore (8)
Budweiser "King of Beers" Shake-up Dash (started), 6 laps: 1. Terry McCarl (1) 2. Jon Agan (2) 3. Tony Shilling (5) 4. Jarrod Schneiderman (4) 5. Tom Lenz (3) 6. Tasker Phillips (6)
Contingencies
Weld – Mike Houseman Jr.
Saldana Racing Products – Jarrod Schneiderman
Pyrotec – Carson McCarl