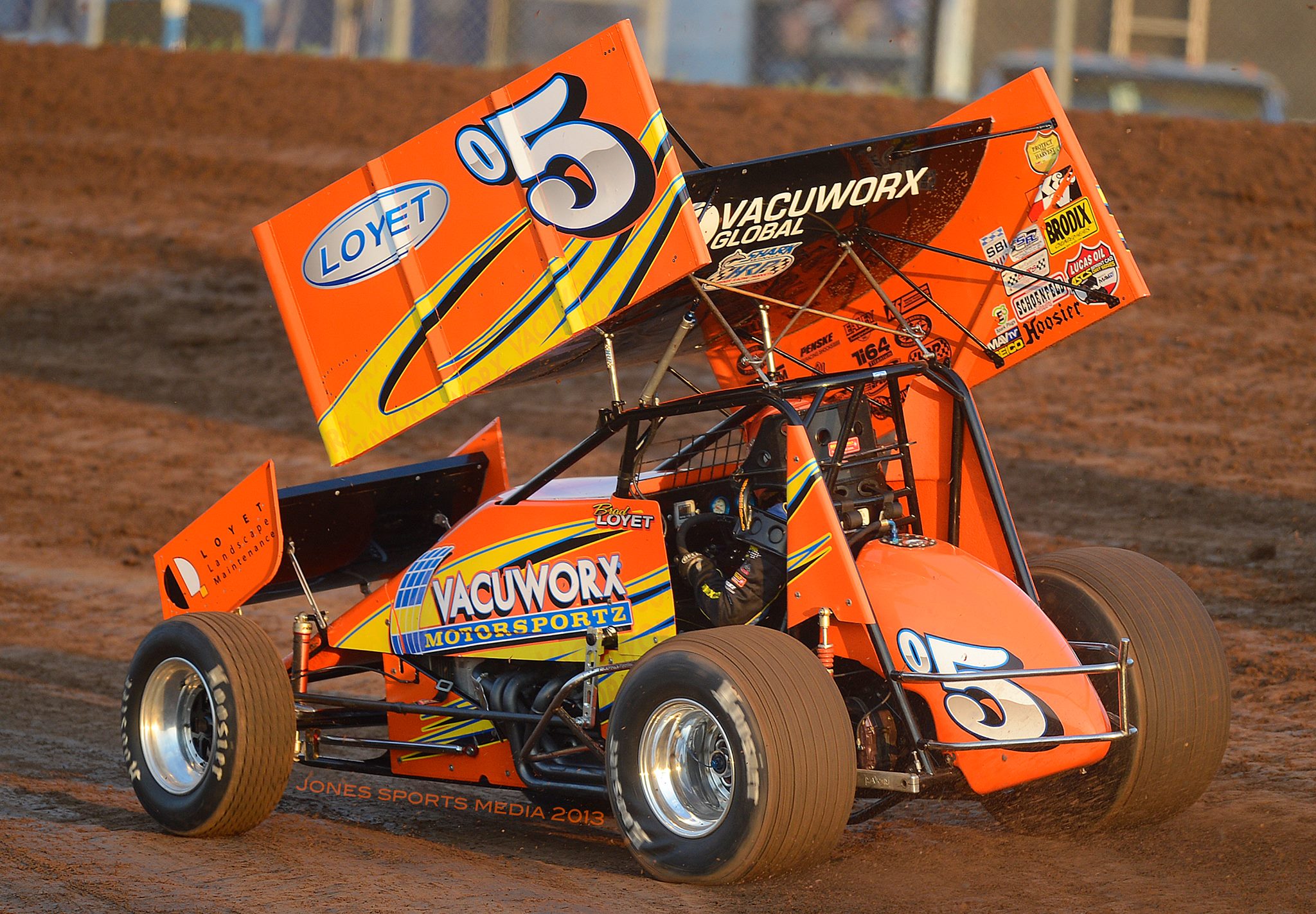 From Bryan Hulbert
Eagle, NE — (May 31, 2014) —  A battle for ages at the Hinchman Racewear Eagle Nationals presented by TBJ Promotions ended with Brad Loyet ending out Johnny Herrera off the final turn for his first National Tour triumph of 2014, and first Eagle Nationals Championship.
"I saw him on the bottom but I didn't see him on the top. Me and him have a long standing history so I wasn't going to cut him no slack, and I knew he wasn't going to cut me any either," commented Loyet after a ferocious final five laps between the two. "This is all for my guys. We needed this bad. We needed a confidence booster so it's unbelievable to lock this one up."
The win makes Loyet the seventh winner in nine Protect the Harvest A-Features contested in 2014.
Herrera's runner up finish is his third top five appearance of the season, and although he had the run a few times, found the move a bit too close for comfort, "There was a couple times I had a good shot but I used my head and looked at the bigger picture here of getting a second or possible using him up and crashing us both. I don't race that way."
Sixteenth starting Sam Hafertepe, Jr. charged to the final podium step.
"We could actually run it in the holes entering one, and come off the middle of two and just eat people up," commented a sweat soaked Hafertepe. "Starting sixteenth, I was hanging off the chalkboard when the put the line-up, up, for the A-Main, so to get up to third was pretty good without very many cautions through there, and to run them two guys down, I had to be pretty damn good."
Aaron Reutzel ended up fourth with Blake Hahn posting his first top five of the season in National Tour competition.
Billy Alley held a spot in the top five the first ten laps before slipping back to finish sixth. Jack Dover gridded the field fifteenth and charged up to finish seventh with a last lap pass on Jay Russell and Jordan Boston. Jeff Swindell completed the top ten.
Following Loyet's victory, the Miller Truck Lines No. 05 has taken over the top spot in the Lucas Oil ASCS National Tour driver standings, holding a 28 point lead over Jason Johnson. This marks the first time Loyet has lead the National Tour standings.
Paired with the Speedway Motors ASCS Midwest Region, Billy Alley's sixth place finish garnered high points for the region.
Bringing 34 drivers to the Eagle Raceway, four Heat Races saw Jonathan Cornell, Johnny Herrera, Aaron Reutzel, and Billy Alley with wins. A pair of B-Features went to Seth Bergman and Matt Covington.
The Lucas Oil American Sprint Car Series presented by MAVTV American Real competes next at the Lexington 104 Speedway in Lexington, Tenn. on Friday, June 6 and the I-30 Speedway in Little Rock, Ark. on Saturday, June 7.
For continued updates on the Lucas Oil ASCS National Tour, log onto http://www.ascsracing.com.
Lucas Oil ASCS presented by MAVTV American Real
Hinchman Racewear Eagle Nationals
Eagle Raceway – Eagle, Neb.
Saturday, May 31, 2014
Car Count: 34
Heat Races presented by SpeedMart – 8 Laps, winners plus top 12 in passing points to A-Feature.
Heat 1 (8 Laps): 1. 24H-Jonathan Cornell[3]; 2. 05-Brad Loyet[4]; 3. 35L-Cody Ledger[5]; 4. 1B-Jordan Boston[6]; 5. 17H-Ryan Bickett[2]; 6. E85-Luke Cranston[8]; 7. 17G-Gage Dorr[7]; 8. 12M-James Mosher[9]; DNS 12-Tyler Drueke
Heat 2 (8 Laps): 1. 45X-Johnny Herrera[1]; 2. 48-Jake Martens[2]; 3. 53-Jack Dover[3]; 4. 95-Matt Covington[4]; 5. 5X-Jason Martin[6]; 6. 77-John Klabunde[7]; 7. 29-Brandon Hahn[8]; 8. 2A-Randy Hibbs[5]; 9. 03-Shayle Bade[9]
Heat 3 (8 Laps): 1. 87-Aaron Reutzel[1]; 2. 76-Jay Russell[3]; 3. 18R-Ryan Roberts[4]; 4. 15H-Sam Hafertepe Jr[5]; 5. 94-Jeff Swindell[8]; 6. 82-Jason Danley[2]; 7. 21-Ryan Kitchen[7]; 8. 17B-Stu Snyder[6]
Heat 4 (8 Laps): 1. 3-Billy Alley[2]; 2. 17-Blake Hahn[3]; 3. 18-Tony Bruce Jr[4]; 4. 23-Seth Bergman[5]; 5. 41-Jason Johnson[8]; 6. 35-Trevor Grossenbacher[7]; 7. 17X-Josh Baughman[6]; 8. (DNF) 3H-Brandon Hanks[1]
Smiley's Racing Products B-Features – Top 3 advance to the A-Feature.
B Feature 1 (12 Laps): 1. 23-Seth Bergman[1]; 2. 5X-Jason Martin[2]; 3. 77-John Klabunde[3]; 4. 82-Jason Danley[5]; 5. 12M-James Mosher[7]; 6. 03-Shayle Bade[9]; 7. 17X-Josh Baughman[6]; DNS 17H-Ryan Bickett; DNS 2A-Randy Hibbs
B Feature 2 (12 Laps): 1. 95-Matt Covington[1]; 2. E85-Luke Cranston[2]; 3. 35-Trevor Grossenbacher[3]; 4. 21-Ryan Kitchen[5]; 5. 17B-Stu Snyder[7]; 6. 17G-Gage Dorr[6]; 7. (DNF) 29-Brandon Hahn[4]; 8. (DNF) 12-Tyler Drueke[8]; DNS 3H-Brandon Hanks
Protect the Harvest A-Feature
A Feature (35 Laps): 1. 05-Brad Loyet[3]; 2. 45X-Johnny Herrera[4]; 3. 15H-Sam Hafertepe Jr[16]; 4. 87-Aaron Reutzel[8]; 5. 17-Blake Hahn[6]; 6. 3-Billy Alley[2]; 7. 53-Jack Dover[15]; 8. 76-Jay Russell[1]; 9. 1B-Jordan Boston[11]; 10. 94-Jeff Swindell[12]; 11. 41-Jason Johnson[13]; 12. 48-Jake Martens[5]; 13. 18-Tony Bruce Jr[10]; 14. 5X-Jason Martin[19]; 15. 23-Seth Bergman[17]; 16. 24H-Jonathan Cornell[7]; 17. 95-Matt Covington[18]; 18. 35L-Cody Ledger[14]; 19. (DNF) E85-Luke Cranston[20]; 20. (DNF) 35-Trevor Grossenbacher[22]; 21. (DNF) 77-John Klabunde[21]; 22. (DNF) 18R-Ryan Roberts[9]
Lap Leader(s): Jay Russell 1; Brad Loyet 2-35
FSR High Point: Billy Alley
KSE Hard Charger: Sam Hafertepe, Jr. +13
Hawk Performance Fastest Lap: Brad Loyet – 13.207 seconds
CSI Rebound: Tyler Drueke
Provisional(s): N/A