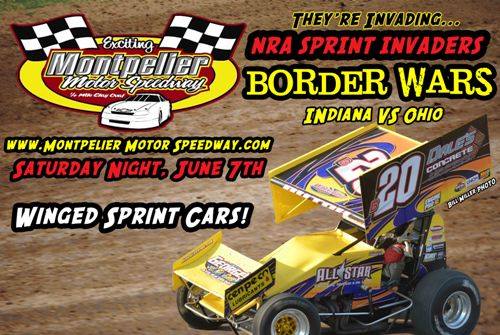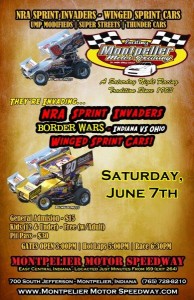 From Montpelier Motor Speedway
Montpelier, IN — (May 31, 2014) — For the first time in nearly a decade, Winged Sprint Car racing will return to the Montpelier Motor Speedway with the inaugural visit of the K & L Ready Mix NRA Sprint Invaders on Saturday Night, June 7th with the Indiana/Ohio NRA Sprint Invader Border Wars.
The Border War two day event will begin Friday, June 6th at the Limaland Speedway in Lima, Ohio and will venture across state lines the following night on Saturday, June 7th to the Montpelier Motor Speedway. While UMP Modifieds and Super Streets commonly compete at both the Limaland/Montpelier Motor Speedway on any given weekend, this will be the first pairing for the Winged Sprint Cars and their fans at both venues. The approximate distance between the two venues is 70 miles or 1 hour 20 minutes (via Ohio 29/Indiana Highway 18). Please check road conditions for potential of highway construction and delays on Highway 18 east of Montpelier.
The Ohio based sanctioning body hosts NRA Sprint events at a multitude of Ohio tracks along with events in Michigan; however, Montpelier will serve as one the lone Indiana visits in 2014 for the series thanks in part to its close approximation to the Ohio border. The series utilizes full-size sprint cars with top and nose wings powered by methanol fuel injected direct drive engines.
California heavy hitter Randy Hannagan leads the series virtue of 2 Wins (Limaland and Waynesfield) while JR Stewart (1 Win – Limaland), and Jim Neir (1 Win – Eldora Speedway) have also posted NRA wins during the 2014 season. Entering the weekend Hannagan will be the points leader to a points fund that pays a whopping $10,000 to the winner. JR Stewart, Shawn Dancer, Dustin Stroup, Hud Horton, Jared Horstman, Butch Schroeder, Ron Blair, Max Stambaugh, Tim Allison, Devon Dobie, Tim Hunter, Kevin Roberts, Gregg Dalman, and Kyle Pitts round out the top 15.
The Montpelier Motor Speedway, which began racing in 1903 and hosted its first automobile race in 1915, is one of America's oldest remaining racing facilities. While the east central Indiana ¼ mile clay oval has a historic past, the facility has seen many major modern upgrades the past four seasons including new restrooms, bleachers along with the addition of many safety features including a new catch fence and front stretch wall. The Montpelier Motor Speedway commonly competes weekly on Saturday Nights with its popular Modified and Stock Car divisions, and is also the host to the popular Montpelier Motor Speedway Midget series.
General Admission to this special event will be $15 with Kids (12 and Under) Free (with a paid adult). Pit pass admission will be $30. Gates Open at 3:00PM followed by Hot Laps at 5:00PM with racing beginning at 6:30PM. Joining the K & L Ready Mix NRA Sprint Invaders will be the UMP Modifeds, Super Streets, and Thunder Cars.
Classes
K&L Ready Mix NRA SPRINT CARS
UMP Modified
Super Streets
Thunder Cars
Times
Gates Open – 3:00 PM
Hot Laps – 5:00 PM
Racing – 6:30 PM
Admission
General Admission – $15
Kids (12 and Under) – Free
Pit Pass – $30
Location
East Central Indiana
Montpelier Motor Speedway
700 South Jefferson
Montpelier, Indiana 47359
I69 Exit 264
Web & Media
Official Website: www.MontpelierMotorSpeedway.com
Facebook – "Home of the Montpelier Motor Speedway:www.facebook.com/MontpelierMotorSpeedway
Twitter – www.twitter.com/MontpelierTrack
Website – www.NRAInvaders.com