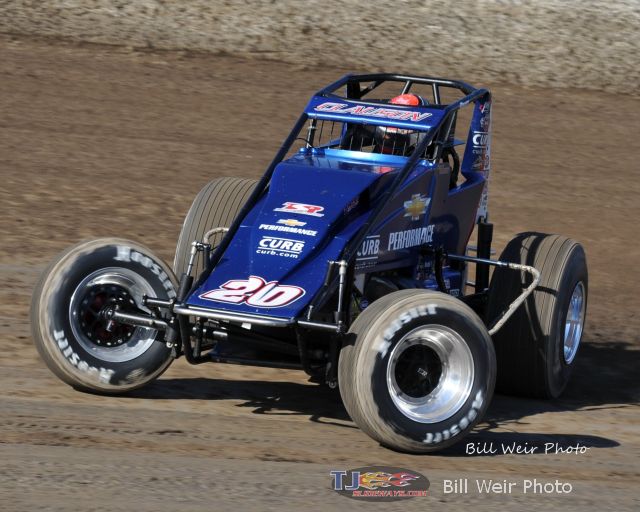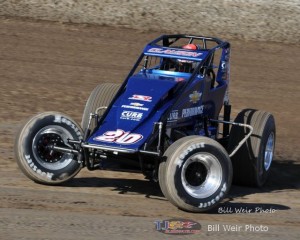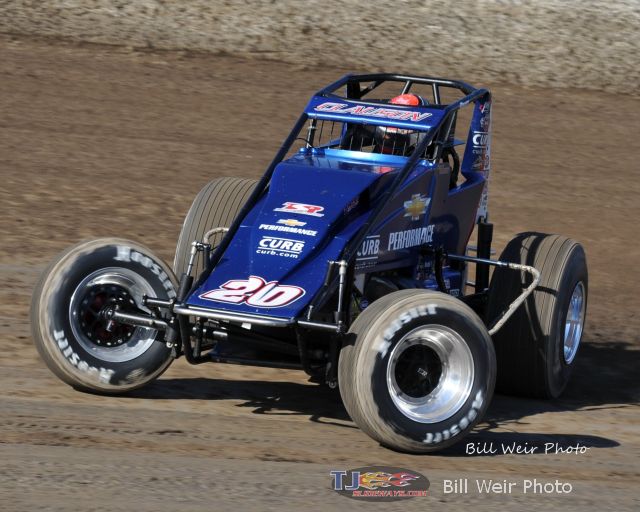 From Dick Jordan and Bob Miller
New Egypt, N.J. — (June 5, 2014) –Bryan Clauson of Noblesville, IN  caught early race leader CJ Leary with just two laps to go and went on to win the 30 lap AMSOIL USAC Eastern Storm feature at the New Egypt Speedway Thursday night.  The victory was worth $6,000.   CJ Leary, looking for his first ever USAC win led twenty-eight laps of the thirty lap feature.   Clauson and Leary swapped the lead twice on lap twenty-nine and on the final lap, Leary and Clauson were side-by-side down the backstretch.   Clauson brought the crowd to their feet with his run off of turn four on his way to the checker flag.  Clauson won the thriller over CJ Leary.   In the twenty-five lap ARDC feature,  the  race was equally exciting with Steve Buckwalter earning the win over  Alex Bright.  Buckwalter led the race from the outset, then with five laps to go, Alex Bright took the top spot.  Buckwalter regained the lead and went on to the win.
USAC heat race winners were Dalton Gabbard, Mark Smith and Chris Windom as Jon Stanbrough won the semi.
In the thirty-lap USAC sprint feature, CJ Leary took immediate command of the lead with Dave Darland in the chase.  By lap four, Bryan Clauson was in second followed by Leary with  Darland in fourth.   Leary was impressive as he ran to hide from the rest of the field.    Brady Bacon was now on a strong run advancing to fourth by lap seven.  At the front of the pack, Leary was far ahead and out of sight of runner-up Bryan Clauson.
At the halfway point of the race, CJ Leary was far ahead with no signs of Clauson closing.   Dave Darland followed in third  with Brady Bacon fourth and Chase Stockon fifth.   Brady Bacon was now challenging  Darland for third  and made the pass on lap eighteen.
The  caution flag  was displayed on lap nineteen when Jon Stanbrough stopped entering turn one.  On the restart, a three car tangle took place in turn four, delaying the race for the final time.
On the restart, Leary was in good company with Clauson and Bacon now challenging.   Leary had a six car length lead over Clauson but suddenly, Clauson found a fast lane on the inside of the backstretch.  With two laps to go, Clauson, racing on the bottom of the track was now challenging Leary for the win.  Leary and Clauson exchanged the lead twice on lap twenty-nine.  With the white flag waiving, Leary was back in the lead.   Off of turn two, Leary opened the door for Clauson on the bottom and  entering turn three, Clauson took the lead.  Off of turn four, Leary and Clauson were side-by-side with Clauson edging out Leary for the win at the checker flag.  Leary finished second followed by Brady Bacon,  Dave Darland and  Chase Stockon.
ARDC heat race winners were Steven Drevecki, Tim Buckwalter and Trevor Kobylarz.  In the twenty-five lap feature, Steve Buckwalter was the winner but not without a challenge.  Buckwalter was the early race leader  with Tim Buckwalter in contention.  On his way to the front was Alex Bright, racing in fourth on lap four.   Bright moved into second on lap six.
Buckwalter had a commanding lead as it was up to Bright to reel him in.   At the halfway point, Steve Buckwalter continued to set the pace followed by Alex Bright, Tim Buckwalter,  Branden Bright and Trevor  Kobylarz.    By lap  eighteen,  Alex Bright was on the leader and the battle was about to start.   On lap twenty Bright took the lead but Bruckwalter continued to fight back regaining the lead.   The one and only yellow flag of the race was displayed on lap twenty for Tony DiMattia who stopped on the homestretch.  At the same time, third place runner Tim Buckwalter retired to the pits.
When green flag racing resumed, Steve Buckwalter held the lead as Branden Bright now moved into second.  Alex Bright returned to the runner-up stop and tried to catch the leader but he ran out of time.  Steve Buckwalter took the win over Alex Bright, Brenden Bright, Bruce Buckwalter Jr. and Trevor Kobylarz.
The one lap track record for the USAC non-wing sprints was broken twice early in time trials by Bryan Clauson but eventually, it was Brady Bacon of Broken Arrow, OK who set the new one lap mark with a time of  15.655.
AMSOIL USAC NATIONAL SPRINT CAR RACE RESULTS: June 5, 2014 – New Egypt, New Jersey – New Egypt Speedway – "Eastern Storm" Presented by RW and Partners
QUALIFYING: 1. Brady Bacon, 69, Dynamics-15.655 (New Track Record); 2. Bryan Clauson, 20, Stewart/Curb-Agajanian-15.661; 3. Justin Grant, 40, Hery-15.754; 4. Jon Stanbrough, 37RW, Dutcher-15.819; 5. Chase Stockon, 32, 32/TBI-15.838; 6. Landon Simon, 24, LSR-15.879; 7. Dave Darland, 71P, Phillips-15.927; 8. C.J. Leary, 30, Leary-16.000; 9. Kevin Thomas, Jr., 9K, KT-16.055; 10. Tracy Hines, 4, Hines-16.073; 11. Jarett Andretti, 18, Andretti-16.075; 12. Chris Windom, 11, Walker-16.077; 13. Daron Clayton, 3R, Byram-16.089; 14. Robert Ballou, 12, Ballou-16.155; 15. Trevor Kobylarz, 14, RT-16.257; 16. Dalten Gabbard, 5, Baldwin-16.284; 17. Mark Smith, 1M, Smith-16.446; 18. Hunter Schuerenberg, 20N, Schuerenberg/Nolen-16.555; 19. Chad Boespflug, 98, Boespflug-16.556; 20. Shane Cockrum, 66, Wade-16.572; 21. Joey Biasi, B1, Biasi-16.776; 22. Mark Bitner, 15, Bitner-16.892; 23. Harris Kohen, 0, Kohen-17.992; 24. Jimmy Carpenter, 87, Carpenter-18.010.
FIRST HEAT: (8 laps) 1. Gabbard, 2. Darland, 3. Bacon, 4. Clayton, 5. Hines, 6. Bitner, 7. Boespflug, 8. Stanbrough. 2:13.82
SECOND HEAT: (8 laps) 1. Smith, 2. Ballou, 3. Leary, 4. Stockon, 5. Clauson, 6. Andretti, 7. Cockrum, 8. Kohen. 2:14.74
THIRD HEAT: (8 laps) 1. Windom, 2. Schuerenberg, 3. Kobylarz, 4. Grant, 5. Thomas, 6. Biasi, 7. Carpenter, 8. Simon. NT
SEMI: (12 laps) 1. Stanbrough, 2. Simon, 3. Bitner, 4. Andretti, 5. Boespflug, 6. Cockrum, 7. Biasi, 8. Kohen, 9. Carpenter. 3:19.66
FEATURE: (30 laps) 1. Bryan Clauson, 2. C.J. Leary, 3. Brady Bacon, 4. Dave Darland, 5. Chase Stockon, 6. Tracy Hines, 7. Justin Grant, 8. Landon Simon, 9. Hunter Schuerenberg, 10. Daron Clayton, 11. Trevor Kobylarz, 12. Kevin Thomas, Jr., 13. Jarett Andretti, 14. Mark Smith, 15. Robert Ballou, 16. Chad Boespflug, 17. Mark Bitner, 18. Joey Biasi, 19. Chris Windom, 20. Jon Stanbrough, 21. Dalten Gabbard, 22. Shane Cockrum. NT
—————————-
**Simon flipped in Heat 3.
FEATURE LAP LEADERS: Laps 1-29 Leary, Lap 30 Clauson.
NEW AMSOIL USAC NATIONAL SPRINT POINTS: 1-Bacon-706; 2-Darland-674; 3-Clauson/Stockon-646; 5-Hines-635; 6-Grant-595; 7-Stanbrough-593; 8-Schuerenberg-539; 9-Windom-483; 10-Leary-457.
NEW RW & PARTNERS EASTERN STORM POINTS: 1-Bacon-180; 2-Stockon-178; 3-Darland-177; 4-Grant-165; 5-Hines-159; 6-Clauson-154; 7-Leary-148; 8-Stanbrough-138; 9-Schuerenberg-137; 10-Thomas-125.
NEXT AMSOIL NATIONAL SPRINT RACE: June 7 – Port Royal (PA) Speedway – "Eastern Storm" Presented by RW and Partners
ARDC 25 LAP MIDGET FEATURE: Steve Buckwalter, Alex Bright, Brenden Bright, Bruce Buckwalter Jr., Trevor Kobylarz, Steven Drevicki, Ryan Greth, Jim Radney, Brett Arndt,  John Burnett, Tommy Kunsman, Austin Burke, Brian Gilmore, Brett Wanner, Tim Buckwalter, Tony DiMatta, Greg Fitzpatrick, Nick Wean.