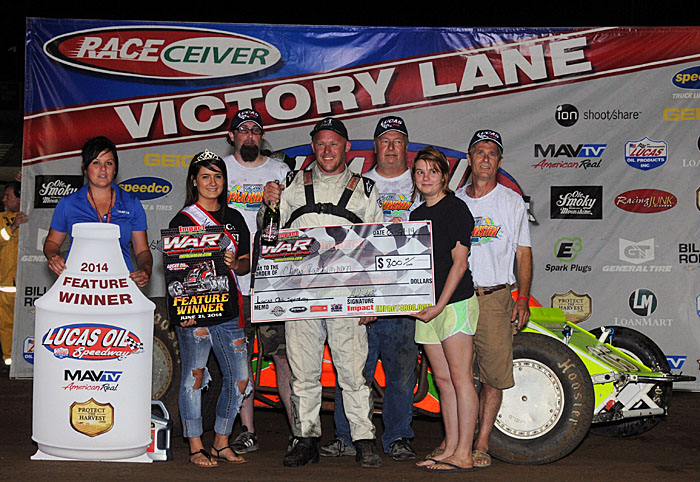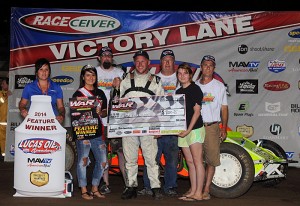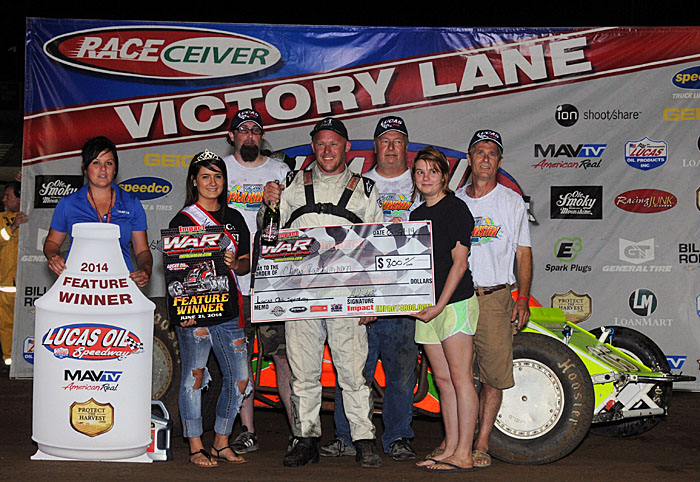 From Chad Buford
Wheatland, MO — (June 21, 2014) — Continuing an amazing season with the WAR Series presented by Impact Signs, Awnings, and Wraps, Chris Parkinson picked up his third win of the season at Lucas Oil Speedway Saturday night.
Pete Palazzolo led the field to the green flag with Parkinson to his outside. Palazzolo led into turns one and two and down the backstretch, but Parkinson got a great run on the outside and swept around Palazzolo in turns three and four to lead lap one. Just behind the lead duo was Brad Graham, Chad Goff, and Casey Shuman.
Lap by lap, Parkinson zipped around the high side of Lucas Oil Speedway and continued to extend his lead and just before the first yellow on lap eight for a stopped Brad Graham on the backstretch, Parkinson was ahead by a straightaway.
The yellow was a huge break for Shuman who only took a couple of laps to move into the runner-up spot. With Parkinson comfortably leading, Palazzolo and Josh Stephens were having a nice battle for the third spot. The duo would trade the position seemingly in every corner for a couple of laps.
By lap twelve with Parkinson still leading Shuman, Taylor Walton had used the high side to rocket into third. Over the next handful of laps, it would remain Parkinson, Shuman, and Walton with Palazzolo and Stephens still in the top five.
With heavy lapped traffic all around the speedway, Shuman started to eat into the Parkinson's lead.
Lap by lap, the advantage got smaller. By lap twenty-one, the lead was down to four car lengths.
On lap twenty three, Parkinson had to check up for the lapped car of Lane Stone, Shuman saw his opportunity and made an aggressive slide job on both Parkinson and Stone. Stone was left with nowhere to go and got into the back of Shuman and at the same time, Parkinson was turning underneath both. Just at this time, the yellow appeared for Will Register, who had spun in turn two. This would give the lead back to Parkinson since a full lap had not been completed.
Parkinson was strong on the restart as he ran the high side to perfection. Shuman tried to use the bottom in one and two, but lost ground and moved immediately back up top in three and four.
He made one final run on Parkinson down the backstretch on the white flag lap and attempted a slide job in turns three and four. Parkinson, though, was too strong up high and Shuman followed the Gladstone, MO pilot to flagman Bruce Korte's double checkered with a large number of the crowd on their feet and cheering a great finish.
In seven races this year, Parkinson has finished no worse than fourth in his Parkinson-powered DRC sponsored by 54th Street Grill and Bar, Klein Motors and RV's, and Ozark Barge and Dock Service. His run of top four finishes has moved him within twelve points of the series lead even though he missed the first race of the season. Shuman, in his first WAR race of 2014, was a strong second in the Jeff Grimes-owned/Universal Truck Load Services/Grimes Transportation Maxim with Ostrich power. Walton was third in John Hillman's Gambler with Hillman power. Point leader Chad Goff was fourth in his B&D Racing/Midwest Specialty Flooring DRC with Kercher-Mopar power. Palazzolo rounded out the top five in his Rolla Auto Salvage/Fuller Automotive Eagle with Covico power. Oklahoman Tim Kent, making his first ever WAR start, was sixth in the Risley Trash Service XXX with John Helm moving up ten spots to run seventh. Jeff Wingate was eighth and was followed by Warren Johnson, making his first ever start in a sprint car. Kevin Risley rounded out the top ten.
Earlier in the evening, part-time WAR competitor Cody Baker suffered burns in ASCS competition which prevented him from being able to run the rest of the evening. The officials with the WAR Series would like to wish him a speedy recovery.
Shuman was the fast qualifier on the evening . Risley, Walton, and Bob Thoman were the heat race winners. Even though Thoman's night ended on a sour note with brake problems, the WAR Series would like to wish he and his wife Brenda congratulations as the couple celebrated their 55th Wedding Anniversary at the track.
The WAR Series will next be in competition on Thursday July 3rd at the Valley Raceway in Grain Valley, MO followed by a first-time visit to the Randolph County Raceway in Moberly, MO on Saturday July 5th.
A makeup date for the rained out June 7th race at Springfield Raceway in Springfield, MO willbe on Saturday July 19th.
For any other information including up to the date point standings, please go to warsprints.com or join the WAR Wingless Auto Racing Facebook page.
WAR Series presented by Impact Signs, Awnings, and Wraps
Lucas Oil Speedway
22 cars
Time Trials-
1. 00-Casey Shuman, Rattlesnake Bend, AZ-15.306, 2. 09-Josh Stephens, Buckner, MO-15.366, 3. 65-Chris Parkinson, Gladstone, MO-15.465, 4. 9-Chad Goff, Spring Hill, KS-15.502, 5. 04-Brad Graham, Springfield, MO-15.559, 6. 77X-J.D. Black, Grain Valley, MO-15.569, 7. 7s-Wade Seiler, Alton, IL-15.665, 8. 70-Pete Palazzolo, Pacific, MO-15.635, 9. 38-Cody Baker, Lone Jack, MO-15.704, 10. 88-Chad Tye, Independence, MO-15.813, 11. 8-Jeff Wingate, Centertown, MO-15.967, 12. 94K-Tim Kent-Bristow, OK-15.976, 13. 24-Kevin Risley, Collinsville, OK-16.005, 14. 14-Taylor Walton, Warrensburg, MO-16.070, 15. 27-Bob Thoman, Higginsville, MO-16.078, 16. 73-Lane Stone, Concordia, MO-16.178, 17. 12-John Helm, Kearney, MO-16.436, 18. 21X-Steve Stroud, St. Charles, MO-16.704, 19. 10-Will Register, Sedalia, MO-16.962, 20. 0H-Brian Hatlestad, Belle Vista, AR-17.030, 21. 42-Warren Johnson, Overland Park, KS-18.882, 22. 21C-Chris Desselle, Richmond, MO-No Time
1st Heat- 8 laps
1. 24-Kevin Risley (3), 2. 00-Casey Shuman (7), 3. 73-Lane Stone (2), 4. 7s-Wade Seiler (5), 5. 9-Chad Goff (6), 6. 88-Chad Tye (4), 7. 10-Will Register (1), 8. 21C-Chris Desselle (8)
2nd Heat- 8 laps
1. 27-Bob Thoman (1), 2. 70-Pete Palazzolo (3), 3. 09-Josh Stephens (5), 4. 04-Brad Graham (6), 5. 8-Jeff Wingate (4), 6. 0H-Brian Hatlestad (7), 7. 12-John Helm (2)
3rd Heat- 8 laps
1. 14-Taylor Walton (2), 2. 65-Chris Parkinson (4), 3. 94K-Tim Kent (3), 4. 21X-Steve Stroud (1), 5. 42-Warren Johnson (5) DNS: 77X- J.D. Black and 38-Cody Baker
A-Feature-25 laps
1. 65-Chris Parkinson (2), 2. 00-Casey Shuman (5), 3. 14-Taylor Walton (9), 4. 9-Chad Goff (4), 5. 70-Pete Palazzolo (1), 6. 94K-Tim Kent (11), 7. 12-John Helm (17), 8. 8-Jeff Wingate (12), 9. 42-Warren Johnson (18), 10. 24-Kevin Risley (8), 11. 7s-Wade Seiler (7), 12. 77X-J.D. Black (16), 13. 88-Chad Tye (13), 14. 73-Lane Stone (14), 15. 09-Josh Stephens (6), 16. 04-Brad Graham (3), 17. 21X-Steve Stroud (15), 18. 0H-Brian Hatlestad (20), 19. 21C-Chris Desselle (22), 20. 10-Will Register (21), 21. 27-Bob Thoman (10)-DNF, DNS: 38 Cody Baker