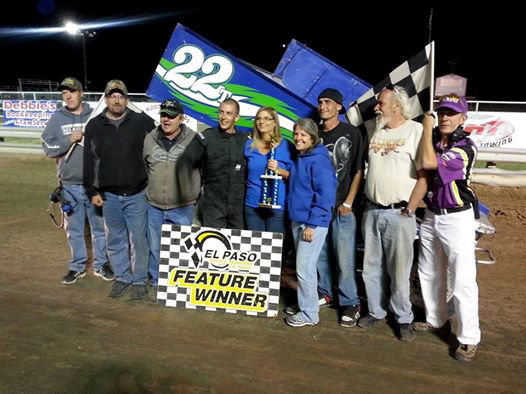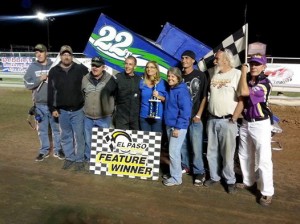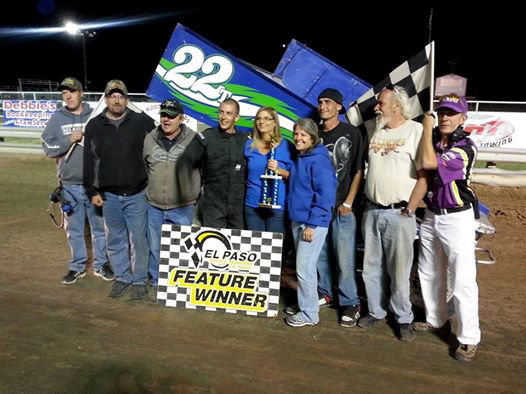 From URSS

URSS promoter, Rick Salem, asked the promoter of El Paso County Speedway Alan Davis, to water the top of the race track prior to Saturday nights A feature. Davis obliged and Rookie Mike Taylor found it to his liking as he used the top of the race track to score his first ever URSS feature.
Luke Lucero and Kevin Schramek brought the field to the green with Lucero jumping ut to the early lead with Schramek, Nic Sutton, Taylor and Coby Pearce rounding out the top five after lap one.
Taylor would move top the high side on lap 6 and overtake Sutton and two laps later would relegate Schramek to third. Taylor then set his sights on Lucero and would begin reeling in the leader lap by lap. Taylor would use the high side in turns 3 and 4 to overtake the leader on lap 16 only to have Lucero charge back in front coming out of 2 and leading down the back straight only to have Taylor regain the lead before crossing the line on lap 17.
With Taylor now leading the action behind him got hot and heave as Jake Bubak would begin his move to the front getting around Sutton on lap 20 to move into to move into 4th place and begin pressuring Schramek for third. Coby Pearce would also wrestle his way around Sutton on lap 24 only to have Sutton reclaim the position on the final lap.
Taylor would cruise to his very first URSS feature in his rookie season as Lucero would finish a career high 2nd with Schramek, Bubak, and rookie Nic Sutton rounding out the top five.
The Keizer wheels hard charger award went to Jake Bubak coming from his 7th starting position to 4th.
Heats were won by Sutton and Nick Haygood
Feature results
1 Mike Taylor
2 Luke Lucero
3 Kevin Schramek
4 Jake Bubak
5 Nic Sutton
6 Coby Pearce
7 John Jacob
8 Clint Schubert
9 Nick Haygood
10 Bob Schaeffer
11 Joey Schmidt
12 Brian Hardman
13 Dustin McNeill
14 Zac Taylor DNS