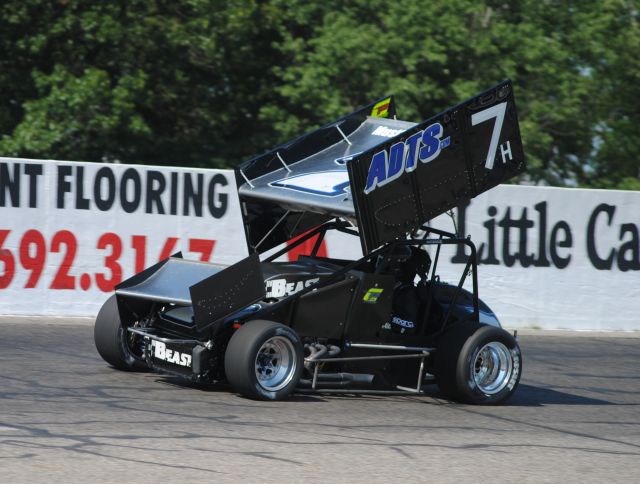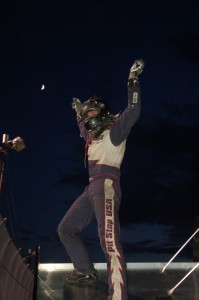 By David Sink
Clio, MI – (July 3, 2014) – Jo Jo Helberg took advantage of Brian Gerster's misfortune to claim his first Must See Racing Xtreme Sprint Series (MSRXSS) victory of the year in impressive fashion Thursday night at Auto City Speedway. Helberg picked up $4,000 for his victory in the 50-lap David D Mater Memorial "Firecracker 50/50".
The event featured a unique and exciting new format that saw the field split into twin twenty-five lap qualifying races. The 50-lap feature line-up was determined by how the drivers finished in their respective qualifying races. A coin toss was used to decide which qualifying race group would get the prized inside starting lane.
Helberg got the jump at the green and lead the first nine laps with Gerster in hot pursuit. It appeared as if fans would be treated to another classic Gerster versus Helberg showdown. Gerster assumed the lead when he made a turn three pass of Helberg. The lead would be short-lived as Gerster tangled with a lapped car on lap ten exiting turn four. Both cars slammed the the wall and a red flag was thrown. Helberg narrowly avoided the melee and became the new leader.
When the race resumed, Helberg returned to his torrid pace and cruised to the win in dominating style. The win was the first MSRXSS victory of the year for the 2012 MSRXSS champion. Helberg was chased to the line by: Jimmy McCune, Jacob Wilson, Troy DeCaire, and Brian Gerster, who came from the tail after his lap ten accident to salvage a decent finish.
Helberg was asked in victory lane how he was able to avoid the lap ten accident that eliminated Gerster from the lead." I saw it coming" explained Helberg."The thirty-three car kept drifting up. I saw him do it a few laps before. I tried to be really conservative with those guys. It's unfortunate for Gerster and the 50 team to get taken out by a lapped car. But unfortunately that's racing and how it goes".
Helberg ran at a torrid pace most of the race but admitted he didn't realize he was being chased by McCune in the closing laps "I couldn't really hear anything to be honest I was trying to be as conservative as I could. I wanted to keep the right rear tire underneath me and not burn it up. After that last caution I saw there were seven laps left and I needed to pick it up. I did from there. Thanks to Jim Hanks for putting up the $4,000 tonight. When you put up the money like that, we all kinda flock here" concluded Helberg.
Brian Gerster was the nights fastest qualifier. Qualifying races went to Helberg and Gerster. The MSRXSS will now head to Berlin Raceway in Marne, MI July 12. For info on Must See Racing including live event updates and the updated schedule, log onto to www.mustseeracing.com
David D Mater Memorial "Firecracker 50/50" 50-lap feature results
1. Jo Jo Helberg (7H)
2. Jimmy McCune (88)
3. Jacab Wilson (07w)
4. Troy DeCaire (22a)
5. Brian Gerster (50m)
6. Aaron Pierce (26p)
7. Ryan Gillenwater (45)
8. Ryan Litt (07L)
9. Tyler Underwood (14c)
10. Billy Wease (81)
11. John Turnbull Jr. (12)
12. Doug Dietz (0)
13. Jim Sheets (18)
14. Kevin Blue (6)
15. Jeff Bloom (26b)
16. RJ Payne (33)
17. Cody Hoover (23)
18. Tim Cox (1)