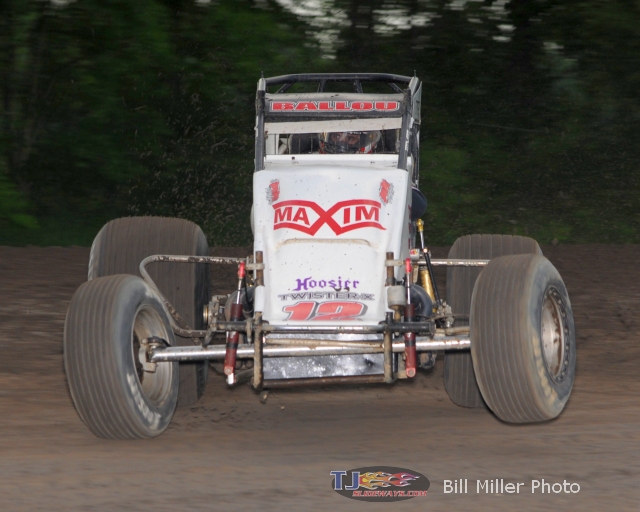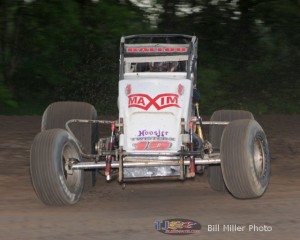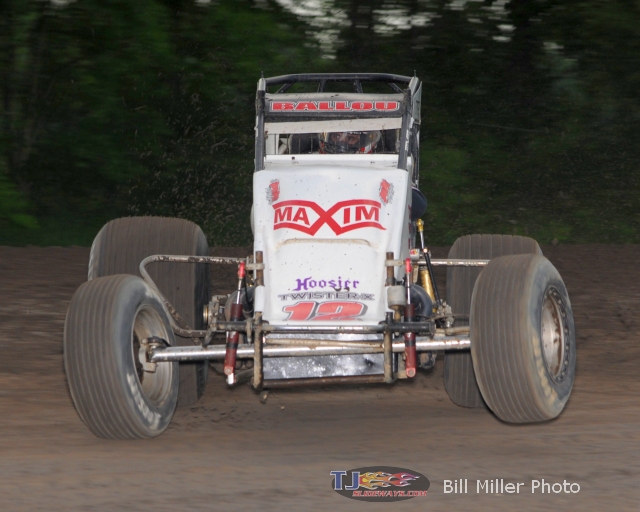 From MSCS
Flora, IL — (July 5, 2014) — Robert Ballou's phenomenal winning streak continued Saturday night at the third mile Clay County Speedway. Ballou took his third consecutive victory in Hoosier Tire Midwest Sprint Car Series competition this season. The win was career number eleven for him which ties him for second on the MSCS All Time Wins List with Daron Clayton.
The event was the track's Fourth of July Weekend Special complete with driver introductions on the front stretch. The full field of 410 sprint cars were then pushed off and the crowd watched as fireworks overhead brightened the four wide parade lap. The trip to victory lane earned Robert Ballou $2,000. Ballou was driving the Ballou Motorsports Ott Powered Maxim sponsored by Indy Race Parts, Hinchman, and Deaton Waterfront Services.
Ballou led the entire 25 lap event. The front runners grabbed their positions at the outset of the feature and the race became a speed contest. Gains were made and lost as drivers sought to improve their position. Twenty laps flew by under the green before the first yellow flag appeared. The caution was for the cars of Aric Gentry and Willie Tackitt after an incident in turn two. Brandon Mattox made a move to take fourth on the restart. He had started tenth. However on lap 24 trouble developed on the opposite end of the speedway with 4 cars becoming involved including the one driven by Mattox. A final restart with the white and green signaled a quick end to the 25 lap race.
Chase Stockon was second in the feature and points leader Kyle Cummins was at work in third behind him. Rookie Aaron Farney was fourth to record his highest MSCS finish. Jeff Bland Jr. gained a spot to finish fifth and Mitch Wissmiller was sixth. The first three rows of starters became the top six finishers. Hud Cone turned in another steady performance with a seventh place finish. Rookie James Lyerla, Bradley Sterrett, and Chet Williams rounded out the top ten.
The Wilwood Tuff Brakes award was presented to Daylan Chambers who finished eleventh. Brian Wallace was the Keizer Aluminum Wheels Hard Charger for the race. Both drivers are in their rookie season with the series.
Three heat races were held. Chase Stockon, Mitch Wissmiller, and Jeff Bland Jr. were the winners. Bland earned the most MSCS passing points with a run from fifth to first in his heat race. However, the redraw placed him sixth in the starting order.
MSCS will be idle the next three weekends. The next race on the series schedule is the Hoosier Sprint Nationals which will be held on Saturday August 2nd. This annual event will once again pay $5,000 to win! The feature will be for 40 laps. It will happen at Tri-State Speedway in Haubstadt, IN.
Provided as News and Information for Tri-State Speedway.
SUMMARY
Clay County Speedway
Flora, IL
July 5, 2014
Hoosier Tire Midwest Sprint Car Series:
(21 Entries)
First Heat – 2x Chase Stockon, 90x Bradley Sterrett, 15F Aaron Farney, 11 James Lyerla, 90 Patrick Budde, 4c Daylan Chambers, 27 Brian Wallace
Second Heat – 1 Mitch Wissmiller, 12 Robert Ballou, 3c Kyle Cummins, 28 Brandon Mattox, 79 Matt Humphrey, 02 Nick Hale, 16 Willie Tackitt
Third Heat – 04 Jeff Bland Jr., 9T Hud Cone, 10x Aric Gentry, 38w Chet Williams, 20 Steve Thomas, 4B Donny Brackett, 35x Chris Babcock
Feature (25 Laps) – 12 Robert Ballou, 2x Chase Stockon, 3c Kyle Cummins, 15F Aaron Farney, 04 Jeff Bland Jr., 1 Mitch Wissmiller, 9t Hud Cone, 11 James Lyerla, 90x Bradley Sterrett, 38w Chet Williams, 4c Daylan Chambers, 28 Brandon Mattox, 20 Steve Thomas, 02 Nick Hale, 27 Brian Wallace, 4B Donny Brackett, 79 Matt Humphrey, 10x Aric Gentry, 16 Willie Tackitt, 90 Patrick Budde, 35x Chris Babcock