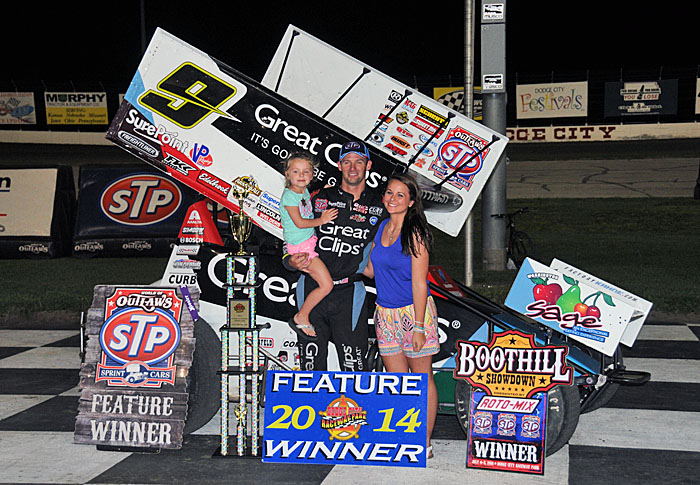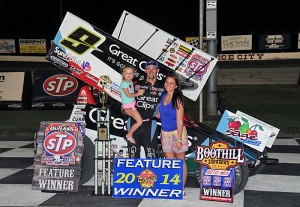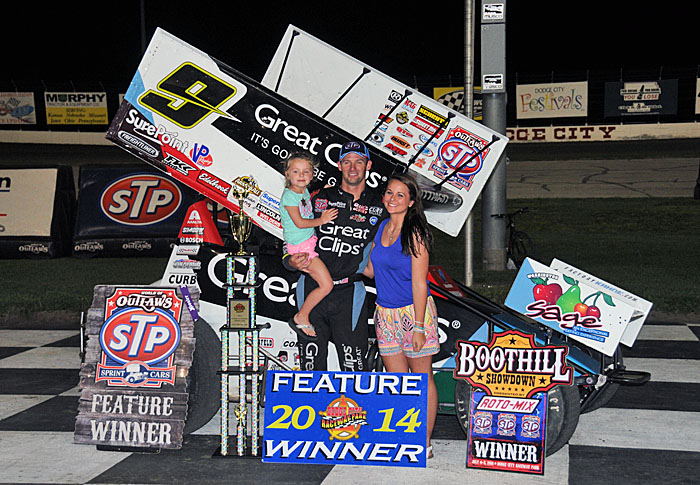 From the World of Outlaws
Dodge City, KS — (July 5, 2014) —  After battling Kerry Madsen for much of the World of Outlaws STP Sprint Car Series feature Saturday night, Daryn Pittman won back-to-back nights at Dodge City Raceway Park, sweeping the Boot Hill Showdown presented by Roto-Mix.
Pittman, who started the race in fourth in his Great Clips car, had to fight his way past Madsen, Joey Saldana and polesitter David Gravel.
"I kind of love Dodge City – this place has been really nice to me," Pittman said.
The first caution came out on lap two. On the restart, Madsen and Pittman jumped into the first and second positions, passing Gravel. The two battled, with Pittman looking for a way around Madsen. He got his first opportunity as Madsen hit lapped traffic for the first time on lap eight, but Pittman was not able to make up ground.
When the caution again came out on lap 17, Pittman got the opportunity he had been looking for. Madsen chose the bottom lane putting Pittman on top. As the green flag flew, the drivers drag raced down the front stretch with Pittman taking the lead from Madsen as they dove into turn one.
Madsen looked for opportunities to pilot his American Racing Custom Wheels car around Pittman in the remaining 13 laps and almost had his chance in the final laps as Pittman worked his way through lapped traffic and almost made contact with an inside barrier.
"When it gets rubbered like that, [lapped cars are] in the groove and the worst thing you can do as the leader is move out of the groove and give up the race," Pittman said. "So I was pretty committed to staying on the bottom and trying to make [the lapped car] bobble at least enough that I could get my nose underneath him, but it just wasn't going to happen… Luckily, [the lapped car] opened up the door there just enough at the end that I was able to get by on the front stretch and I thought that might be enough to get us to the end as long as the tires held up and luckily it was."
With family and friends in attendance, the Owasso, Okla. native, won his second feature in as many nights and his ninth race of the season. As great as win nine was, Pittman said he is looking forward to a bigger prize.
"It feels good, but it means nothing come November if we're not at the top of the charts in the points," Pittman said. "Obviously we didn't win the most races last year. That was something we knew we needed to improve on, and we've got off to a good start… So hopefully, this is halfway, if we can get to 18 at the end of the year we'll be in the hunt for that championship again and that's our main goal."
Pittman closed the gap between he and Donny Schatz to 73 points in the race for the championship.
Madsen, who led 15 laps Saturday night, said the bottom lane was the right one on the lap 17 restart, he just had an issue.
"Obviously, if it had gone non-stop we would have had a good chance," Madsen said. "Once that groove got in we really had to play it conservatively, and when it was time to attack, try to attack. Definitely wasn't the wrong lane choice, just didn't happen for us. Got beat on the start, but that's sprint car racing and it was a great result for us."
Polesitter Gravel led the first two laps of the race in his Roth Motorsports car. After finishing 15th on night one of the Boot Hill Showdown presented by Roto-Mix, Gravel said Saturday was a good rebound night for he and his team.
"I led the first two laps and then the second restart there Daryn and Kerry were definitely more aggressive and got by me," Gravel said. "Early in the race we really stood up and I really couldn't enter the corner too hard which kind of hurt me… Obviously, when you start on the pole, you don't want to finish in third."
"It's a good run to go into the Brad Doty Classic and Kings Royal. I'm a little upset but I can't complain about third."
Farther back in the field, 20-time champion Steve Kinser took tonight's ASE Hard Charger Award, picking up ten positions to finish fourth.
The World of Outlaws STP Sprint Car Series returns to the track Wednesday, July 9 for the Brad Doty Classic at Limaland Motorsports Park. Eldora Speedway's Knight Before the Kings Royal and Kings Royal follow-up the Brad Doty Classic on July 11 and 12.
DODGE CITY RACEWAY PARK NOTES: With tonight's win, Daryn Pittman has the most wins of the season at nine… Paul McMahan, Joey Saldana and Cody Darrah all won their heat races tonight… This was Donny Schatz's fifth quick time of the season… This is the second time this season Daryn Pittman has swept a two night show – he did it at Williams Grove Speedway on May 16 and 17.
SEASON WINNERS: Daryn Pittman – 9 (Thunderbowl Raceway on March 14, Calistoga Speedway on April 6, Devil's Bowl Speedway on April 19, Williams Grove Speedway on May 16 and May 17, Orange County Fair Speedway, May 18, New Egypt Speedway, May 20 and Dodge City Raceway Park on July 4 and 5); Donny Schatz – 8 (Volusia Speedway Park on Feb. 15, The Dirt Track at Las Vegas on March 6, Devil's Bowl Speedway on April 19, Lawrenceburg Speedway on May 27, I-96 Speedway on May 31, River Cities Speedway on June 20, 34 Raceway on June 27 and Cedar Lake Speedway on June 29); Joey Saldana – 5(Perris Auto Speedway on April 12, Salina Highbanks on April 25, The Dirt Track at Charlotte on May 23, I-80 Speedway on June 6 and Jackson Speedway on June 13); Brad Sweet – 5 (Volusia Speedway Park on Feb. 14, Tucson International Raceway on March 8, Calistoga Speedway on April 5, Knoxville Raceway on June 14 and Beaver Dam Raceway on June 28); David Gravel – 3(Merced Speedway on March 28, Eldora Speedway on May 3, and Wilmot Raceway on May 9); Kerry Madsen – 3(Stockton Dirt track on March 22, El Paso Speedway Park on April 15 and Lakeside Speedway on June 7); Paul McMahan – 2(The Dirt Track at Las Vegas on March 5, Tri-State Speedway on May 10); Rico Abreu – 1(Thunderbowl Raceway on March 15); Dale Blaney – 1 (Attica Raceway Park on May 30); Christopher Bell – 1(Jacksonville Speedway on May 7); Roger Crockett – 1(I-94 Speedway on June 21); Cody Darrah – 1(Kings Speedway on April 11);Mark Dobmeier – 1 (Huset's Speedway on July 2); Steve Kinser – 1 (Volusia Speedway Park on Feb. 16);Stevie Smith – 1(Lincoln Speedway on May 14); Shane Stewart – 1(Eldora Speedway on May 2) ; Sammy Swindell – 1(Federated Auto Parts Raceway at I-55 on April 26).
World of Outlaws STP Sprint Car Series Statistical Report; Dodge City Raceway Park; Dodge City, Kan.; July 5, 2014
A-Main – (30 Laps) – 1. 9-Daryn Pittman [4] [$10,000]; 2. 29-Kerry Madsen [3] [$5,000]; 3. 83-David Gravel [1] [$3,000]; 4. 11-Steve Kinser [14] [$2,700]; 5. 49-Brad Sweet [5] [$2,500]; 6. 4-Cody Darrah [7] [$2,200]; 7. 71M-Joey Saldana [2] [$2,000]; 8. 51-Paul McMahan [8] [$1,800]; 9. 11K-Kraig Kinser [9] [$1,600]; 10. 1X-Tony Bruce Jr [10] [$1,450]; 11. 15-Donny Schatz [6] [$1,300]; 12. 41-Jason Johnson [11] [$1,200]; 13. 15H-Sam Hafertepe Jr [16] [$1,100]; 14. 45X-Johnny Herrera [12] [$1,000]; 15. 1-Sammy Swindell [18] [$950]; 16. 1s-Logan Schuchart [19] [$900]; 17. 7S-Jason Sides [17] [$850]; 18. 6G-Bryan Gossel [20] [$750]; 19. 74X-Josh Hodges [13] [$725]; 20. 2J-Zach Blurton [24] [$700]; 21. 72-Ray Seemann [23] [$700]; 22. 97-Brian Herbert [22] [$700]; 23. 77X-Wayne Johnson [15] [$700]; 24. 1J-Danny Jennings [21] [$700]. Lap Leaders: David Gravel 1-2, Kerry Madsen 3-17, Daryn Pittman 18-30. KSE Hard Charger Award: 11-Steve Kinser [+10]
Qualifying – 1. 15-Donny Schatz, 13.609; 2. 49-Brad Sweet, 13.698; 3. 9-Daryn Pittman, 13.716; 4. 29-Kerry Madsen, 13.786; 5. 71M-Joey Saldana, 13.841; 6. 83-David Gravel, 13.926; 7. 11K-Kraig Kinser, 13.957; 8. 1X-Tony Bruce Jr, 13.985; 9. 41-Jason Johnson, 13.992; 10. 51-Paul McMahan, 14.112; 11. 45X-Johnny Herrera, 14.161; 12. 4-Cody Darrah, 14.204; 13. 74X-Josh Hodges, 14.217; 14. 11-Steve Kinser, 14.227; 15. 77X-Wayne Johnson, 14.228; 16. 15H-Sam Hafertepe Jr, 14.246; 17. 7S-Jason Sides, 14.278; 18. 1-Sammy Swindell, 14.289; 19. 1s-Logan Schuchart, 14.684; 20. 6G-Bryan Gossel, 14.883; 21. 1J-Danny Jennings, 14.984; 22. 97-Brian Herbert, 15.130; 23. 72-Ray Seemann, 15.146; 24. 2J-Zach Blurton, 15.232; 25. 33-Kris Miller, 15.472; 26. 1W-Jordan Weaver, 15.692; 27. 1A-Jacob Allen, nt
Heat 1 – (8 Laps – Top 6 finishers transfer to the A-feature) – 1. 51-Paul McMahan [1]; 2. 11K-Kraig Kinser [2]; 3. 15-Donny Schatz [4]; 4. 15H-Sam Hafertepe Jr [6]; 5. 29-Kerry Madsen [3]; 6. 1s-Logan Schuchart [7]; 7. 74X-Josh Hodges [5]; 8. 97-Brian Herbert [8]; 9. 33-Kris Miller [9]
Heat 2 – (8 Laps – Top 6 finishers transfer to the A-feature) – 1. 71M-Joey Saldana [3]; 2. 45X-Johnny Herrera [1]; 3. 1X-Tony Bruce Jr [2]; 4. 11-Steve Kinser [5]; 5. 7S-Jason Sides [6]; 6. 49-Brad Sweet [4]; 7. 6G-Bryan Gossel [7]; 8. 72-Ray Seemann [8]; 9. 1W-Jordan Weaver [9]
Heat 3 – (8 Laps – Top 6 finishers transfer to the A-feature) – 1. 4-Cody Darrah [1]; 2. 41-Jason Johnson [2]; 3. 1-Sammy Swindell [6]; 4. 83-David Gravel [3]; 5. 9-Daryn Pittman [4]; 6. 77X-Wayne Johnson [5]; 7. 1J-Danny Jennings [7]; 8. 2J-Zach Blurton [8]; 9. 1A-Jacob Allen [9]
Dash – (6 Laps, finishing order determined first 8 starting positions of A-feature) – 1. 83-David Gravel [1]; 2. 71M-Joey Saldana [2]; 3. 29-Kerry Madsen [3]; 4. 9-Daryn Pittman [4]; 5. 49-Brad Sweet [5]; 6. 15-Donny Schatz [6]; 7. 4-Cody Darrah [8]; 8. 51-Paul McMahan [7]
Last Chance Showdown – (10 Laps – Top 6 finishers transfer to the A-feature) – 1. 74X-Josh Hodges [1] [-]; 2. 1J-Danny Jennings [3] [-]; 3. 6G-Bryan Gossel [2] [-]; 4. 97-Brian Herbert [4] [-]; 5. 72-Ray Seemann [5] [-]; 6. 2J-Zach Blurton [6] [-]; 7. 33-Kris Miller [7] [$200]; 8. 1W-Jordan Weaver [8] [$180]; 9. 1A-Jacob Allen [9] [$175]
World of Outlaws STP Sprint Car Series Championship Standings