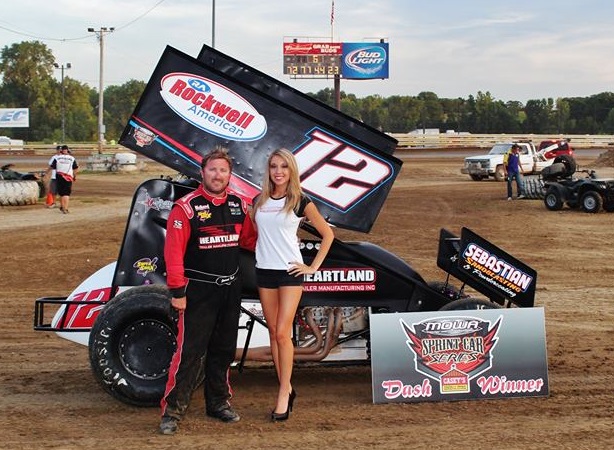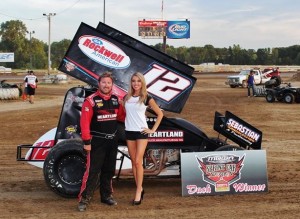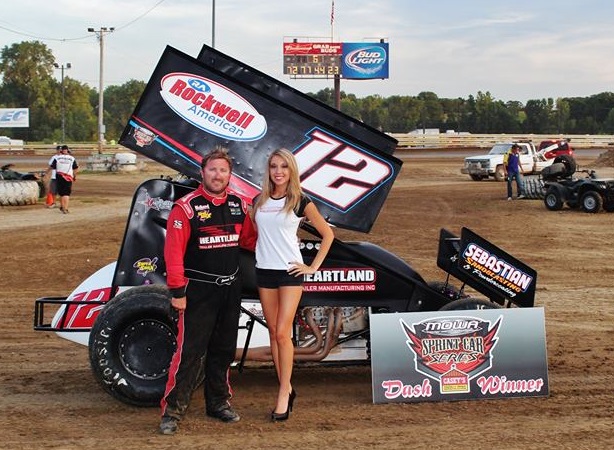 From Bill W
July 9, 2014 – Jerrod Hull and the Rockwell American #12 team picked up their fifth win of the year at the Jim Hall Memorial at Benton Raceway Park in Missouri on June 27. The win was worth $5,000 to the Sikeston, Missouri native. A third place finish in USCS competition aboard Donnie Cooper's #01 and a second place finish Sunday in MOWA action at Quincy Raceways in Illinois capped off two weeks of racing for Jerrod. He will be racing karts with his son Jett before focusing on Illinois Speedweek July 23-26.
The events at Benton were in doubt, but the track got their show in despite rain in the area. Jerrod would start sixth in his heat. "The track was really rough and muddy," he says. "They had had a lot of rain. We were able to work our way up through there to second though."
Jerrod would also start sixth in the Dash. "We were able to make some things happen in the Dash and we got up to second," he says. "That put us in good position, outside of row one for the feature."
He never looked back. "We were able to get the jump on Brad Loyet there, and led every lap," says Jerrod. "The car was really nice. It was just one of those rough, tacky tracks. I think we went through sixteen tear-offs and I was out front. I can only imagine how many the guys behind us were using!"
The following night found Jerrod at Poplar Bluff (MO) Speedway in 360 USCS action. "We drove Cooper's car," he says. "That way we wouldn't have to change motors and all that. He's got nice stuff, so that worked out pretty slick. We started ninth in the heat race and ran fourth. That was enough points to start us outside the second row for the feature."
Things were going well until Mother Nature intervened. "We were able to get up to third," says Jerrod. "About lap 12, it started sprinkling. We ran about three laps in the rain, and they threw the caution. They ended up throwing the red flag and canceling it at that point. We went fifteen out of the 30 laps, so they called it a race and we were third. It was a fun night though."
Back in MOWA competition Sunday at Quincy, the series' point leader would start well. "The night started really good," says Jerrod. "We started outside row one for the heat race and won that. Then we drew the pole of the Dash and won that too."
It took a bit for Jerrod to get rolling. "We led the first couple of laps, and then Chris Urish got around us," he says. "He checked out a little bit. He had a good car on the straightaway and he was flying. I remember looking at the scoreboard on lap 17, and the track started blowing the dirt off. We started coming at that point."
Jerrod had one last chance at the leader. "The last lap I took a shot at him on the bottom," he says. "He ended up getting us by a car length or so. It was a good time racing with Chris. It was good to see him get a win. He was really fast, especially early on."
The finish extended Jerrod's lead in the standings over Joey Moughan and AJ Bruns. "It was good points race for us," he says. "AJ and Joey Moughan both ended up with engine problems. It stinks for them, but we were able to get a little bit of a cushion in the points."
Jerrod and the #12 team would like to thank: Rockwell American, Midland Performance, Super Shox, Sebastian Sand Blasting & Powder Coating, Inc., Chuck's Small Engines, Don Hamilton, HRP, Lighthouse Christian Center, Logo Daddy, Hoosier Tire, Simpson, Weld, Automotive Machine, Maxim and Heartland Trailer Manufacturing.