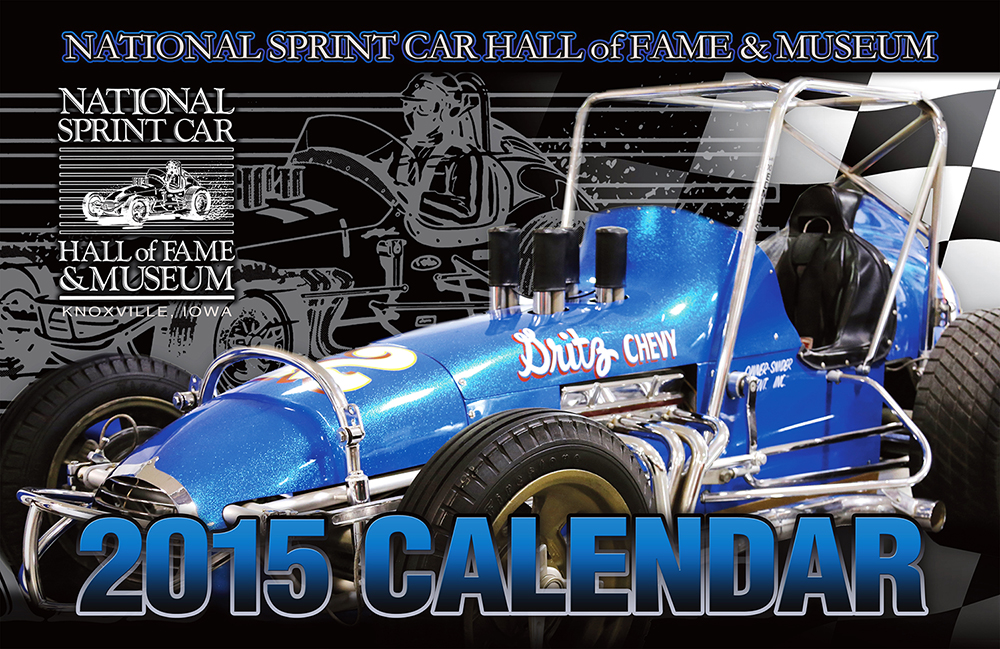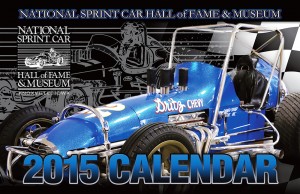 From Bob Baker
Knoxville, IA — (July 8, 2014) — The non-profit National Sprint Car Hall of Fame & Museum will debut a new 2015 calendar this weekend at the World of Outlaws-sanctioned Kings Royal championship at the Eldora Speedway in Rossburg, Ohio. The January-December, 2015, calendar features sprint cars that are currently on display in the Knoxville-based museum, or have been on exhibit in the past. It also features driver birthdays, including National Sprint Car Hall of Fame inductees. It will sell for $9.99 each.
Said museum executive director Bob Baker today, "I am very proud of this new calendar, as I think it will be a popular seller, year after year. Featured in this first one are some beautiful cars, winged and non-winged, including those driven by the late John Gerber, Kenny Jacobs, Mario Andretti, the late Tommy Hinnershitz, Mike Brooks, Steve Kinser, Shane Carson, Doug Wolfgang, Danny Lasoski, Mark Kinser, the late Ted Horn, Howard Kaeding, Erin Crocker, the late Kenny Gritz, and the Weld brothers. Special thanks for organizing this colorful calendar go to Andy Clark, Donnie Frey, Chuck Stowe, Tim Dahlhouser and Bing Bang Media."
The calendar will be available on July 11-12 at the National Sprint Car Hall of Fame & Museum booth, with the Maxim/Rider raffle car, during Eldora's Kings Royal weekend. It will also be available by visiting the museum store in Knoxville, Iowa, or by calling the non-profit gift shop at 1-800-874-4488. The calendar will also be sold at many WoO driver souvenir trailers for the rest of the season. Those seeking to buy the calendar on-line are encouraged to visit the museum's www.sprintcarstuff.com web site.