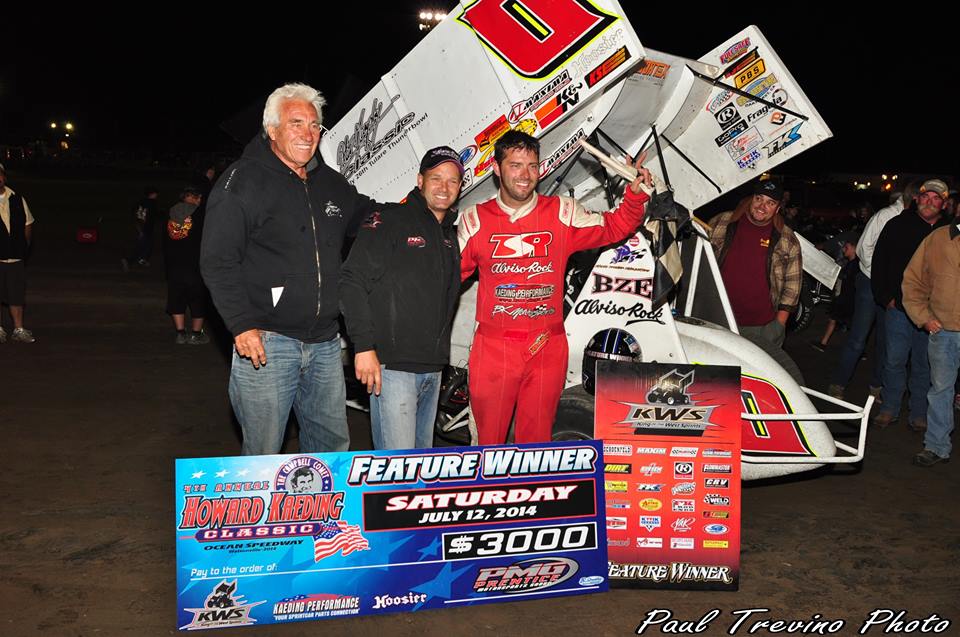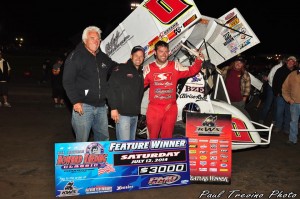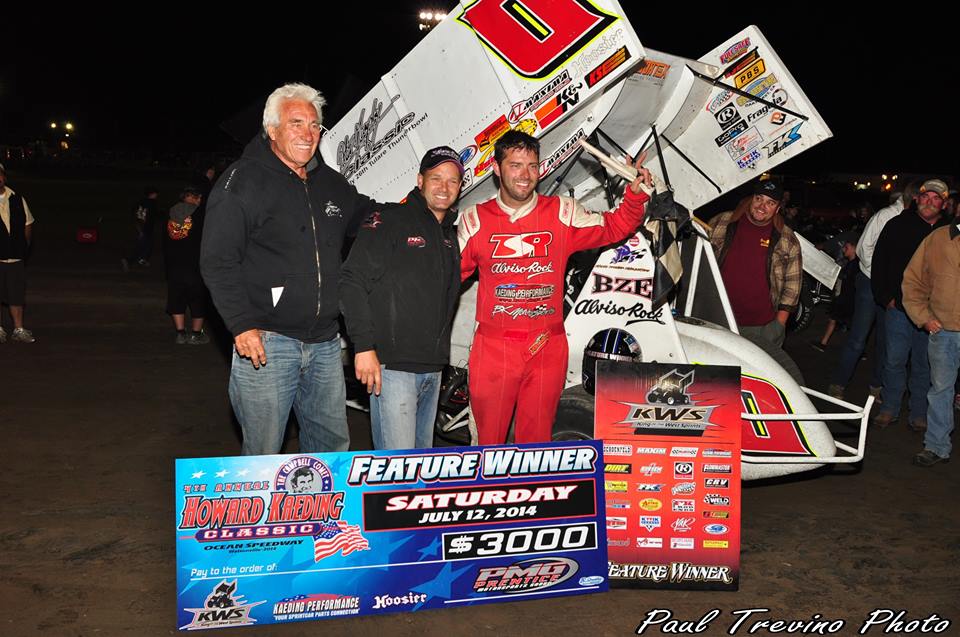 From Gary Thomas
Watsonville, CA — (July 12, 2014) — There was certainly no shortage of excitement on Saturday night at the fourth annual Howard Kaeding Classic, which ultimately ended as fitting as it could, with Campbell's Bud Kaeding taking the checkered flag to earn one of the most special victories of his accomplished career.
The main event on Saturday featured just about everything you could want and fans were treated to some of the best racing you'll see anywhere. Kaeding's win was his first of the season with the King of the West 410 Sprint Car Series and also marked his initial victory since joining Williams Motorsports in the off-season. The triumph was also Morrie & Katie Williams' third straight HK Classic win as car owners.
"This HK Classic weekend is such a special one to our family and I can't believe I'm standing up here in victory lane right now," said Kaeding after climbing the front stretch fence in celebration to the roar of the crowd. "To win my grandpa's race is one of the biggest moments in my career and I'm pretty pumped that there are so many people here to help me celebrate it. I can't thank all you fans enough for coming out to support the weekend. I think we're going to have some fun tonight."
The 30-lapper began with pole sitter Mitchell Faccinto and outside front row starter Kyle Hirst fighting it out heatedly for the lead on the initial lap. Faccinto's night though would come to an unfortunate end entering turn one after completing the first lap, when steering issues while racing for the top spot sent him into the first corner wall. Once going back green Hirst led the field, as he searched his fourth King of the West win of the year. Two-time & defending HK Classic champ Jonathan Allard showed his muscle however, and charged into the lead on lap-six.
A long green flag run was seen and created some fantastic racing throughout heavy lapped traffic. Allard tried to keep the field at bay, but Hirst remained within striking distance during much of the contest. With lap 20 approaching Hirst closed quickly and would battle with Allard for the lead on the well prepared quarter-mile. The duo put on a great show for the fans, before Hirst took command on lap 22. Allard stayed right there though, as Bud Kaeding and Fremont's Shane Golobic also looked to join the mix.
With things getting hectic and the laps winding down the complexion of the race then took a dramatic turn, as Hirst caught the cushion in turn three and flipped upside down. Allard also caught a piece of the action and suffered severe top wing damage. Despite that however, the three-time KWS champ attempted to restart the race as the leader. Once the green came back out he had obvious handling issues and when another incident caused the yellow lights to flash on, Allard would exit to the pits for a new top wing.
This put Bud Kaeding in the lead and current Ocean Sprints point leader Shane Golobic into second. The final handful of laps were slowed by a few stoppages, but not before Kaeding and Golobic put on a thrilling slide fest for the lead over a few circuits. The crowd was treated to some great driving by two of the best on the west coast and when the checkered flag flew, Kaeding crossed under it by 0.601 seconds over Golobic to score the huge win. It marked his 10th career Golden State/ King of the West Series victory, tying him with Tommy Tarlton and Kyle Hirst for ninth on the all-time list.
Golobic's runner up effort kept up a strong season that he has put together in 2014 across all three of the Prentice Motorsports Group Series. It was also the second time in his career that's tallied a runner up finish at the Howard Kaeding Classic aboard the Joe VonSchriltz Racing No. 121 machine. "We really would have loved to win this race tonight, but it's cool to see a Kaeding win the Howard Kaeding Classic," Golobic said. "That was a great race with Bud and if just one of those sliders would have stuck we could have won this thing. That's racing though and I want to thank my whole team for all their support."
Two-time Ocean Sprints champion Tommy Tarlton put on one of his patented charges through the field and rounded out the podium after starting way back in 19th. The wheel-man of the Elite Landscape Construction is always a favorite when he signs in at the pit gate at Ocean Speedway. "We had a great car tonight and it's pretty awesome to be up here after starting that far back tonight," Tarlton commented. "I really have to thank the track prep crew because we had a great race track in the main event. It's really nice to see Bud get a HK Classic win. We'll be back here in two weeks looking to get a victory."
Lemoore's Carson Macedo had a strong run in the main event to finish in fourth, with Fresno's Dominic Scelzi having an equally solid run to complete the top-five after starting from the sixth row. Both youngster's were very impressive in the feature and battled with each other neck & neck over much of it. Rounding out the top-10 in the 30-lap contest was Roseville's Sean Becker, 20th starter DJ Netto from Hanford, Grass Valley's Jason Statler, Campbell's Brent Kaeding and Elk Grove's Bobby McMahan.
The evening's 15-lap Last Chance Showdown was captured by Stockton's Brad Furr, with the six-lap dash won by Mitchell Faccinto. The four 10-lap heat races held were picked off by Shane Golobic, Bud Kaeding, Kyle Hirst and Scotts Valley's Evan Suggs. A strong 37-car field was on hand for the finale of the Howard Kaeding Classic weekend and Sacramento's Willie Croft opened it by setting quick time with a clocking of 11.790 around the Ocean Speedway quarter-mile. Full results can be seen at www.kwssprints.com by clicking on the results tab.
All of the action from Saturday was filmed for airing on MAVTV during the Dirty 30 Series. Date and times will announced soon.
The King of the West 410 Sprint Car Series will return to action this coming Saturday night at the Placerville Speedway. The front gate will open at 5pm with qualifying scheduled for 6:30pm. An early arrival is always recommended for Placerville, with the grandstands always filling up at the high-banked red clay bullring. Adult tickets on Saturday July 19 will cost $20, seniors will be $16, juniors $12 and children $6. All seating is general admission during the night.