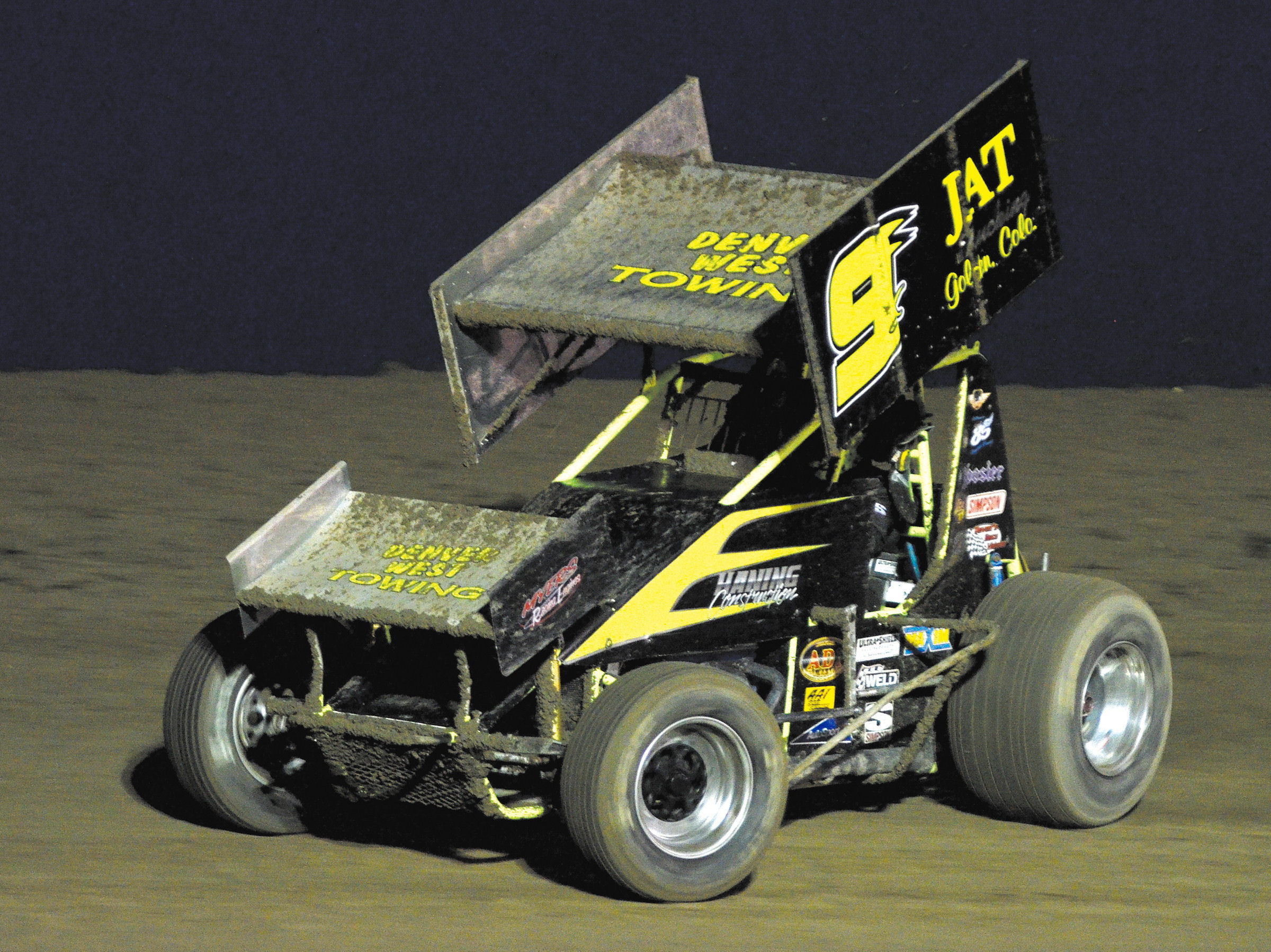 By NICK SCHWIEN
There's a youth movement in the 305 sprint car ranks of the United Rebel Sprint Series.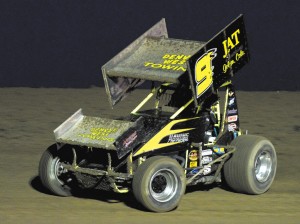 Jake Bubak is leading the charge. The youngster from Arvada, Colo., validated his United Rebel Sprint Series national championship last year by besting a field of top-notch drivers Sunday night at the Wheatshocker Nationals at RPM Speedway in Hays.
"Last year, we won the national championship and didn't even win a national race," said Bubak, who pocketed $2,000 Sunday. "It was really frustrating because the year before, I won like three of them and didn't win the national championship. Most main event wins are awesome, and it's good to win for these Colorado guys. They've had a bad weekend. My buddy Zac Taylor and Adam Trimble both wrecked cars. And Coby Pearce did, too. It sucked not having them here, but hopefully we made them proud by winning here tonight."
Bubak had his work cut out for him. The 20-car feature showcased drivers such as C.J. Johnson, Luke Cranston, Brian Herbert, Ty Williams, Steven Richardson, Zach Blurton and Ray Seemann.
"Congratulations to the Bubak team," said Herbert, a veteran sprint car driver from Dodge City who finished third. "He's a young gun. He's going to be tough. He's a good race car driver."
Bubak was tough to beat, but his road to the front was tougher. He started 10th with a high-point average after locking himself into Sunday's main event with a fifth-place outing the night before.
That fifth-place finish didn't come easy, either. He was fifth in Saturday's qualifying feature, only to fall off the top of the track and drop to the rear of the field before rallying.
"We charged to the front and were up to fifth at one point," Bubak said. "We had a restart, and I went to the top and hit the cushion real bad and fell over the edge. That put us dead last. I watched the video (Sunday) morning. But we were able to get back to fifth. I was really frustrated with myself for making a big mistake like that. I may not have had something for Luke, but I think we could have gotten to second."
Cranston won Saturday night's feature, but Sunday night, Bubak bested Cranston and the rest of the field.
"(Bubak) was real fast," said Cranston, who finished second and picked up a Traeger grill for finishing the three-day weekend with the most points. "He's always fast. He's a heck of a young racer. He's going to have a heck of a career, and I'm excited for him. He did a great job.
"I was just searching for something to do to have something for him, and it was just kind of getting thinner and thinner there on the bottom. There was just nothing I could do."
Rookie Jeremy Huish started on the pole and led the first four laps before Koby Walters took the lead. But Walters' car came to a stop on the backstretch on lap 10, moving Jed Werner to the top spot. By that time, Bubak was third.
"On the starts, when the track is like that, you have to be aggressive," said Bubak, who passed both cars to take the lead on the restart. "Everyone is so fast when the track is like that. You have to kind of get all you can get at the start, then be patient when you get to lap traffic. … They both missed the bottom on the restart, and I went by them."
Cranston moved to third on lap 14, then passed Werner for second on lap 16.
By lap 17, though, Bubak had a big advantage, leading by 3 seconds.
Back-to-back cautions bunched the field up, but Bubak powered away on the restarts.
On lap 23, Bubak led the field by 1.5 seconds. Lap traffic came into play on lap 25, but even that didn't slow down Bubak in the 30-lap feature.
"I was hoping that, but he was getting through there so clean," Cranston said about lap traffic slowing the front-runner. "He's getting quite a bit of experience under him now, and he's solid. My hat's off to him and his crew. They did a great job. I was really wanting to try to do something on the top of three and four, but it was too slick getting in. I couldn't get a good corner entry to stick it. There just wasn't much I could do."
Cranston held on to finish second, followed by Herbert and Blurton — who started 11th. Richardson rounded out the top five.
Bubak, who won his fourth URSS race this year, became one of the youngest drivers to win the Wheatshocker Nationals, and the fifth different driver in six events to win the coveted prize.
"Luke's not old, but it's great," Bubak said about being so young and winning the crown. "He's usually the one with the most main event wins. It's cool to have a few more than him this year. I love racing with him and Brian Herbert and C.J. They're great competitors and race you hard and clean every night. You can't ask for more than that."
Johnson, after racing his 360 sprint car and finishing second in Nebraska on Saturday hight, won one of two B-mains to start 12th. He worked his way to sixth before he lost his steering under caution and had to drop out after only seven laps.
Johnson is the only driver to win multiple Wheatshocker titles (2008 and 2010).
"It stinks that C.J. fell out, because I've never won a race C.J. has been in," Bubak said. "He's probably the best out here. I want to win one he's actually in. But a big thanks to Myers Engines (of Ness City). On a flat-out track like that, it takes some horsepower, and we got it from them."
Feature results
1 Jake Bubak
2 Luke Cranston
3 Brian Herbert
4 Zach Blurton
5 Steven Richardson
6 Ty Williams – rocketing from 16th to win the Keizer Aluminum Wheels hard charger award
7 Jed Werner
8 Josh Fairbank
9 Jeremy Huish
10 Gavin Stout
11 Ray Seemann
12 Nate Berry
13 Bob Schaeffer
14 Joey Schmidt
15 Mike Hathaway
16 Jordan Randles
17 John Jacob DNF
18 Koby Walters DNF
19 CJ Johnson DNF
20 Keefe Hemel DNF
B1 – Blurton, Jacob, Randles, Hemel, Nate Berry, Kade Hagans, Kevin Schramek, Luke Lucero, Cody Lampe
B2 – Johnson, Stout, Williams, Schaeffer, Hathaway, Mike Taylor, Jared Kern, Aaron Ploussard, Kaden Taylor – DNS
Heat race winners – Blurton, Stout, Jacob
Winner of the Ozark Mountain custom BBQ grill sponsored by Federated Auto Parts and S & W supply was Luke Cranston with a 3 night total points of 440.