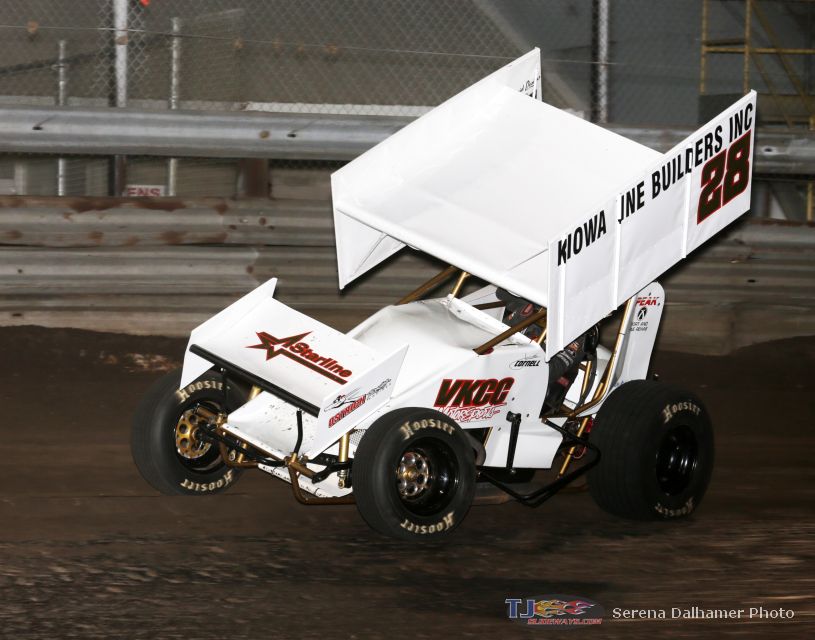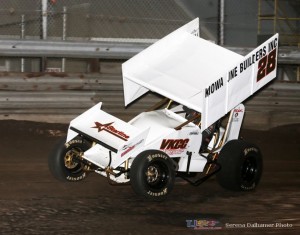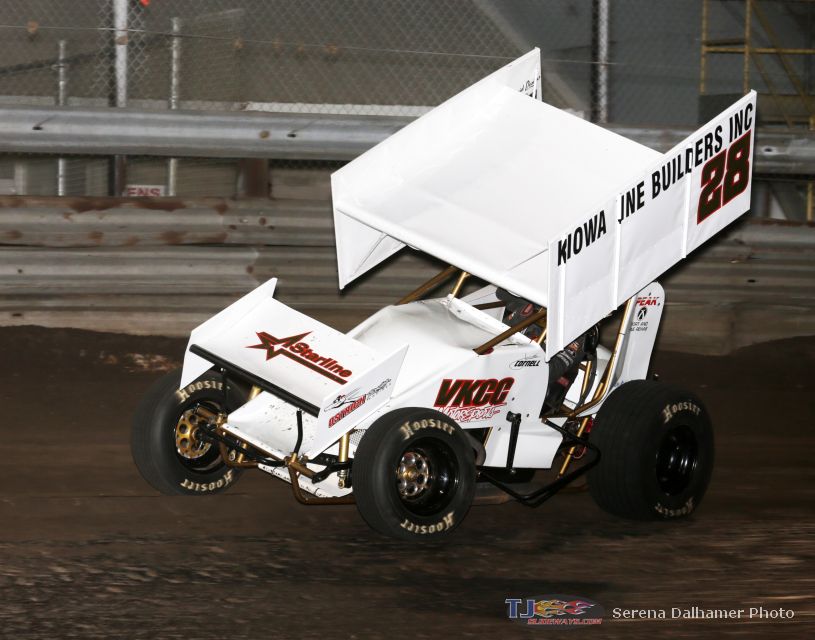 From Bryan Hulbert
California, MO — (July 20, 2014) — Xtreme Body and Paint presented the 12th annual Clyde Wood Memorial at the Double X Speedway this past Sunday night with Jonathan Cornell taking his fifth consecutive Speedway Motors ASCS Warrior Regional victory.
Coming from sixth, Cornell inherited the lead on Lap 13 after early leader, Josh Fisher, found a car spun in the center of the racing groove; forcing the No. 72x into the wall while trying to avoid the stalled car.
Cornell was pursued to the finish by seventh starting Jason Johnson.
Kyle Bellm was third with Zach Chappell fourth. The top five rounded out with Brandon Hahn.
Corey Nelson was sixth with Ricky Stangl from sixteenth to take seventh. Tyler Blank clawed from nineteenth to eighth with Randy Martin from eighteenth to ninth. Cody Baker made his return to action with a tenth place finish after suffering burns to his legs at the Lucas Oil Speedway on June 21.
Xtreme Body and Paint awarded $250 to Tyler Blank as the night's Hard Charger. Josh Fisher was High Points out of the Heats and received a $100 bonus.
Several drivers with the Speedway Motors ASCS Warrior Region will take part in the 24th annual Arnold Motor Supply ASCS Knoxville Nationals, happening July 31 – August 2. For tickets and information, log onto http://www.knoxvilleraceway.com
The next point's race for the ASCS Warriors is August 17 at the Quincy Raceways in Quincy, Ill. against the Sprint Invaders. For continued updates, log onto http://www.ascsracing.com.
Speedway Motors ASCS Warrior Region
Double X Speedway – California, Mo.
Sunday, July 20, 2014
Car Count: 27
Heat 1 (8 Laps): 1. 72X-Josh Fisher; 2. 2A-Randy Hibbs; 3. 92J-J.R. Topper; 4. 24S-Ricky Lee Stangl; 5. 75-Tyler Blank; 6. 10-Mitchell Moore; DNS 76-Jay Russell
Heat 2 (8 Laps): 1. 29-Brandon Hahn; 2. 41-Jason Johnson; 3. 38-Cody Baker; 4. 5H-Chase Johnson; 5. 0-Randy Martin; 6. 72-Curtis Boyer; DNS XX-A.J. Wirts
Heat 3 (8 Laps): 1. 34-Corey Nelson; 2. 1X-Nathan Ryun; 3. 1A-Adam Jones; 4. 9-Casey Baker; 5. 8-Jeff Wingate; 6. (DNF) 65-Trevor (T.J.) Muths; 7. (DNF) 24C-Lanny Carpenter
Heat 4 (8 Laps): 1. 00-Zach Chappell; 2. 28-Jonathan Cornell; 3. 86-Kyle Bellm; 4. 81A-Chris Morgan; 5. 27-Danny Thoman; 6. (DNF) 7K-Kelly Newcomb
B Feature 1 (12 Laps): 1. 81A-Chris Morgan; 2. 0-Randy Martin; 3. 75-Tyler Blank; 4. 76-Jay Russell; 5. 65-Trevor (T.J.) Muths; 6. 72-Curtis Boyer; 7. 10-Mitchell Moore; 8. (DNF) 27-Danny Thoman; 9. (DNF) 24C-Lanny Carpenter; DNS 7K-Kelly Newcomb; DNS XX-A.J. Wirts
A Feature (25 Laps): 1. 28-Jonathan Cornell[6]; 2. 41-Jason Johnson[7]; 3. 86-Kyle Bellm[3]; 4. 00-Zach Chappell[1]; 5. 29-Brandon Hahn[5]; 6. 34-Corey Nelson[8]; 7. 24S-Ricky Lee Stangl[16]; 8. 75-Tyler Blank[19]; 9. 0-Randy Martin[18]; 10. 38-Cody Baker[14]; 11. 2A-Randy Hibbs[4]; 12. 76-Jay Russell[20]; 13. 1A-Adam Jones[10]; 14. 81A-Chris Morgan[17]; 15. 1X-Nathan Ryun[9]; 16. 92J-J.R. Topper[13]; 17. 9-Casey Baker[12]; 18. 8-Jeff Wingate[15]; 19. (DNF) 5H-Chase Johnson[11]; 20. (DNF) 72X-Josh Fisher[2]