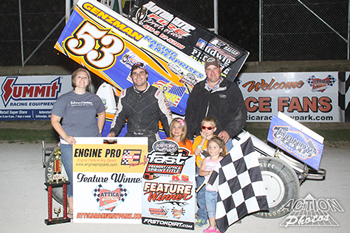 By Brian Liskai
ATTICA, Ohio – Cap Henry has watched victory slip through his fingers several times over the years at Attica Raceway Park. On Friday night the Bellevue, Ohio driver wasn't to be denied as he drove to his first ever 410 sprint victory at the track on Edward Jones of Clyde Night.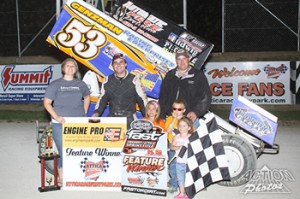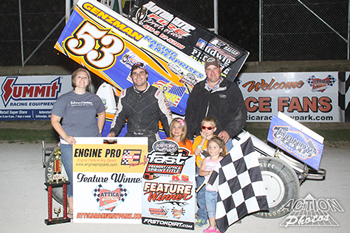 When early leader Rob Chaney packed a right rear wheel full of mud, Brandon Martin would inherit the lead in the O'Reilly Auto Parts 410 Sprint feature. But, Henry, who started fifth, drove the bottom groove to perfection and took the lead on lap six and went on take the win aboard the Genzman Racing #53.
"It felt like a 50-lapper there with five to go. I was holding my breath the last five laps. Man I can't thank this Genzman team enough. Marilyn, Guy, Jamie…they've been working so hard for me. I really screwed up some stuff of theirs during speedweek and Marilyn stuck with me and I can't thank her enough," said Henry beside the Ludwig Propane/Level Performance/Crown Battery/Automatic Fire Protection/Jet Express/Handy Grafix/Kear's Speed Shop/Sonny's Machine Shop backed sprint car.
"Me and Guy (Myers, crew chief) have been working really hard at it. Last week we were really terrible so I guess we made up for it this week. There's been a lot of closes and maybes here and to finally be able to check out and get rolling is pretty awesome," added Henry.
It was the final Kistler Racing Products FAST (Fremont Attica Sprint Title) Championship Series event at Attica for 2014. Byron Reed would cut Chris Andrews' point lead in half with a strong third place finish as the series heads to Fremont Speedway.
In the Summit Racing Equipment UMP Late Models, Jeff Babcock would take the lead from Mike Bores on lap 11 and drove to his fifth win of the season. Babcock's 9th career Attica win would also vault him into the track's point lead.
"We've gone back to basics and what we know how to do and that's helped things out a lot. I actually thought the top was going to be faster tonight but I got rolling on the bottom so I thought I'd just better keep her there. It's sometimes nice when you can start behind guys and find the fast lane verses starting on the front row and finding out too late," said Babcock beside his Best Performance Motorsports/Bulk Material Lift.com/Professional Drywall/Craig Miller Trucking backed #1.
When Nate Dussel slipped off the track on the back stretch on lap three, Paul Weaver drove into the lead of the Foster's Auto Body 305 Sprint feature. Then Weaver narrowly avoided catastrophe with five laps to go as he made hard contact with a lapped car. Weaver would hold off Dussel to take his second win of the season and the 31st of his career at Attica.
"This is the eighth race on that right rear tire. I got into that lapped car and I thought I had a tire going down. The car got real loose the last two laps. I swear they moved the tires in about five feet. The track wasn't even run in down there where the tires were. If that's what they want to do I'll play huggy pole but not every week," said Weaver beside his Hampshire Engines/Buckeye Mobile Coatings/Fostoria Mod Shop/Weaver Performance Karts and Parts/M&L Excavating/Tender Touch Car Wash/Sunny Farms Landfill backed #1w.
"I have to thank Jamie (Miller) and my wife (Andrea) for setting the car up and Bob Hampshire and Dave Rice and all my sponsors…couldn't do this without them," added Weaver.
It was also the last point night for the JLH General Contractor FAST Championship Series for the 305 sprints and with his second place finish Nate Dussel took the point lead by just five markers over John Ivy as that series heads to Fremont Speedway.
For the second straight week the Fremont Fence Dirt Truck feature was a dandy. For the entire 15 laps Kent Brewer, Dan Roepke Jr., Matt Foos and John Ivy battled for the lead. Then, coming to the checkers a lapped truck got side ways in front of the leaders and everyone scrambled trying not to wreck. When the dust settled, Brewer had led every lap to score his second win of the season and the second of his career at Attica.
"The wall and that truck got close on that last lap. Luck was on our side again tonight. It was close the last couple of laps. I heard someone and I thought I'd better nail it and get it going. This is a lot of fun. I have to thank all the guys who help on this thing. Rob Kramer, my wife…if it wasn't for her helping every week we wouldn't make it here. I have to thank all my family….my brothers and sisters…everyone that comes to help," said Brewer of his Fremont Fence/Kent's Transmissions/Hummel Auto Service backed #8kb.
Troy Kingan and Rob Chaney would bring the field to the green for the 30-lap 410 sprint feature. Chaney would bolt into the lead over Brandon Martin, Henry, Chris Andrews, Stuart Williams and Kingan. With two laps in Chaney had built up a sizeable lead over Martin, Henry, Andrews, Williams, Byron Reed and Dean Jacobs.
Action would grind to a halt on lap three as Jody Keegan, Brian Nuckles and Kingan tangled with Keegan ending up on his side. During the red flag, Chaney would push to the work area with a right rear wheel packed with mud. On the restart Andrew Palker would hit the cone on the front stretch bringing out the yellow and moving him back two positions.
When the green flew again Martin lead Henry, Andrews, Reed and Jacobs. Henry would race to the outside of Martin on lap six to take the lead. Henry pulled away as the leaders raced into lapped traffic by lap 10 with Martin in second while Reed got by Andrews for third as Jacobs and Craig Mintz closed.
At the half-way point Henry's lead was beginning to evaporate as he worked through traffic allowing Martin to close with Reed, Jacobs, Mintz, Andrews and Travis Philo in pursuit. Chaney would stop on the track on lap 17 to bring out the final caution of the race. With a clear track on the restart Henry would pull away from Martin ad he had his hands full with Reed and Jacobs. Jacobs would move into third on lap 19 and closed quickly on Martin, taking the runner-up spot on lap 20.
Things got a little more interesting with four laps to go when Henry was mired in heavy lapped traffic with Jacobs closing while Reed, Mintz, Martin, Andrews and Philo giving chase. Henry would be patient in traffic and drove to the win over Jacobs, Reed, Mintz and Martin.
In the 25-lap late model feature Ryan Missler and Mike Bores would pace the field to the green with Bores gaining the advantage. With five laps in Bores would lead Missler, Babcock, Devin Shiels, Ken Hahn, Ryan Markham, John Bores and Rusty Schlenk. Babcock would drive into third on lap six and took second from Missler the next circuit and quickly closed on Mike Bores.
As the leaders raced into heavy lapped traffic on lap 11, Babcock would drive low out of turn two to take the lead. The caution would fly on lap 13 for a stalled Schlenk with the running order Babcock, Mike Bores, Shiels, Missler, Markham and Hahn. When the green flew so did Babcock, driving the bottom groove as Bores battled with Shiels for second.
The final caution would fly on lap 21 for a Bobby Michaels spin. Again on the restart Babcock drove away from Mike Bores who lost second to Shiels on the next lap.
Babcock would drive to the win with Bores getting back by Shiels on the white flag lap to finish second. Shiels, Markham and Hahn would round out the top five.
Weaver and Nate Dussel would bring the field to the green for the 25-lap 305 sprint feature that would go non-stop. Dussel shot into the lead over Weaver, Jason Keckler, Steve Rando, Seth Schneider, Dan McCarron, Jordan Ryan and John Ivy. Dussel would pull away slightly as Weaver had his hands full with Keckler.
Disaster struck for Dussel on lap four when he drove off the track on the back stretch allowing Weaver to sneak under for the lead. Weaver would catch heavy lapped traffic by the ninth lap and Dussel, Keckler, Rando, Ryan and Ivy would close. Ryan would drive into fourth on lap 10 and would take third by lap 15 as Weaver continued to lead Dussel.
With five laps to go Weaver made hard contact with the lapped car of Ricky Peterson and Dussel closed right on his rear bumper with Ryan, Keckler, Ivy, Rando and Schneider giving chase. As the white flag appeared, Dussel hoped Weaver would make a mistake….he didn't and held on to take the win over Dussel, Ryan, Keckler and Ivy.
Ivy and Brewer would bring the field to green for the 15 lap dirt truck feature with Brewer gaining the advantage over Ivy, Dan Roepke Jr., Matt Foos, Jimmy McGrath, Brad Keckler, Shawn Valenti and Art Ball. Dustin Keegan would stop after a lap was completed to bring out the only caution of the race.
When the green flew Brewer was locked in a tremendous battle for the lead with Roepke, Ivy and Foos. Brewer and Roepke ran side by side from lap two through lap 10 with Foos and Ivy glued to their rear bumpers. Foos would drive into second on lap 11 and took over the battle with Brewer.
At times Brewer, Foos and Roepke were three wide battling for the lead. As they raced to the checkers, Jeff Warnick would get side ways coming out of turn four and Brewer nearly hit the front stretch wall as he shot to the win. Roepke, Foos, Valenti and Ivy would round out the top five.
There is no racing next week at Attica Raceway Park due to the Attica Fair. Action picks back up on Saturday, Aug. 16 on WNWO NBC Toledo Channel 214/Culy Contracting Night with the 410 sprints, late models, 305 sprints and dirt trucks in action.
Go to www.atticaracewaypark.com for more information.
Attica Raceway Park – 8/1/2014
Edward Jones of Clyde Night
O'Reilly Auto Parts 410 Sprints (20 Cars)
[#]-Starting Position
Qualifying – Kistler Engines
1. 9X-Rob Chaney, 12.499; 2. O9-Craig Mintz, 12.583; 3. 46AU-Stuart Williams, 12.643; 4. 40DD-Caleb Griffith, 12.671; 5. 5R-Byron Reed, 12.680; 6. 53-Cap Henry, 12.709; 7. 16-Chris Andrews, 12.764; 8. 11X-Brandon Martin, 12.788; 9. 21-Travis Philo, 12.804; 10. 35-Stuart Brubaker, 12.817; 11. 45L-Brian Lay, 12.837; 12. 9-Dean Jacobs, 12.846; 13. 57X-Andrew Palker, 12.953; 14. 9Z-Duane Zablocki, 13.116; 15. 60-Jody Keegan, 13.206; 16. 59-Bryan Nuckles, 13.464; 17. 7-Troy Kingan, 13.642; 18. 7M-Critter Malone, 13.715; 19. 96AU-Bruce White, 13.866; 20. 55-DJ Foos, 99.990
Heat 1 – Nitro Black Performance by Engine Pro (8 Laps – Top 7 finishers transfer to the A-feature)
1. 53-Cap Henry[3] ; 2. 11X-Brandon Martin[1] ; 3. 16-Chris Andrews[2] ; 4. 21-Travis Philo[5] ; 5. 40DD-Caleb Griffith[4] ; 6. 9Z-Duane Zablocki[7] ; 7. 45L-Brian Lay[6]
Heat 2 – Summit Racing Equipment (8 Laps – Top 7 finishers transfer to the A-feature)
1. 9X-Rob Chaney[4] ; 2. 35-Stuart Brubaker[1] ; 3. 46AU-Stuart Williams[2] ; 4. O9-Craig Mintz[3] ; 5. 57X-Andrew Palker[5] ; 6. 60-Jody Keegan[6] ; 7. 96AU-Bruce White[7]
Heat 3 – Ultra Shield Race Products (8 Laps – Top 7 finishers transfer to the A-feature)
1. 5R-Byron Reed[4] ; 2. 9-Dean Jacobs[3] ; 3. 7-Troy Kingan[1] ; 4. 7M-Critter Malone[5] ; 5. 59-Bryan Nuckles[2]
A-Main –  (30 Laps)
1. 53-Cap Henry[5]; 2. 9-Dean Jacobs[9]; 3. 5R-Byron Reed[8]; 4. O9-Craig Mintz[11]; 5. 11X-Brandon Martin[4]; 6. 16-Chris Andrews[6]; 7. 40DD-Caleb Griffith[13]; 8. 21-Travis Philo[10]; 9. 35-Stuart Brubaker[7]; 10. 9Z-Duane Zablocki[16]; 11. 57X-Andrew Palker[14]; 12. 7M-Critter Malone[12]; 13. 45L-Brian Lay[18]; 14. 60-Jody Keegan[17]; 15. 59-Bryan Nuckles[15]; 16. 46AU-Stuart Williams[3]; 17. 9X-Rob Chaney[2]; 18. 7-Troy Kingan[1]; 19. 96AU-Bruce White[19]
Hard Charger: 9-Dean Jacobs[+7]
Summit Racing Equipment Late Models (18 Cars)
[#]-Starting Position
Heat 1 – Nitro Black Performance by Engine Pro (8 Laps – Top 9 finishers transfer to the A-feature)
1. O3-Jim Gingery[1] ; 2. 50Y-Ryan Missler[7] ; 3. 91-Rusty Schlenk[9] ; 4. 27-Ken Hahn[4] ; 5. O1-Justin Chance[2] ; 6. 98-Tim Sabo[6] ; 7. 9C-Troy Cattarene[3] ; 8. 12-Bobby Michaels[5] ; 9. 16-Steve Sabo[8]
Heat 2 – Summit Racing Equipment (8 Laps – Top 9 finishers transfer to the A-feature)
1. 15B-Mike Bores[2] ; 2. 48-John Bores[4] ; 3. 1-Jeff Babcock[7] ; 4. 51-Devin Shiels[6] ; 5. 5M-Ryan Markham[8] ; 6. 5J-Josh Haynes[5] ; 7. 45-Nate Potts[3] ; 8. 69R-Doug Baird[9] ; 9. 36-Matt Irey[1]
A-Main –  (25 Laps)
1. 1-Jeff Babcock[6]; 2. 15B-Mike Bores[2]; 3. 51-Devin Shiels[5]; 4. 5M-Ryan Markham[10]; 5. 27-Ken Hahn[3]; 6. 50Y-Ryan Missler[1]; 7. 91-Rusty Schlenk[8]; 8. 98-Tim Sabo[11]; 9. O1-Justin Chance[9]; 10. O3-Jim Gingery[4]; 11. 48-John Bores[7]; 12. 16-Steve Sabo[17]; 13. 69R-Doug Baird[16]; 14. 12-Bobby Michaels[15]; 15. 9C-Troy Cattarene[13]; 16. 45-Nate Potts[14]; 17. 5J-Josh Haynes[12]
Hard Charger: 5M-Ryan Markham[+6]
Foster Auto Body 305 Sprints (26 Cars)
[#]-Starting Position
Qualifying – Kistler Engines
1. 5R-Jordan Ryan, 13.541; 2. 1-Nate Dussel, 13.597; 3. 68G-Tyler Gunn, 13.723; 4. 19R-Steve Rando, 13.786; 5. 2-Ricky Peterson, 13.807; 6. 1W-Paul Weaver, 13.881; 7. 36-Seth Schneider, 13.900; 8. 8M-T.J Michael, 13.905; 9. 25-Jason Keckler, 13.909; 10. 7A-Alvin Roepke, 13.949; 11. 8I-John Ivy, 13.961; 12. 13-Jeremy Duposki, 13.980; 13. 3J-Trey Jacobs, 13.983; 14. 22M-Dan McCarron, 14.082; 15. 12-Kyle Capodice, 14.104; 16. 8-Bobby Clark, 14.107; 17. 39C-Scott Riley, 14.194; 18. 11G-Luke Griffith, 14.199; 19. 4T-Jim Taddeo, 14.211; 20. 32-Dan Hennig, 14.225; 21. 7M-Brandon Moore, 14.234; 22. 6-Dustin Dinan, 14.338; 23. O3-Jim Cushing, 14.451; 24. 22D-Dan Hammond, 14.573; 25. 1X-Dean Jacobs, 15.123; 26. 20I-Kelsey Ivy, 16.708
Heat 1 – Nitro Black Performance by Engine Pro (8 Laps – Top 5 finishers transfer to the A-feature)
1. 8M-T.J Michael[2] ; 2. 25-Jason Keckler[1] ; 3. 5R-Jordan Ryan[4] ; 4. 6-Dustin Dinan[6] ; 5. 68G-Tyler Gunn[3] ; 6. 22D-Dan Hammond[7] ; 7. 39C-Scott Riley[5] ; 8. 20I-Kelsey Ivy[9]
Heat 2 – Summit Racing Equipment (8 Laps – Top 5 finishers transfer to the A-feature)
1. 19R-Steve Rando[4] ; 2. 22M-Dan McCarron[1] ; 3. 36-Seth Schneider[2] ; 4. 8-Bobby Clark[6] ; 5. 12-Kyle Capodice[5] ; 6. 2-Ricky Peterson[3] ; 7. 7M-Brandon Moore[9] ; 8. 4T-Jim Taddeo[7] ; 9. 32-Dan Hennig[8]
Heat 3 – Ultra Shield Race Products (8 Laps – Top 5 finishers transfer to the A-feature)
1. 1-Nate Dussel[4] ; 2. 1W-Paul Weaver[3] ; 3. 8I-John Ivy[1] ; 4. 7A-Alvin Roepke[2] ; 5. 3J-Trey Jacobs[6] ; 6. 13-Jeremy Duposki[5] ; 7. 11G-Luke Griffith[7] ; 8. O3-Jim Cushing[8]
B-Main – Computer Man Inc. (10 Laps – Top 5 finishers transfer to the A-feature)
1. 2-Ricky Peterson[2] ; 2. 13-Jeremy Duposki[3] ; 3. 22D-Dan Hammond[1] ; 4. 11G-Luke Griffith[6] ; 5. 4T-Jim Taddeo[8] ; 6. 7M-Brandon Moore[5] ; 7. 32-Dan Hennig[10] ; 8. 39C-Scott Riley[4] ; 9. 20I-Kelsey Ivy[7] ; 10. O3-Jim Cushing[9]
A-Main –  (25 Laps)
1. 1W-Paul Weaver[1]; 2. 1-Nate Dussel[2]; 3. 5R-Jordan Ryan[7]; 4. 25-Jason Keckler[4]; 5. 8I-John Ivy[8]; 6. 19R-Steve Rando[3]; 7. 36-Seth Schneider[5]; 8. 8-Bobby Clark[11]; 9. 6-Dustin Dinan[10]; 10. 22M-Dan McCarron[6]; 11. 7A-Alvin Roepke[12]; 12. 8M-T.J Michael[9]; 13. 3J-Trey Jacobs[15]; 14. 12-Kyle Capodice[14]; 15. 2-Ricky Peterson[16]; 16. 11G-Luke Griffith[19]; 17. 68G-Tyler Gunn[13]; 18. 22D-Dan Hammond[18]; 19. 13-Jeremy Duposki[17]; 20. 4T-Jim Taddeo[20]
Hard Charger: 5R-Jordan Ryan[+4]
Fremont Fence Co. Dirt Trucks (16 Trucks)
[#]-Starting Position
Heat 1 – Nitro Black Performance by Engine Pro (8 Laps – Top 8 finishers transfer to the A-feature)
1. O1-Art Ball[1] ; 2. 88-Dan Roepke Jr.[3] ; 3. 3X-Brad Keckler[7] ; 4. OO-John Ivy[8] ; 5. D1-Dustin Keegan[6] ; 6. 5-Jim McGrath[5] ; 7. 7-Dana Frey[4] ; 8. 69-Jeff Warnick[2]
Heat 2 – Summit Racing Equipment (8 Laps – Top 8 finishers transfer to the A-feature)
1. 7B-Shawn Valenti[6] ; 2. 8KB-Kent Brewer[8] ; 3. 5JR-Jimmy McGrath Jr.[1] ; 4. 2-Matt Foos[4] ; 5. 33C-Kyle Cline[7] ; 6. 4S-Keith Sorg[5] ; 7. 33-Brian Arnold[3] ; 8. 22-Brandon Leighton[2]
A-Main –  (15 Laps)
1. 8KB-Kent Brewer[2]; 2. 88-Dan Roepke Jr.[3]; 3. 2-Matt Foos[4]; 4. 7B-Shawn Valenti[6]; 5. OO-John Ivy[1]; 6. O1-Art Ball[7]; 7. 5JR-Jimmy McGrath Jr.[5]; 8. 33C-Kyle Cline[10]; 9. 4S-Keith Sorg[12]; 10. 3X-Brad Keckler[8]; 11. 7-Dana Frey[13]; 12. 5-Jim McGrath[11]; 13. 22-Brandon Leighton[16]; 14. 33-Brian Arnold[14]; 15. 69-Jeff Warnick[15]; 16. D1-Dustin Keegan[9]
Hard Charger: 4S-Keith Sorg[+3]
©2014 – Results Provided by: Computer Man Inc. Fremont, OH