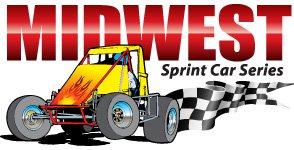 From Eldon Butcher
Haubstadt, In – (August 6, 2014) – It has only been a week since the last Hoosier Tire Midwest Sprint Car Series race. This Saturday the series moves to the Lincoln Park Speedway for an annual August visit to the track that began in 2011 as the "Return to Putnamville." This year the race will be on the 9th and once again pay $3,000 to the winner. It is the first of three $3,000 to win races to be held for MSCS over a brief four week period. If this race is run with the intensity displayed by the leaders at the Hoosier Sprint Nationals won by Brady Short a week ago, it will be one all-out, 30 lap assault on the 5/16th mile clay oval. The cushion could get a real workout!
This event will mark the final appearance of the MSCS Sprint Cars atLPS this season. The series drivers and track regulars are at thetop of their game at this point in the season. The heats and feature should produce some great match-ups! Kyle Cummins leads the MSCSpoints and Robert Ballou is just 49 markers behind him. Ballou won last year's "Return" feature and Cummins won at Putnamville in August of 2012. Ballou was second that year. Casey Shuman won the veryfirst encounter in 2011. Shuman and Chad Boespflug lead the track point standings this season.
A further look at the Hoosier Tire MSCS Points Standings reveals some close battles. Drivers from third through eighth are just 48 pointapart. Top flight finishes for a race or two will act to propeldrivers forward in the standings. Drivers who encounter problems andmiss a show or shows will inadvertently open a floodgate allowing other drivers an easier road to the top while they begin sinking in the standings.
Drivers moving up in the standings after last week's event were Robert Ballou, Brandon Mattox, Aaron Farney, Daron Clayton, ChetWilliams, and Donny Brackett.
The MSCS Rookie Of the Year contest is based on season points. That contest is close and the three top rookies have taken the contest right onup into the top ten in overall points. James Lyerla, who is in ninth place, still leads the rookies with Aaron Farney and Daylan Chambers tiedin points.
Lincoln Park Speedway is located West U.S. Highway 40 at Putnamville, IN. Racing begins at 7 P.M. Hot Laps are at 6 P.M. and drivers arereminded that the pill draw is set to close at 5:30 P.M. All times
are E.D.T.
_____Top 12 HOOSIER TIRE MSCS POINTS
___ Updated on August 3, 2014___
1) 3c Kyle Cummins 641
2) 12 Robert Ballou 592
3) 28 Brandon Mattox 547
4) 90x Bradley Sterrett 545
5) 04 Jeff Bland Jr. 543
6) 21 Carson Short 511
7) 11p Brady Short 510
8) 32 Chase Stockon 499
9) 11 James Lyerla 462
10) 15F Aaron Farney 396
11) 4c Daylan Chambers 396
12) 37rw Jon Stanbrough 391