By T.J. Bufenbarger
Knoxville, IA — (August 8, 2014) — One of the biggest surprises from the Thursday night program at FVP Knoxville Nationals presented by Casey's General Store was the performance by Ryan Bunton. Bunton was eleventh fastest in qualifications, fourth in his heat, and finished 15th in the main event. That performance put Bunton a solid eighth in points and in good position to end up in Saturday's A-Main or in the front or the B-Main event. For Bunton Thursday night's performance was unfathomable just a few weeks ago.
"Last Saturday we were not going to the National. We didn't have a motor, both of our motors were down, and luckily Tom Rider came through. Our motor was actually on the dyno last Monday and my parents drove out to Pennsylvania and picked it up. We were just scrambling to get here, we barely made it here yesterday."
Bunton's family owned team's effort paid off when he ran his personal best qualification run that set the table for the rest of his night to be successful.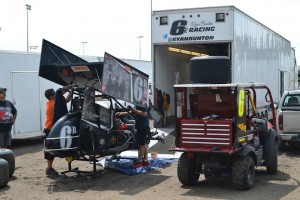 "14.9 was my personal best time (at Knoxville) at the beginning of the year and to run a 14.8, I just did it at the right time. I wish I could have done a 14.7 That (lap time) would have been in the top tier, those guys that run that it's just amazing what they do. I was really happy to turn a 14.8."
Bunton was in the daunting first heat race of the Nationals and was up for the challenge using a late race restart to move into a transfer spot.
"We got a lucky with a restart there and bunched back up and I knew just from racing here if you put a little pressure on someone there is a chance they are going to fail, and we really got lucky to get into that transfer spot. When we took the white flag (the motor) dumped onto seven cylinders."
The heat race was costly for Bunton's team though as engine troubles reared their ugly head on the final lap of heat race, but Bunton managed to hold onto a transfer spot. Bunton had to change to an aging short track motor that was down on horsepower.
"The only other motor we had is a 15 year old -12 headed motor, and it probably has about the same horsepower as a 360. We went to start off the A-Main and I noticed that I was feeling water or something pouring all over me. I looked down and before I knew it fuel was just pouring everywhere out of the main. I used up all of my tear offs at the beginning of the race, and I was racing with my helmet about halfway open and had methanol all over me until that red flag."
After the red flag Bunton ran a smart race and finished 15th place and put his team in good position for Saturday. For a small budget, family owned race team Bunton as still trying to put into words the significance of their success. Engine parts have been ordered overnight for the damaged engine and it should be repaired for Saturday's finale
"It's just surreal, last Saturday we were not even going to come (to Knoxville). We went into this with no expectations, tried to have a positive attitude, and do the best we can. Its mind blowing."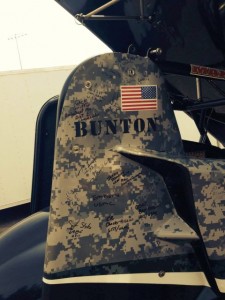 While special paint schemes are plentiful at Nationals Bunton's car is adorned in camouflage and covered in signatures from various military personnel.
"We do not have any big corporate sponsors or anyone like that. We run a body shop and we didn't want to put some cheesy paint scheme. We wanted to give back to the people that have given so much to us. It really enlightens a lot of people, they come down sign the car and tell us stories about loved ones and it's awesome for everyone involved."
While Bunton's fate for Saturday has yet to be determined considering the position they were in last week the 2014 National has already been successful.
"It's been unbelievable. What we have in our entire operation most people have in their engine programs that run here weekly at Knoxville. It really makes us feel good."