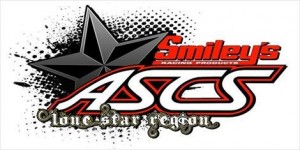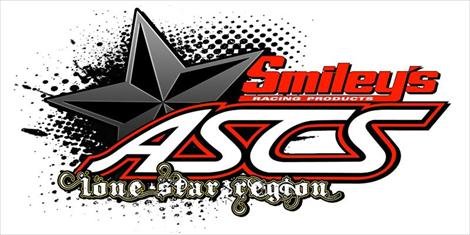 From Bryan Hulbert
Mesquite, TX — (August 16, 2014) — For the second time in 2014, Josh Baughman is a winner in ASCS Regional competition, taking the win in the showdown between the Griffith Truck and Equipment Gulf South and Smiley's Racing Products Lone Star Regions of the American Sprint Car Series.
Pocketing $2,000 for the win, Baughman gridded the field sixth. Working past Tommy Bryant on the tenth round, Baughman's win brings the score to a tie between the regions after Bryant grabbed the win Friday night at the Heat O' Texas Speedway in nearby Waco.
Baughman was trailed by Brandon Berryman with Tommy Bryant slipping to complete the podium. Kevin Ramey was fourth with Greg Rilat crossing fifth. Eric Baldaccini sixth with Channin Tankersley seventh from eleventh. Travis Rilat was the biggest mover of the race in eighth from twenty-second. Michael Lang and Patrick Stasa made the top-ten.
The Griffith Truck and Equipment Gulf South Region heads to the Leesville 171 Speedway in Leesville, La. on August 30. The Smiley's Racing Products Lone Star Region races next on August 22 at the Red River Speedway in Wichita Falls, Texas.
For continued updates and information, log onto http://www.ascsracing.com
Griffith Truck and Equipment Gulf South Region
Smiley's Racing Products Lone Star Region
Devil's Bowl Speedway – Mesquite, Texas
Saturday, August 16, 2014
Car Count: 26
Heat 1 (8 Laps): 1. 21T-Ray Allen Kulhanek; 2. 7M-Kevin Ramey; 3. 17X-Josh Baughman; 4. 28-Tommy Bryant; 5. 14-Michael Lang; 6. 45-Martin Edwards; 7. 36-John Pate; 8. 24-Brandie Jass; 9. (DNF) 29X-Travis Rilat
Heat 2 (8 Laps): 1. 31-Brandon Berryman; 2. 2-Wes Miller; 3. 11-Channin Tankersley; 4. 48-Jake Martens; 5. 76-Zane Lawrence; 6. 19-Klint Angelette; 7. 4X-Shawn Petersen; 8. 4AU-Scott Bogucki; 9. 5X-Tyson Hall
Heat 3 (8 Laps): 1. 17T-Greg Rilat; 2. 29-Mike Walling; 3. 0-Eric Baldaccini; 4. 28L-Larry Long; 5. 93-Chris Sweeney; 6. 19X-Patrick Stasa; 7. 55-Brad Queen; 8. 33-Mark Huddleston
B Feature 1 (12 Laps): 1. 55-Brad Queen[1]; 2. 4X-Shawn Petersen[2]; 3. 33-Mark Huddleston[5]; 4. 29X-Travis Rilat[8]; 5. 36-John Pate[3]; 6. 24-Brandie Jass[7]; 7. (DNF) 4AU-Scott Bogucki[4]; DNS 5X-Tyson Hall
A Feature (25 Laps): 1. 17X-Josh Baughman[6]; 2. 31-Brandon Berryman[3]; 3. 28-Tommy Bryant[1]; 4. 7M-Kevin Ramey[8]; 5. 17T-Greg Rilat[2]; 6. 0-Eric Baldaccini[5]; 7. 11-Channin Tankersley[11]; 8. 29X-Travis Rilat[22]; 9. 14-Michael Lang[12]; 10. 19X-Patrick Stasa[17]; 11. 48-Jake Martens[9]; 12. 93-Chris Sweeney[16]; 13. 19-Klint Angelette[18]; 14. 36-John Pate[23]; 15. 29-Mike Walling[10]; 16. 55-Brad Queen[19]; 17. (DNF) 24-Brandie Jass[24]; 18. (DNF) 76-Zane Lawrence[15]; 19. (DNF) 2-Wes Miller[4]; 20. (DNF) 4X-Shawn Petersen[20]; 21. (DNF) 21T-Ray Allen Kulhanek[7]; 22. (DNF) 45-Martin Edwards[14]; 23. (DNF) 28L-Larry Long[13]; 24. (DNF) 33-Mark Huddleston[21]