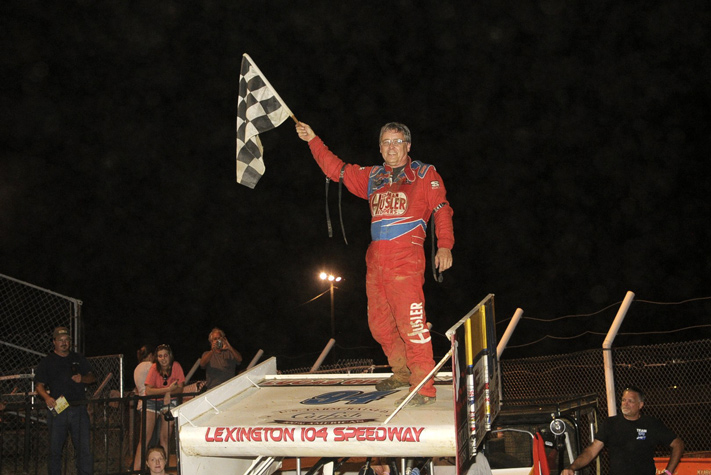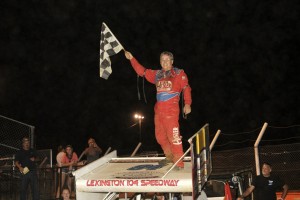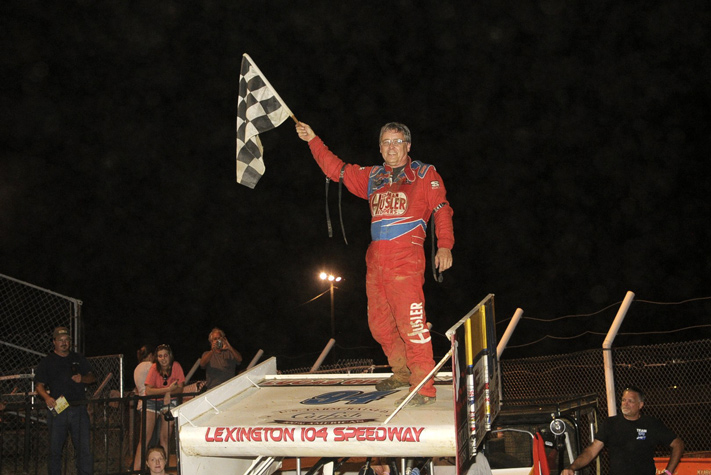 From Bryan Hulbert
Lexington, TN —  (August 22, 2014) — For the third time in 2014, Jeff Swindell stood triumphant with the Lucas Oil American Sprint Car Series presented by MAVTV American Real. Winning in what could be called the Tennessee veteran's back yard, Swindell topped action at the Lexington 104 Speedway for his fourteenth overall National Tour win.
"The Heartland Catfish car has just been performing great. We should have won last night. I think we dominated that thing pretty good just had a motor issue which is very unusual with these Fisher power plants," commented Swindell. "We should have won here last year too, so this is pretty sweet."
The win was enough to shake up the points as well with Swindell taking second from Jason Johnson. Trailing Brad Loyet by 74, the top five are only separated by 112 points.
Chasing Tony Bruce, Jr. and Jason Johnson at the start, Swindell moved to the runner-up spot on Lap 9 after an engine failure sidelined Johnson, relegating the MVT No. 41 to a fifteenth place finish.
Trying for the lead on the restart, Bruce would power back by the Heartland Catfish No. 94. Finding the tail end of the field in only a matter of laps, Bruce would have a nearly two second advantage over Swindell. That was until Lap 15.
"I think right there when I lost the lead, a couple cars hit that berm in the infield and threw up a whole bunch of loose stuff across the race track and actually put a hole in my radiator at the same time," said Bruce. "I just hit that loose dirt and slid up over the curb, and Jeff drove by us and it's just one of those deals where sometimes it's better to be running second so you can follow the leader and figure out what to do."
Taking the lead and taking off, Swindell was held up a few times in traffic but never bogged down as the H&H Container Services No. 94 crossed 1.757 seconds ahead of Bruce.
Derek Hagar moved up three spots to complete the podium, "We had a really good run. Started sixth and got up to fourth behind Sam [Hafertepe] and just followed the leader. The track was real dusty especially when those lapped cars got down there and hit the berm. One lap you'd roll through and have good grip, then the next you're just sliding through the whole corner."
Tim Crawley came from eighth to fourth; nearly getting third away from Hagar at one point. Sam Hafertepe, Jr. ran as high as third before slipping back to round out the top-five.
Brad Loyet crossed sixth with Johnny Herrera seventh. Seth Bergman originally started eleventh, but evasive maneuvers' on the start forced the Corridor Electric No. 23 to fight back from the tail of the field for eighth. Brandon Hanks from thirteenth and Ohio's Shawn Dancer completed the top-ten.
With 19 drivers drawing in, three Heat Races were contested. Derek Hagar, Brad Loyet, and Jason Johnson each scored wins.
Next stop for the Lucas Oil ASCS presented by MAVTV American Real is the 36th annual Jackson Nationals presented by AtoZ Promotions at the Jackson Speedway in Jackson, Minn. on Friday, August 29 and Saturday, August 30. Tickets can be purchased in advance at http://www.jacksonspeedway.com. or by calling (712) 202-5540.
To keep up on the American Sprint Car Series, from the National Tour to the Regions, log onto http://www.ascsracing.com.
Lucas Oil American Sprint Car Series presented by MAVTV American Real
Lexington 104 Speedway – Lexington, Tenn.
2nd annual Racer's Memorial
Friday, August 22, 2014
Car Count: 19
Speedmart Heat Races: All drivers transfer.
Heat 1 (8 Laps): 1. 9JR-Derek Hagar[1]; 2. 15H-Sam Hafertepe Jr[2]; 3. 94-Jeff Swindell[3]; 4. 23-Seth Bergman[4]; 5. (DNF) 87-Aaron Reutzel[6]; 6. (DNF) 95-Matt Covington[5]; DNS 11-Jake Roach
Heat 2 (8 Laps): 1. 05-Brad Loyet[1]; 2. 17-Blake Hahn[3]; 3. 88-Tim Crawley[4]; 4. 31-Justin Webb[2]; 5. 3H-Brandon Hanks[6]; 6. 42-Andy McElhannon[5]
Heat 3 (8 Laps): 1. 40R-Jason Johnson[2]; 2. 18-Tony Bruce Jr[1]; 3. 45X-Johnny Herrera[3]; 4. 49-Shawn Dancer[5]; 5. 13-Taylor Tidmore[4]; 6. (DNF) 57-Zach Roach[6]
Protect the Harvest A-Feature
A Feature (30 Laps): 1. 94-Jeff Swindell[2]; 2. 18-Tony Bruce Jr[1]; 3. 9JR-Derek Hagar[6]; 4. 88-Tim Crawley[8]; 5. 15H-Sam Hafertepe Jr[4]; 6. 05-Brad Loyet[7]; 7. 45X-Johnny Herrera[9]; 8. 23-Seth Bergman[11]; 9. 3H-Brandon Hanks[13]; 10. 49-Shawn Dancer[10]; 11. 31-Justin Webb[14]; 12. 95-Matt Covington[17]; 13. 42-Andy McElhannon[18]; 14. 17-Blake Hahn[5]; 15. (DNF) 40R-Jason Johnson[3]; 16. (DNF) 57-Zach Roach[16]; 17. (DNF) 11-Jake Roach[19]; DNS 87-Aaron Reutzel; DNS 13-Taylor Tidmore
Lap Leader(s): Tony Bruce, Jr. 1-15; Jeff Swindell 16-30
KSE Hard Charger: Matt Covington +5
FSR High Point: Jason Johnson
Hawk Performance Fastest Lap: Tony Bruce, Jr. 12.896
CSI Rebound: Aaron Reutzel
Provisional(s): N/A
=======================================================
2014 A-Feature Winner(s): Brad Loyet – 3, Sam Hafertepe, Jr. – 3, Jeff Swindell – 3, Aaron Reutzel -2, Rico Abreu – 2, Tony Bruce, Jr. – 2, Christopher Bell – 2, Brian Brown – 2, Patrick Stasa – 1, Derek Hagar – 1, Seth Bergman – 1, Sammy Swindell – 1, Davey Heskin – 1
2014 Lucas Oil ASCS Driver Standings (Top 10): 1. Brad Loyet 2,726; 2. Jeff Swindell 2,625; 3. Jason Johnson 2.629; 4. Sam Hafertepe, Jr. 2,619; 5. Johnny Herrera 2,614; 6. Seth Bergman 2,478; 7. Aaron Reutzel 2,470; 8. Matt Covington 2,392; 9. Tony Bruce, Jr. 2,391; 10. Blake Hahn 2,383;