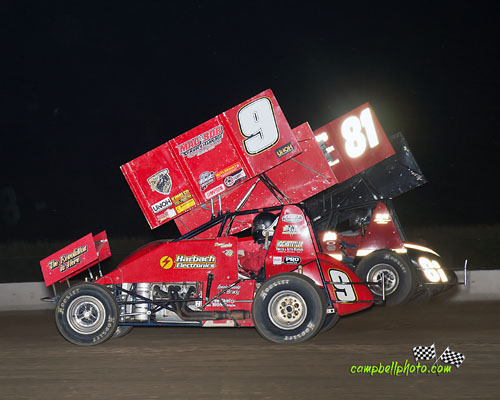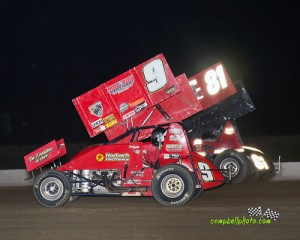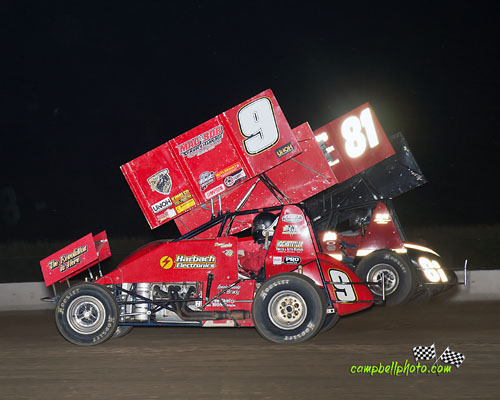 From Brian Liskai
Fremont, OH — (September 6, 2014) — Jerry McClure has never won a sprint car race as a car owner in 18 years. Dean Jacobs fixed that Saturday on Tank's Meats Night at Fremont Speedway. Jacobs got a break from a late race caution and went on to an emotional win in the Fort Ball Pizza Palace 410 Sprints.
"Jerry McClure deserves this. He just told me it's been 18 years and he's never won an A-main. The first time I ever drove his car at Lakeville Speedway and my son, Coty won and I ran second and Jerry's cousin…he was with us with cancer and sat on the trailer a few times…that last time I drove Jerry's car there he died that night. I'd like to dedicate this race to him…he was a great guy," said an emotional Jacobs beside his Harbach Electronics/Hochstetler Truck and Auto Repair/Gressman Powersports/Kear's Speed Shop/Mac & Bob's Towing backed #9.
And that caution with six laps to go? It was for Chris Andrews who came into the night atop the Kistler Racing Products FAST (Fremont Attica Sprint Title) Championship Series points. Andres suffered front end problems. Byron Reed would finish third and wrap up his second (he was the 2010 FAST champion) FAST title and the $10,000 payday. It was also announced that Kistler Racing Products would be back as the title sponsor of FAST for the seventh straight year.
"This one wasn't won by me…it was won by my crew. We weren't very good for the middle part of the season but we never dropped out of a race. We'd have a bad night but we still managed an eighth or ninth out of it. That's what won it for us. We got good the last month….back to where should be. My thanks to my crew, Kurt, Dick, Kevin, Tom, my kids, my dad and my mom…everyone that had a part in it. I'm not a young guy any more…score one for the old guys with me and Dean on the front stretch," said Reed beside his Crown Battery backed machine.
The caution was very beneficial for Jacobs as Cap Henry had just passed him down the back stretch to take the lead. But going back to the last fully completed lap, Jacobs was again the leader.
"I've had them yellows beat me many a time and that won the race for me. In an open race track I could run the guts out of this thing," said Jacobs of his sixth career Fremont victory.
In the Fremont Federal Credit Union 305 Sprints, it looked like Dustin Dinan was headed to the victory. But, the rear-end of his car broke just before he took the white flag, and Nate Dussel drove by for his third win of the season and the 16th of his career at "The Track That Action Built." The victory also propelled Dussel to his second straight JLH General Contractor FAST Championship and its $2,000 payday. And Jon Horn and his company – JLH General Contractor – has agreed to come back as the title sponsor of the FAST 305 series in 2015.
"When he broke, I ran into the back of him (Dinan) I thought man the eight car (John Ivy) is going to go around us on the outside and that's how we're going to lose this. I hate to see that happen to Dustin. I was going to be perfectly happy to run second and win the championship. This makes it super awesome. Last year we kind of took it for granted and this year we started off terrible and we came back and earned it. So happy for my guys," said Dussel beside his Berrier Fabrication/Gressman Powersports/Kistler Racing Products/Design Graphics Group/Dussel Welding/Conrad Transportation backed #1.
In what started as an exciting three truck battle – often three wide for the lead – ended as a race of survival in the AAA Ohio Auto Club Dirt Truck feature. Shawn Valenti would take the win, the 11th of the year at Fremont and the 20th of his career to tie hall of famer Paul Strasser for 28th on the track's all-time win list.
"We was having a good battle with Cory Ward and Dan Roepke…it was fun. The track was a little bit demanding and I didn't know if I was going to make it to the checkered. It shut off on that last restart and then took back off," said Valenti beside his Craig Miller Trucking/Best Performance Motorsports/Day Dream and Memories Crafts and Antiques/Dave Story Equipment Repair/Conrad Transportation/KS Sales and Service backed #7B.
Chad Kemenah and Jacobs would bring field to green for the 30-lap 410 sprint feature with Jacobs grabbing the lead over Cap Henry, Kemenah, Gary Taylor, Rob Chaney, D.J. Foos and Reed. The leaders would catch the back of the pack by lap five with Jacobs holding a slight lead over Henry, Kemenah and Chaney. By lap 10 Jacobs was having some difficulty dealing with traffic and Henry closed. Jacobs was able to pick his way through and continued lead Henry, Kemenah, Reed, Taylor, Chaney and Foos with 10 laps to go in a rapidly moving race.
But, with seven laps to go, Henry closed again on Jacobs and just drove to his outside to take the top spot when the first caution flew for Andrews. On the restart Jody Keegan and Caleb Griffith would tangle. On the ensuing restart, Jacobs again had his hands full from Henry with Reed, Kemenah, Taylor and Chaney in pursuit. Jacobs would hit his marks to perfection the remaining laps to take the win over Henry, Reed, Kemenah and Foos.
In the 25-lap 305 sprint feature Tyler Gunn and Mike Burkin comprised the front row with Gunn gaining the advantage when the green flew with Dinan, Burkin, Dean Jacobs, John Ivy, Dussel and Bobby Clark in pursuit. Jacobs would drive into third on lap two as Gunn tried to hold off Dinan for the lead. Disaster nearly struck for Gunn on lap five when his car got up on the two right side wheels, allowing Dinan to drive into the lead.
The leaders would drive into traffic by lap nine with the running order Dinan, Gunn, Jacobs, Dussel, Ivy, Clark, Paul Weaver and Cody Bova. Jacobs would power into second on lap 11 and closed quickly on Dinan. Dinan and Jacobs were battling for the lead while dealing with lapped cars and contact was made, sending Jacobs on a nasty looking tumble in turn three on lap 12. He would emerge unscathed.
On the restart Dinan pulled away from Dussel, Gunn, Ivy, Clark, Weaver, Alvin Roepke and Jordan Ryan. Gunn was experiencing handling issues which allowed Ivy, Clark and Weaver to get by with 10 laps to go. The final caution flew when one of the infield tires was pushed onto the track with 8 laps to go. When the green flew so did Dinan, pulling away from Dussel, Ivy, Weaver, Ryan, Clark, Gunn and Roepke.
Dinan looked like he was on his way to the win when something broke in the rear of the car with two laps to go, Dussel would make contact with Dinan, but got around to take the lead on the final lap. Dussel took the win over Ivy, Weaver, Ryan and Dinan.
In the 20-lap truck feature, Valenti and Ward would bring the field to green with Ward gaining the advantage over Valenti, Brad Keckler, Ben Good, Kent Brewer, Cory McCaughey and Brandon Leighton. Brewer would spin after a lap was complete. When the green flew the excitement heated up between Ward and Valenti with ninth place starter Dan Roepke Jr. joining the fun on lap three.
A multi-truck crash on lap four slowed the action but when the green reappeared so did the three truck battle for the lead between Ward, Valenti and Roepke. Ward would continue to lead by a bumper lap after lap as they raced three wide. A yellow on lap 8 for Brian Sorg and another on lap 12 for Dustin Keegan and Brad Keckler was the only thing slowing the battle for the lead. On the ensuing restart the battle for the lead erupted into a crash as Ward got sideways in the middle of the three wide battle, getting upside down. He was okay.
When the green flew with seven laps remaining, Valenti now led over Roepke, Jeff Ward, Brewer, Art Ball and Dana Fry. Valenti started to pull away as Roepke stopped on the track with four laps to go as trucks were falling by the wayside. The final caution flew with three laps to go when Ball slowed. Valenti would drive off for the win over Jeff Ward, Brewer, Fry and Gene Potridge.
Prior to the night's racing, nearly 50 of the track's former champions were on hand to sign autographs in the Salute to Champions Night.
Fremont Speedway will host the 7th Annual Jim Ford Classic on Friday and Saturday, Sept. 12 and 13 featuring the University of Northwestern Ohio All Star Circuit of Champions. Friday Night is All Pro Cylinder Heads Night with the 305 sprints and dirt trucks in action. There will be a band to entertain following the night's races. Saturday begins with the Kick-It kick ball tournament to raise funds for childhood cancer research with the games beginning at 10 a.m. in the parking lot across North Street from the track. The 2015 Fremont Speedway Queen's contest will be held in the Fremont Speedway Hall of Fame at 1 p.m. and the auction for the Kick-It Foundation will be held at 2:30 p.m. The UNOH All Stars will battle for 50 laps for $10,000 to win on JLH General Contractor Night Saturday. The 305 sprints and dirt trucks will also be in action and there will be a band to entertain following the races.
For more information go to www.fremontohspeedway.com
Fremont Speedway – 9/6/2014
Tanks Meats Night
Fort Ball Pizza Palace 410 Sprints (21 Cars)
[#]-Starting Position
Qualifying – Fricker's Restaurant/Callie's Performance
1. 9X-Rob Chaney, 13.058; 2. 11F-DJ Foos, 13.154; 3. 9-Dean Jacobs, 13.313; 4. 27-Chad Kemenah, 13.328; 5. 53-Cap Henry, 13.386; 6. 1ST-Gary Taylor, 13.389; 7. 5R-Byron Reed, 13.430; 8. 16-Chris Andrews, 13.433; 9. 40DD-Caleb Griffith, 13.458; 10. 35-Stuart Brubaker, 13.561; 11. 2+-Brian Smith, 13.631; 12. 14H-Todd Heller, 13.633; 13. 45L-Brian Lay, 13.640; 14. 21-Travis Philo, 13.705; 15. 24H-Brandon Wimmer, 13.752; 16. 83M-Broc Martin, 13.757; 17. 8M-T.J Michael, 13.758; 18. 9Z-Duane Zablocki, 14.010; 19. 60-Jody Keegan, 14.064; 20. 39M-Matt Merrill, 14.473; 21. 11-Shawn Hubler, 17.837
Heat 1 – American Power Sports (8 Laps – Top 5 finishers transfer to the A-feature)
1. 45L-Brian Lay[2] ; 2. 83M-Broc Martin[1] ; 3. 5R-Byron Reed[4] ; 4. 27-Chad Kemenah[5] ; 5. 9X-Rob Chaney[6] ; 6. 60-Jody Keegan[7] ; 7. 35-Stuart Brubaker[3]
Heat 2 – Kistler Racing Products (8 Laps – Top 5 finishers transfer to the A-feature)
1. 16-Chris Andrews[4] ; 2. 11F-DJ Foos[6] ; 3. 53-Cap Henry[5] ; 4. 39M-Matt Merrill[7] ; 5. 8M-T.J Michael[1]
Heat 3 – Hoosier Racing Tires (8 Laps – Top 5 finishers transfer to the A-feature)
1. 24H-Brandon Wimmer[2] ; 2. 40DD-Caleb Griffith[4] ; 3. 9-Dean Jacobs[6] ; 4. 1ST-Gary Taylor[5] ; 5. 9Z-Duane Zablocki[1] ; 6. 14H-Todd Heller[3] ; 7. 11-Shawn Hubler[7]
Dash – Borer Glass & Mirror (6 Laps, finishing order determined first 6 starting positions of A-feature
1. 27-Chad Kemenah[1] ; 2. 9-Dean Jacobs[2] ; 3. 53-Cap Henry[5] ; 4. 1ST-Gary Taylor[6] ; 5. 11F-DJ Foos[3] ; 6. 9X-Rob Chaney[4]
A-Main – (30 Laps)
1. 9-Dean Jacobs[2]; 2. 53-Cap Henry[3]; 3. 5R-Byron Reed[7]; 4. 27-Chad Kemenah[1]; 5. 11F-DJ Foos[5]; 6. 9X-Rob Chaney[6]; 7. 45L-Brian Lay[10]; 8. 24H-Brandon Wimmer[15]; 9. 2+-Brian Smith[12]; 10. 83M-Broc Martin[16]; 11. 40DD-Caleb Griffith[9]; 12. 1ST-Gary Taylor[4]; 13. 35-Stuart Brubaker[11]; 14. 14H-Todd Heller[13]; 15. 9Z-Duane Zablocki[18]; 16. 8M-T.J Michael[17]; 17. 60-Jody Keegan[19]; 18. 11-Shawn Hubler[21]; 19. 16-Chris Andrews[8]; 20. 39M-Matt Merrill[20]; 21. 21-Travis Philo[14]
Hard Charger: 24H-Brandon Wimmer[+7]
Fremont Federal Credit Untion 305 Sprints (30 Cars)
[#]-Starting Position
Heat 1 – American Power Sports (8 Laps – Top 4 finishers transfer to the A-feature)
1. 5R-Jordan Ryan[3] ; 2. 20B-Cody Bova[2] ; 3. 7A-Alvin Roepke[4] ; 4. 11G-Luke Griffith[6] ; 5. 2-Ricky Peterson[5] ; 6. 36-Seth Schneider[7] ; 7. 1M-Mike Moore[1] ; 8. 18N-Frank Neill[8]
Heat 2 – Kistler Racing Products (8 Laps – Top 4 finishers transfer to the A-feature)
1. 6-Dustin Dinan[2] ; 2. 1-Nate Dussel[5] ; 3. 68G-Tyler Gunn[1] ; 4. 19R-Steve Rando[4] ; 5. 32-Dan Hennig[3] ; 6. 25-Jason Keckler[6] ; 7. 2F-Matt Foos[7] ; 8. 94K-Kurt Huber[8]
Heat 3 – Hoosier Racing Tires (8 Laps – Top 4 finishers transfer to the A-feature)
1. 12-Kyle Capodice[1] ; 2. 48-Mike Burkin[2] ; 3. 18-Bobby Clark[7] ; 4. O2-Kevin Lee[5] ; 5. 10-Josh Harrison[4] ; 6. 7M-Brandon Moore[3] ; 7. 22M-Dan McCarron[6]
Heat 4 – The Computer Man (8 Laps – Top 4 finishers transfer to the A-feature)
1. 39-Dean Jacobs[4] ; 2. 8-John Ivy[2] ; 3. 1W-Paul Weaver[5] ; 4. 3J-Trey Jacobs[6] ; 5. 29P-Mark Pinski[1] ; 6. 20I-Kelsey Ivy[3] ; 7. 5B-Michael Ebersbach[7]
B-Main – Computer Man Inc. (10 Laps – Top 4 finishers transfer to the A-feature)
1. 2-Ricky Peterson[1] ; 2. 36-Seth Schneider[5] ; 3. 32-Dan Hennig[2] ; 4. 25-Jason Keckler[6] ; 5. 7M-Brandon Moore[7] ; 6. 29P-Mark Pinski[4] ; 7. 22M-Dan McCarron[11] ; 8. 1M-Mike Moore[9] ; 9. 20I-Kelsey Ivy[8] ; 10. 18N-Frank Neill[13] ; 11. 94K-Kurt Huber[14] ; 12. 2F-Matt Foos[10] ; 13. 5B-Michael Ebersbach[12] ; 14. 10-Josh Harrison[3]
A-Main – (25 Laps)
1. 1-Nate Dussel[5]; 2. 8-John Ivy[8]; 3. 1W-Paul Weaver[7]; 4. 5R-Jordan Ryan[11]; 5. 6-Dustin Dinan[3]; 6. 7A-Alvin Roepke[9]; 7. 12-Kyle Capodice[12]; 8. 20B-Cody Bova[10]; 9. 68G-Tyler Gunn[1]; 10. 11G-Luke Griffith[13]; 11. 36-Seth Schneider[18]; 12. 3J-Trey Jacobs[16]; 13. 48-Mike Burkin[2]; 14. 32-Dan Hennig[19]; 15. 25-Jason Keckler[20]; 16. O2-Kevin Lee[15]; 17. 18-Bobby Clark[6]; 18. 39-Dean Jacobs[4]; 19. 19R-Steve Rando[14]; 20. 2-Ricky Peterson[17]
Hard Charger: 5R-Jordan Ryan[+7]
AAA Auto Club Dirt Trucks (22 Trucks)
[#]-Starting Position
Heat 1 – American Power Sports (8 Laps – Top 5 finishers transfer to the A-feature)
1. 33-Jeff Ward[1] ; 2. 7B-Shawn Valenti[3] ; 3. 115-Ben Good[2] ; 4. 36M-Cory McCaughey[7] ; 5. 79-Brian Sorg[4] ; 6. 9-Curt Inks[6] ; 7. 99X-Gene Portidge[5] ; 8. 10-Roger Inks[8]
Heat 2 – Kistler Racing Products (8 Laps – Top 5 finishers transfer to the A-feature)
1. 88-Dan Roepke Jr.[6] ; 2. D1-Dustin Keegan[5] ; 3. 2-Matt Foos[4] ; 4. 22-Brandon Leighton[7] ; 5. 13-Len Benyak[3] ; 6. 37-Eric Devanna[1]
Heat 3 – Hoosier Racing Tires (8 Laps – Top 5 finishers transfer to the A-feature)
1. 18W-Cory Ward[4] ; 2. O1-Art Ball[1] ; 3. 8KB-Kent Brewer[6] ; 4. 3X-Brad Keckler[3] ; 5. 4S-Keith Sorg[2] ; 6. 7-Dana Frey[5] ; 7. 25-Randy Ryan[7]
A-Main – (20 Laps)
1. 7B-Shawn Valenti[1]; 2. 33-Jeff Ward[11]; 3. 8KB-Kent Brewer[8]; 4. 7-Dana Frey[16]; 5. 99X-Gene Portidge[17]; 6. 9-Curt Inks[14]; 7. 13-Len Benyak[12]; 8. O1-Art Ball[10]; 9. 88-Dan Roepke Jr.[9]; 10. 18W-Cory Ward[2]; 11. 36M-Cory McCaughey[5]; 12. 4S-Keith Sorg[15]; 13. 3X-Brad Keckler[4]; 14. D1-Dustin Keegan[7]; 15. 79-Brian Sorg[13]; 16. 115-Ben Good[3]; 17. 22-Brandon Leighton[6]; 18. 25-Randy Ryan[18]
Hard Charger: 7-Dana Frey[+12]