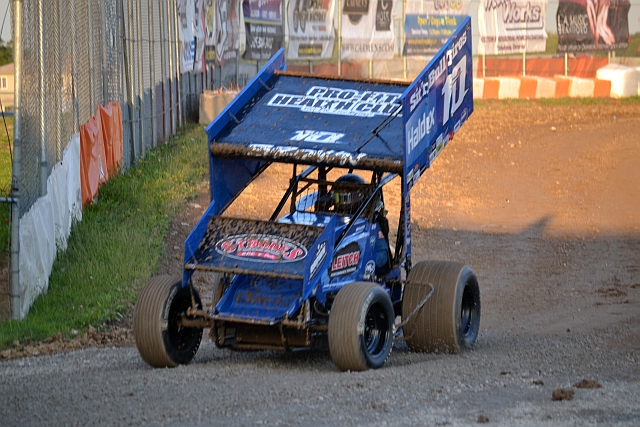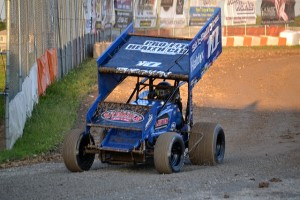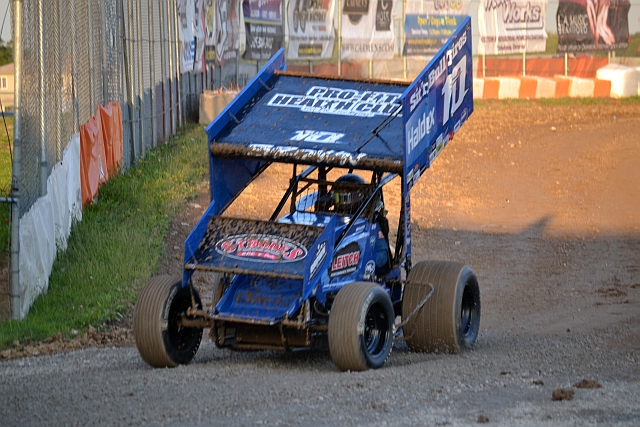 By T.J. Buffenbarger
Ohsweken, ON – (September 12, 2014) – Mitch Brown used his home track knowledge to his advantage to win Friday night's Kevin Ward, Jr. Young Stars Challenge on Friday night at Ohsweken Speedway. Ward took the lead using the bottom of the race track and held off repeated challenges from Paige Polyak including a last lap restart for the victory. Brown won $513 dollars for winning the 13 lap event.
Ironically Brown was the elder statesman at 21 years of age 13 youngest drivers entered at the Canadian Sprint Car Nationals. While the race featured young up and coming drivers, Brown looked like a seasoned veteran racing around the bottom of the Ohsweken oval to the victory.
"It's kind of scary I was the oldest one at 21, but it was a fun race," said Ward after the event. "I think it comes from my asphalt experience. I think that's why I tend to do there."
Paige Polyak finished in the runner up spot with Jordan Thomas, Dane Lorenc, and Dylan Swiernik driving for Kevin Ward, Sr. rounding out the top five.
The Kevin Ward, Jr. Young Stars Challenge format was changed this year to feature the 13 youngest drivers entered in the Canadian Sprint Car Nationals to honor Ward, who lost his life in a tragic accident at Canandaigua Motosports Park in August of this year.
Kevin Ward, Jr. Young Stars Challenge
presented by TJSlideways.com
Night Before the Nationals
Ohsweken Speedway – Ohsweken, ON
Friday September 12, 2014
Finish: 1. 10 – Mitch Brown, 2. 19P – Paige Polyak, 3. 79 – Jordan Thomas, 4. 00 – Dane Lorenc, 5. 13 – Dylan Swiernik, 6. 11R – Chase Ridenour, 7. 6M – Max Stambaugh, 8. 5C – Connor Mahoney, 9. 123 – Yan Bilodeau, 10. 422 – Etienne Girard, 11. 27 – Brad Lamberson, 12. 25G – Tyler Graves, 13. 01 – Kyle Fraser.