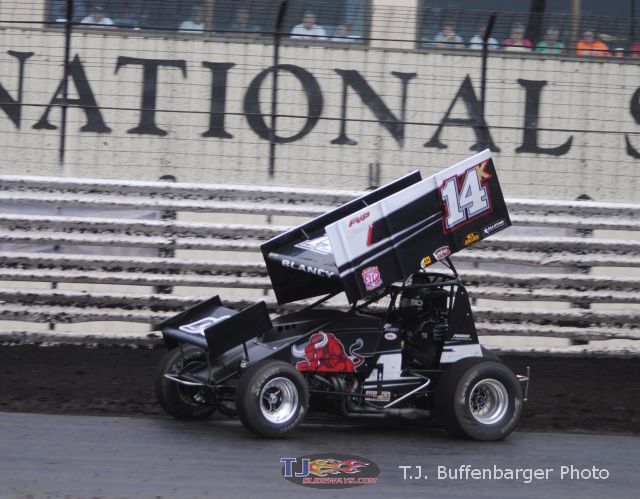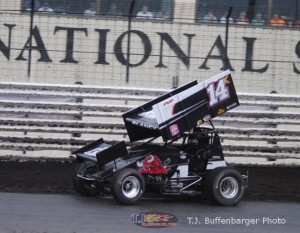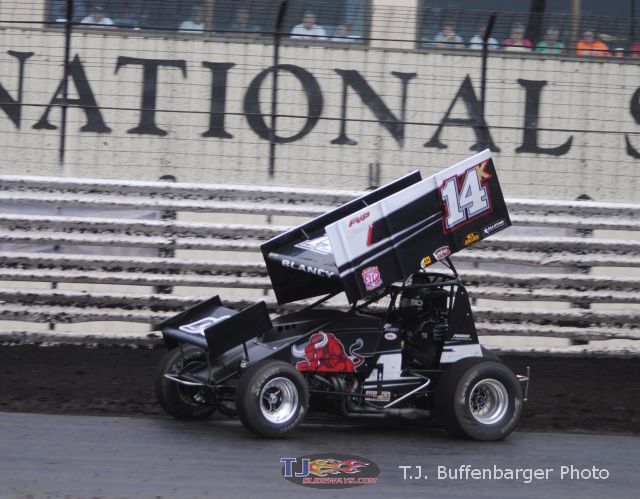 From Brian Liskai
Fremont, OH — (September 12, 2014) — Dale Blaney has often said he would rather be in second late in a race. The reason? So he can watch where the leader is running and choose where to make a move for the win.
He did just that Friday on All Pro Cylinder Heads Night at Fremont Speedway to open the 7th Annual Jim Ford Classic with his 14th University of Northwestern Ohio All Star Circuit of Champions victory of 2014.
The numbers just keep piling up for "The Low Rider." The victory was the fourth overall for the year at Fremont Speedway and ran his career total at the track to 23 to move him into a tie for 20th on the track's all-time win list. Blaney sits atop the UNOH All Star career win list with 113 victories. It was the 115th appearance of the UNOH All Stars at Fremont Speedway and Blaney leads all drivers in series wins at "The Track That Action Built" with 17 victories.
In the first half of the race, Blaney witnessed a tremendous battle between Bryan Sebetto and Brandon Wimmer. Once in lapped traffic with eight laps to go, Blaney moved around Wimmer for second and pressured Sebetto. Blaney would drive off the bottom of turn two on lap 27 to take the lead with Sebetto now applying the pressure. Sebetto would spin in turn two on lap 29 setting up a green, white checkered finish. Blaney would pull away for the win.
"I watched a hell of a race. Those guys were dicing and it was awesome for me to sit there and watch them. I watched where they raced. The top got a little bit better down there (in three and four). I could see Bryan made a good lap around there on that restart and I started run up there and I was just kind of trying to run where they weren't. Down here (in one and two) it was survival. I was a little snug and got better and better as the race went on," said Blaney beside his Kennedy Cattle/Ti22 Performance/Penske Shocks/Gf1 Chassis backed #14K.
In the Fremont Federal Credit Union 305 Sprint feature Bobby Clark inherited the lead when something broke on John Ivy's car sending him hard into the front stretch wall on lap seven. Clark then fought off a challenge from Nate Dussel on a restart with three laps to go and went on to score his second win of the season at Fremont.
The win is the 29th of Clark's career at the track and moves him into 14th on the all-time win list.
"I bobbled coming out of four on that last restart so I didn't get a good run. I slipped up just a little bit down here (in one and two). I knew if I stayed down on the bottom he was going to have to beat me up top and it would be tough," said Clark beside his Fremont Fence/Little Bar on the Prairie/B&L Plumbing/Kear's Speed Shop/Kistler Engines/Nagy Equipment Sales/CRF Concrete/Willy's Towing backed #18.
"Something broke on John's (Ivy) car and it turned right into the wall. At the time I was running the same groove as him and he was kind of getting away from me and I was just going to start checking around where to run….don't know what would have happen. After that I had enough signals from my crew to just stay on the bottom," added Clark.
After a fantastic battle with Ben Good throughout most of the middle part of the AAA Ohio Auto Club Dirt truck main, Shawn Valenti would finally take the lead for good with five laps to go. Valenti would drive to his an incredible 12th win of the season. The victory is the 21st of his career at Fremont and moves him into a tie for 25th on the track's all-time win list with Bryan Scott.
"Hats off to Ben Good…he drove a hell of a race. He just made one little bobble and I was able to take advantage. I just can't believe the season we've had," said Valenti beside his Craig Miller Trucking/Conrad Transportation/Gressman Powersports/Day Dream and Memories Crafts and Antiques/Real Geese Decoys/KS Sales and Service backed #7b.
In the 30-lap UNOH All Star feature, Sebetto and Wimmer brought the field to green with Sebetto, a former Jim Ford Classic winner, grabbing the top spot over Wimmer, Cap Henry, Blaney, Cole Thomas, Craig Mintz and Brandon Spithaler.
On lap two Gary Taylor would tumble in turn three with Brandon Matus stopping in turn two. On the restart Jody Keegan would hit the cone on the front stretch necessitating another start. When the green flew so did Sebetto, pulling away slightly from Wimmer, Henry, Blaney, Thomas, Mintz, Spithaler and Lee Jacobs.
Sebetto would catch the back of the pack on lap eight and narrowly avoided disaster when Taylor Ferns got sideways in front of him in turn three, allowing Wimmer to shoot into the lead with Henry, Blaney, Thomas, Dean Jacobs and Mintz in tow.
The caution flew on lap 13 when third place running Henry suffered a front axle failure and stopped on the track. On the restart Sebetto drove around Wimmer to regain the lead with Blaney, Thomas, Dean Jacobs, Spithaler and Mintz in pursuit.
With 10 laps to go the leaders again found heavy lapped traffic and Wimmer drove into the lead on lap 21. Sebetto blasted back by a lap later, bringing Blaney to second. While Wimmer and Blaney battled fro second, Sebetto pulled away slightly.
With five laps to go Blaney had secured second and was closing on Sebetto with Wimmer, Thomas, Dean Jacobs and Byron Reed in tow. Blaney would rocket off the bottom of turn two on lap 27 to take the lead. Sebetto challenged to his outside while Wimmer, Dean Jacobs, Thomas and Reed trying to stay close.
As they took the white flag, Sebetto tried a move in turn two and it backfired as he spun to bring about the green white checkered finish. On the restart it was Blaney over Wimmer, Dean Jacobs, Mintz, Reed, Rob Chaney and Thomas.
Blaney would pull away the last two laps for the win with Wimmer, Dean Jacobs, Mintz and Reed Rounding out the top five. Chaney would grab sixth with Lee Jacobs rallying those final two laps for seven with Thomas, Caleb Griffith (up from 21st) and D.J. Foos (up from 16th) rounding out the top 10.
"It's been an awesome year and my guys have given me an awesome race car and I'm just the lucky guy who gets to drive it. I love coming to Fremont…the fans…everyone treats me great here," said Blaney.
Wimmer expressed his frustration with another second place run to Blaney.
"I hate to add up how many times I've run second to that guy. He drives me nuts. He's just tough to beat. You mess up one time and he's buy you. We're happy to be up here on the front stretch though. I have to thank the Hammer family and hopefully we can get one spot better for the big one tomorrow," said Wimmer beside his Hammer Pallets/Crown Battery/Meggit Powder Coating/Gressman Powersports//OC Shocks backed #24H.
Last week's Fremont winner Dean Jacobs would drive from ninth to a third place finish.
"This was as challenging, challenging race track tonight. The bottom was really sticky. If your car could roll there you were good and if you missed it a little bit you got in that slick spot and you got loose. But it made it great because it made the guy in the seat do his job," said Jacobs of his Jerry McClure Racing/Harbach Electronics/Hochstetler Truck and Auto Repair/Gressman Powersports/Mac & Bob's Towing backed #9.
In the 25 laps feature for the 305 sprints, John Ivy and Dan McCarron would pace the field to the green with Ivy leading over Clark, McCarron, Jason Keckler, Nate Dussel, Seth Schneider, Steve Rando, T.J. Michael and Dustin Dinan. Dussel would charge into fourth by lap three before Dan Hennig would flip in turn one a lap later.
On the restart Ivy pulled away from Clark, Keckler, Dussel, Rando, Schneider, McCarron, Dinan and Tyler Gunn. Dussel would drive into third on lap six.
As the field roared out of turn four to start lap eight, Ivy's car would veer hard into the front stretch concrete. Ivy would climb out unhurt.
Clark would bring the field back to green over Dussel, Keckler Rando, Dinan, Gunn, Jordan Ryan and McCarron. Dinan would move into fourth on lap nine, bringing Gunn into fifth. With 10 laps to go the leaders were into heavy lapped traffic and Dussel closed on Clark when the caution flew for debris in turn three.
With a clear track, Clark was able to get a great restart and pulled away from Dussel with Keckler, Dinan and Gunn in pursuit. Gunn would drive to the outside of the track and take third on lap 16 with Dinan taking fourth a lap later.
Luke Griffith would spin on lap 20. When the green flew it was only temporary as Paul Weaver would spin on lap 21. This time on the restart Clark bobbled and Dussel raced hard to his outside with Gunn, Rando, Dinan, Keckler, Ryan, Ricky Peterson and Brandon Moore staying close.
Once he found his marks again, Clark pulled away for the win over Dussel, Gunn, Rando and Dinan.
In the 20-lap dirt truck feature, Cory McCaughey and Benn Good brought the field to green but Andy Earnhart would spin necessitating a complete restart. On the next attempt, Good would get the jump on McCaughey, Jeff Ward, Art Ball, Valenti, Kent Brewer and Matt Foos.
After a lap was complete Earnhart would spin again. On the ensuing restart Good and McCaughey battled for the lead with Valenti and Ball getting around Ward on lap three. Good would pull away slightly as McCaughey tried to hold off Valenti which he successfully did until lap eight.
Good, who would lead laps 1-14, would then feel the pressure of Valenti lap after lap until the caution flew on lap 14 for debris. On the restart Valenti was able to drive under Good for the lead. Foos would drive into second with three laps to go.
Valenti would drive away for the win over Foos, Good, Ball and Ward.
The UNOH All Stars headline the action at Fremont Saturday, Sept. 13 on JLH General Contractors Night, as they battle in a 50-lap feature event paying $10,000 to the winner. The 305 sprints and dirt trucks are also in action.
Jon Horn and JLH are putting some money up for the drivers and fans Saturday. The drivers will all sign Frisbees™ and they will be tossed up in the stands. The fan with the feature winners in each division will get $100. Also, as judged by the 4th Turn Freaks, the driver who performs the best wheelie during the night's racing – if that driver has a JLH stick on the car – will get $100. There will also be a $100 hard luck award and $100 for the first non-transfer car from the B-main and $100 for the fast qualifier.
For more information go to www.fremontohspeedway.com
Fremont Speedway – 9/12/2014
UNOH Night
All Star Circuit of Champions (32 Cars)
[#]-Starting Position
Qualifying – Kistler Engines
1. 14K-Dale Blaney, 12.664; 2. 16-Chris Andrews, 12.767; 3. 29-Bryan Sebetto, 12.825; 4. 91-Cale Thomas, 12.908; 5. 35-Stuart Brubaker, 12.988; 6. 24H-Brandon Wimmer, 13.035; 7. 53-Cap Henry, 13.072; 8. 81-Lee Jacobs, 13.080; 9. 22-Brandon Spithaler, 13.158; 10. O9-Craig Mintz, 13.181; 11. 9X-Rob Chaney, 13.254; 12. 9-Dean Jacobs, 13.258; 13. 5R-Byron Reed, 13.271; 14. 55F-Taylor Ferns, 13.283; 15. 1ST-Gary Taylor, 13.292; 16. 10-Carl Bowser, 13.296; 17. 11F-D.J. Foos, 13.323; 18. 9W-Derek Hagar, 13.337; 19. 6-Jac Haudenschild, 13.344; 20. 13-Brandon Matus, 13.351; 21. 45L-Brian Lay, 13.379; 22. 40DD-Caleb Griffith, 13.392; 23. 8M-T.J. Michael, 13.435; 24. 60K-Jody Keegan, 13.474; 25. W20-Greg Wilson, 13.490; 26. 39-Matt Merrill, 13.498; 27. 7C-Caleb Armstrong, 13.562; 28. 40I-Mark Imler, 13.629; 29. 2+-Brian Smith, 13.796; 30. 21-Travis Philo, 13.837; 31. 33M-Sheldon Haudenschild, 13.888; 32. 33-Brent Matus, 14.345
Heat 1 – Kears Speed Shop (10 Laps – Top 5 finishers transfer to the A-feature)
1. 45L-Brian Lay[1] ; 2. 5R-Byron Reed[3] ; 3. 14K-Dale Blaney[6] ; 4. 11F-D.J. Foos[2] ; 5. 22-Brandon Spithaler[4] ; 6. W20-Greg Wilson[7] ; 7. 35-Stuart Brubaker[5] ; 8. 2+-Brian Smith[8]
Heat 2 – All Pro Aluminum Heads (10 Laps – Top 5 finishers transfer to the A-feature)
1. 40DD-Caleb Griffith[1] ; 2. 9W-Derek Hagar[2] ; 3. O9-Craig Mintz[4] ; 4. 24H-Brandon Wimmer[5] ; 5. 55F-Taylor Ferns[3] ; 6. 21-Travis Philo[8] ; 7. 16-Chris Andrews[6] ; 8. 39-Matt Merrill[7]
Heat 3 – Dragon Racing Fuels (10 Laps – Top 5 finishers transfer to the A-feature)
1. 6-Jac Haudenschild[2] ; 2. 8M-T.J. Michael[1] ; 3. 29-Bryan Sebetto[6] ; 4. 1ST-Gary Taylor[3] ; 5. 53-Cap Henry[5] ; 6. 9X-Rob Chaney[4] ; 7. 33M-Sheldon Haudenschild[8] ; 8. 7C-Caleb Armstrong[7]
Heat 4 – Kinsler Fuel Injection (10 Laps – Top 5 finishers transfer to the A-feature)
1. 60K-Jody Keegan[1] ; 2. 9-Dean Jacobs[4] ; 3. 13-Brandon Matus[2] ; 4. 91-Cale Thomas[6] ; 5. 81-Lee Jacobs[5] ; 6. 33-Brent Matus[8] ; 7. 10-Carl Bowser[3] ; 8. 40I-Mark Imler[7]
Dash – Quality Inn/Comfort Inn & Suites (6 Laps, finishing order determined first 6 starting positions of A-feature
1. 29-Bryan Sebetto[1] ; 2. 24H-Brandon Wimmer[2] ; 3. 53-Cap Henry[5] ; 4. 91-Cale Thomas[6] ; 5. 14K-Dale Blaney[3] ; 6. 81-Lee Jacobs[4]
B-Main – MSD Ignition (12 Laps – Top 4 finishers transfer to the A-feature)
1. 16-Chris Andrews[1] ; 2. 35-Stuart Brubaker[2] ; 3. 9X-Rob Chaney[3] ; 4. 33M-Sheldon Haudenschild[11] ; 5. W20-Greg Wilson[5] ; 6. 7C-Caleb Armstrong[7] ; 7. 33-Brent Matus[12] ; 8. 10-Carl Bowser[4] ; 9. 40I-Mark Imler[8] ; 10. 21-Travis Philo[10] ; 11. 39-Matt Merrill[6] ; 12. 2+-Brian Smith[9]
A-Main – University of Northwestern Ohio (30 Laps)
1. 14K-Dale Blaney[5]; 2. 24H-Brandon Wimmer[2]; 3. 9-Dean Jacobs[9]; 4. O9-Craig Mintz[8]; 5. 5R-Byron Reed[10]; 6. 9X-Rob Chaney[13]; 7. 81-Lee Jacobs[6]; 8. 91-Cale Thomas[4]; 9. 40DD-Caleb Griffith[21]; 10. 11F-D.J. Foos[16]; 11. 45L-Brian Lay[20]; 12. 9W-Derek Hagar[17]; 13. 13-Brandon Matus[19]; 14. 6-Jac Haudenschild[18]; 15. 35-Stuart Brubaker[12]; 16. 33M-Sheldon Haudenschild[23]; 17. 29-Bryan Sebetto[1]; 18. 55F-Taylor Ferns[14]; 19. 22-Brandon Spithaler[7]; 20. 53-Cap Henry[3]; 21. 60K-Jody Keegan[22]; 22. 16-Chris Andrews[11]; 23. 8M-T.J. Michael[24]; 24. 1ST-Gary Taylor[15]
Hard Charger: 40DD-Caleb Griffith[+12]
Fremont Federal Credit Untion 305 Sprints (26 Cars)
[#]-Starting Position
Heat 1 – American Power Sports (8 Laps – Top 5 finishers transfer to the A-feature)
1. 36-Seth Schneider[2] ; 2. 25-Jason Keckler[6] ; 3. 22M-Dan McCarron[3] ; 4. 39-Dean Jacobs[9] ; 5. 2-Ricky Peterson[8] ; 6. 12-Kyle Capodice[7] ; 7. 32-Dan Hennig[5] ; 8. 3J-Trey Jacobs[1]
Heat 2 – Kistler Racing Products (8 Laps – Top 5 finishers transfer to the A-feature)
1. 68G-Tyler Gunn[1] ; 2. 8-John Ivy[4] ; 3. 1-Nate Dussel[5] ; 4. 19R-Steve Rando[3] ; 5. 22D-Dan Hammond[2] ; 6. 1W-Paul Weaver[6] ; 7. 11G-Luke Griffith[7] ; 8. 18N-Frank Neill[8] ; 9. 94K-Kurt Huber[9]
Heat 3 – Hoosier Racing Tires (8 Laps – Top 5 finishers transfer to the A-feature)
1. 18-Bobby Clark[1] ; 2. 6-Dustin Dinan[3] ; 3. 8i-T.J Michael[2] ; 4. 7M-Brandon Moore[5] ; 5. 5R-Jordan Ryan[7] ; 6. 7A-Alvin Roepke[4] ; 7. 26-Daniel Demyan[6] ; 8. 2L-Landon Lalonde[8]
B-Main – Computer Man Inc. (10 Laps – Top 5 finishers transfer to the A-feature)
1. 1W-Paul Weaver[2] ; 2. 12-Kyle Capodice[1] ; 3. 32-Dan Hennig[4] ; 4. 7A-Alvin Roepke[3] ; 5. 11G-Luke Griffith[5] ; 6. 3J-Trey Jacobs[7] ; 7. 26-Daniel Demyan[6] ; 8. 2L-Landon Lalonde[9] ; 9. 94K-Kurt Huber[10] ; 10. 18N-Frank Neill[8]
A-Main – (25 Laps)
1. 18-Bobby Clark[4]; 2. 1-Nate Dussel[6]; 3. 68G-Tyler Gunn[11]; 4. 19R-Steve Rando[8]; 5. 6-Dustin Dinan[12]; 6. 25-Jason Keckler[3]; 7. 5R-Jordan Ryan[15]; 8. 2-Ricky Peterson[13]; 9. 7M-Brandon Moore[10]; 10. 7A-Alvin Roepke[19]; 11. 12-Kyle Capodice[17]; 12. 22M-Dan McCarron[2]; 13. 11G-Luke Griffith[20]; 14. 22D-Dan Hammond[14]; 15. 1W-Paul Weaver[16]; 16. 8-John Ivy[1]; 17. 39-Dean Jacobs[9]; 18. 36-Seth Schneider[5]; 19. 32-Dan Hennig[18]; 20. 8i-T.J Michael[7]
Hard Charger: 7A-Alvin Roepke[+9]
AAA Auto Club Dirt Trucks (15 Trucks)
[#]-Starting Position
Heat 1 – American Power Sports (8 Laps – Top 8 finishers transfer to the A-feature)
1. 7B-Shawn Valenti[2] ; 2. 36M-Cory McCaughey[1] ; 3. 33-Jeff Ward[7] ; 4. O1-Art Ball[6] ; 5. 7-Dana Frey[3] ; 6. 3X-Brad Keckler[8] ; 7. 5-Jim McGrath[5]
Heat 2 – Kistler Racing Products (8 Laps – Top 8 finishers transfer to the A-feature)
1. 8KB-Kent Brewer[7] ; 2. 115-Ben Good[4] ; 3. 2-Matt Foos[5] ; 4. 1-Andy Earnhart[1] ; 5. D1-Dustin Keegan[3] ; 6. 4S-Keith Sorg[2]
A-Main – (20 Laps)
1. 7B-Shawn Valenti[5]; 2. 2-Matt Foos[8]; 3. 115-Ben Good[2]; 4. O1-Art Ball[4]; 5. 33-Jeff Ward[3]; 6. 3X-Brad Keckler[11]; 7. D1-Dustin Keegan[10]; 8. 7-Dana Frey[9]; 9. 4S-Keith Sorg[12]; 10. 8KB-Kent Brewer[7]; 11. 36M-Cory McCaughey[1]; 12. 1-Andy Earnhart[6]
Hard Charger: 2-Matt Foos[+6]