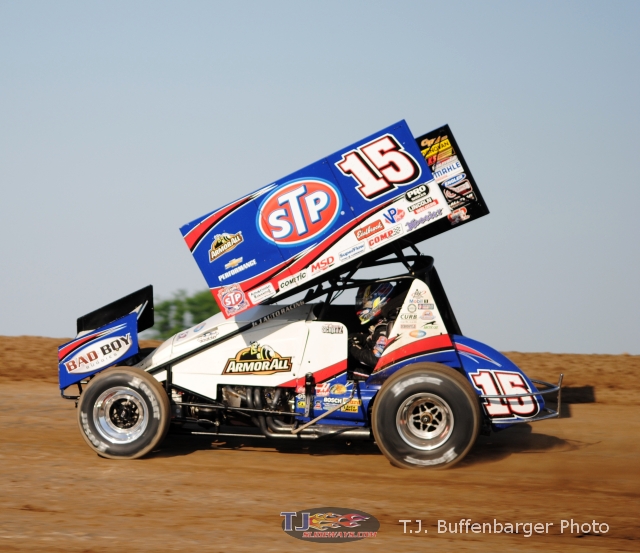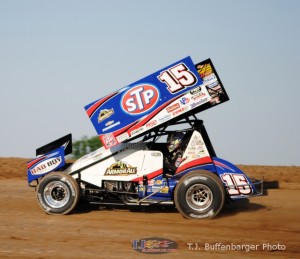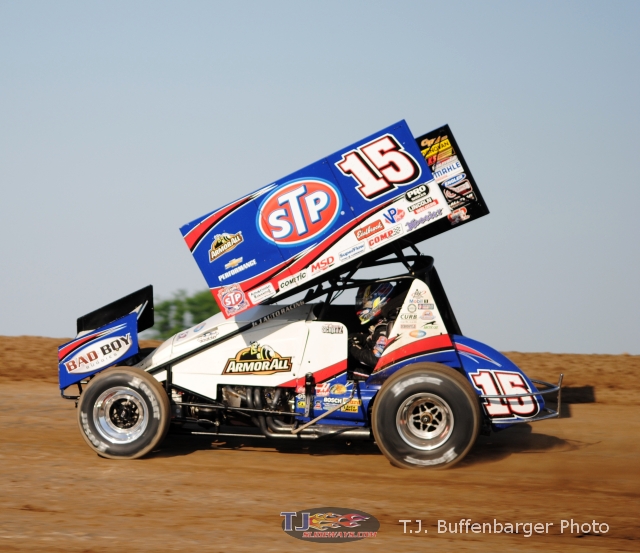 From Aaron Fielder
Terre Haute, IN — (September 17, 2014) — Donny Schatz's dominant performance Wednesday night at the Terre Haute Action Track gave him his 22nd World of Outlaws STP Sprint Car Series victory of the season and added to an impressive resume that has only been bolstered this season.
His first ever win at Terre Haute was the second first win in as many nights for the five-time champion after he parked it in victory lane at Kokomo Speedway on Tuesday night.
"It's been a great week for me," Schatz said. "For two tracks to get off the bucket list that I've never won at feels really good."
Schatz led Joey Saldana to the green flag in the feature, but it was Saldana who jumped to the lead as the field dove into the first turn. A caution flag flew before one lap could be completed and the field reset. Saldana again got the lead into turn one on the restart, but as the two cars battled onto the backstretch, it was Schatz who took over the lead.
"On the first start I got the lead but I saw Donny down there on the bottom and he got a good run," Saldana said. "I was like, maybe I need to get to the bottom. Obviously he snookered me there."
As the 25-lap feature wore on, two more cautions came out. Each time, Schatz easily retained the lead in his STP / Armor All car, then went on to build sizable leads.
Schatz, who struggled in the week before as the Outlaws concluded its West Coast swing and returned to the Midwest, congratulated his Tony Stewart Racing team in victory lane.
"It's an honor to drive this racecar," Schatz said. "It's an unbelievable machine. Last week I thought it was wore out, I thought it was time for a new one but they went hard to work at the shop and found a few things that maybe we were missing and got it back where it was. Hats off to them – they do a great job. When they're on their game there's nothing better. The way this car drove last night and the way it drove tonight – it's pretty unbelievable to have something that drives that good. It's just awesome."
As the Outlaws move into the final stretch of the season, Schatz's lead in the championship standings continues to grow over second place Daryn Pittman to 236 points. Paul McMahan is third in the standings, 347 points out of the lead.
Saldana said Schatz is raising the bar for all of his competitors this season. He said beating Schatz requires a nearly flawless night – tonight was no exception.
"He definitely knows how to capitalize on (mistakes)," Saldana said. "And there on the restart I just didn't know if I could get the bottom to get beside him. Getting beside somebody and passing them is something different, especially when you've got a car as fast as his."
Saldana, who was the last Outlaw to win at the track when the series was there in 2006, said he could not help but think about his history and the history of his team owner Dan Motter at Terre Haute.
"The last time I was here, I won, and the last time he was here, he won," Saldana said. "So he's probably disappointed – a second's not good enough. But the Motter car always ran really good here. They won with Kenny Jacobs and Stevie Smith so it would have been nice… putting the 71M into victory lane but we'll come back next year and try to do it again."
Luck was on third place finisher Brian Brown's side throughout the night.
On lap 14, Cody Darrah who was running fourth slowed and brought out the caution. Under the same caution, David Gravel, then in third, discovered a tire going down. With those two out of position, Brown moved from fifth into the third spot and Kerry Madsen into the fourth.
Then, as the driver brought his FVP / Casey's General Store car around to the checkered flag a right front steering arm broke.
"The last couple of laps there it just seemed to be a little more ducky and darty than normal," Brown said. "I just couldn't figure out what I was doing or what was going on. The track was rough in spots so that kind of threw you around a bit. I just thought I wasn't driving the car correctly. Then we came off four to take the checkered and it just kind of went right. I thought, man that was weird and I went to turn in one and two there after the checkered and it just didn't turn. We got very, very lucky."
"Great to be back at Terre Haute. Great crowd. This is what we need toward the end of the season – a couple of good runs with the Outlaws."
Daryn Pittman was the KSE Hard Charger of the night after advancing eight positions to finish in fourth.
The World of Outlaws STP Sprint Car Series moves east for the 4-Crown Nationals at Eldora Speedway on Sept. 19 before taking on the Commonwealth Clash at Lernerville Speedway on Sept. 20. The Outlaws then return to Indiana for Indy Race Parts presents the World of Outlaws STP Sprint Car Series at Bloomington (Ind.) Speedway.
Follow the World of Outlaws STP Sprint Car Series on Twitter at www.twitter.com/WorldofOutlaws, like it on Facebook at www.facebook.com/WorldofOutlaws, or check out the latest videos on YouTube at www.youtube.com/WorldofOutlaws.
TERRE HAUTE ACTION TRACK NOTES: Donny Schatz scored his 22nd win of the season at the Terre Haute Action Track… For the second night in a row, Schatz scored a victory at a track he had never previously won at… Kerry Madsen, David Gravel, Brian Brown and Paul McMahan all won their Heat races tonight… Daryn Pittman received the KSE Hard Charger Award after advancing 8 positions to finish in fourth.
SEASON WINNERS: Donny Schatz – 22 (Volusia Speedway Park on Feb. 15, The Dirt Track at Las Vegas on March 6, Devil's Bowl Speedway on April 19, Lawrenceburg Speedway on May 27, I-96 Speedway on May 31, River Cities Speedway on June 20, 34 Raceway on June 27, Cedar Lake Speedway on June 29, Lernerville Speedway on July 15, Autodrome Drummond on July 26, Cornwall Motor Speedway on July 27, Ohsweken Speedway on July 29, Knoxville Raceway on Aug. 9, Junction Motor Speedway on Aug. 12, Nodak Speedway on Aug. 17, Castrol Raceway on Aug. 22 and Aug. 23, Skagit Speedway on Aug. 29 and Aug. 30, Grays Harbor Raceway on Sept. 1, Kokomo Speedway on Sept. 16 and Terre Haute Action Track on Sept. 17); Daryn Pittman – 13(Thunderbowl Raceway on March 14, Calistoga Speedway on April 6, Devil's Bowl Speedway on April 19, Williams Grove Speedway on May 16 and May 17, Orange County Fair Speedway, May 18, New Egypt Speedway, May 20, Dodge City Raceway Park on July 4 and 5, Lincoln Speedway on July 17, Fulton Speedway on July 23, River Cities Speedway on Aug. 15 and Southern Oregon Speedway on Sept. 3); Kerry Madsen – 6(Stockton Dirt track on March 22, El Paso Speedway Park on April 15, Lakeside Speedway on June 7, Eldora Speedway on July 12 and Federated Auto Parts Raceway at I-55 on Aug. 3 and Antioch Speedway on Sept. 8); Paul McMahan – 5(The Dirt Track at Las Vegas on March 5, Tri-State Speedway on May 10, Limaland Motorsports Park on July 9, Federated Auto Parts Raceway at I-55 on Aug. 1 and Deer Creek Speedway on Sept. 13); Joey Saldana – 5(Perris Auto Speedway on April 12, Salina Highbanks on April 25, The Dirt Track at Charlotte on May 23, I-80 Speedway on June 6 and Jackson Speedway on June 13); Brad Sweet – 5 (Volusia Speedway Park on Feb. 14, Tucson International Raceway on March 8, Calistoga Speedway on April 5, Knoxville Raceway on June 14 and Beaver Dam Raceway on June 28); David Gravel – 4(Merced Speedway on March 28, Eldora Speedway on May 3, Wilmot Raceway on May 9 and Lebanon Valley Speedway on July 20); Cody Darrah – 2(Kings Speedway on April 11 and Lernerville Speedway on July 15); Shane Stewart – 2(Eldora Speedway on May 2 and Willamette Speedway on Sept. 2); Sammy Swindell – 2(Federated Auto Parts Raceway at I-55 on April 26 and Eldora Speedway on July 11);Rico Abreu – 1(Thunderbowl Raceway on March 15); Jonathan Allard – 1 (Silver Dollar Speedway, Sept. 6);Christopher Bell – 1(Jacksonville Speedway on May 7); Dale Blaney – 1 (Attica Raceway Park on May 30);Roger Crockett – 1(I-94 Speedway on June 21); Lance Dewease – 1 (July 20 at Williams Grove Speedway);Greg Hodnett – 1 (July 18 at Williams Grove Speedway); Mark Dobmeier – 1 (Huset's Speedway on July 2);Kraig Kinser – 1 (Clay County Fair Speedway on Sept. 12); Steve Kinser – 1 (Volusia Speedway Park on Feb. 16); Carson Macedo – 1 (Silver Dollar Speedway on Sept. 5); Stevie Smith – 1 (Lincoln Speedway on May 14).
World of Outlaws STP Sprint Car Series Statistical Report; Terre Haute Action Track; Terre Haute, Ind.; Sept. 17, 2014
A-Main – (25 Laps) – 1. 15-Donny Schatz [1] [$6,000]; 2. 71M-Joey Saldana [2] [$3,500]; 3. 21-Brian Brown [7] [$2,000]; 4. 9-Daryn Pittman [12] [$1,800]; 5. 29-Kerry Madsen [8] [$1,500]; 6. 2-Shane Stewart [9] [$1,400]; 7. 11-Steve Kinser [10] [$1,350]; 8. 11K-Kraig Kinser [11] [$1,300]; 9. 49-Brad Sweet [3] [$1,250]; 10. 7S-Jason Sides [16] [$1,200]; 11. 24-Rico Abreu [13] [$900]; 12. 18-Ian Madsen [20] [$800]; 13. 53-Christopher Bell [15] [$700]; 14. 51-Paul McMahan [6] [$650]; 15. 71MX-Paul May [23] [$600]; 16. 9W-Derek Hagar [21] [$550]; 17. 33-Danny Lasoski [14] [$500]; 18. 4-Cody Darrah [4] [$500]; 19. 83-David Gravel [5] [$500]; 20. 1S-Logan Schuchart [17] [$500]; 21. 5W-Lucas Wolfe [18] [$500]; 22. 59-Tim Kaeding [22] [$500]; 23. 4S-Danny Smith [24] [$500]; 24. W20-Greg Wilson [19] [$500]. Lap Leaders: Donny Schatz 1-25. KSE Hard Charger Award: 9-Daryn Pittman [+8]
Qualifying – 1. 71M-Joey Saldana, 16.777; 2. 15-Donny Schatz, 16.877; 3. 49-Brad Sweet, 17.028; 4. 4-Cody Darrah, 17.060; 5. 2-Shane Stewart, 17.133; 6. 29-Kerry Madsen, 17.153; 7. 11-Steve Kinser, 17.167; 8. 11K-Kraig Kinser, 17.190; 9. 83-David Gravel, 17.209; 10. 9-Daryn Pittman, 17.228; 11. 21-Brian Brown, 17.264; 12. 51-Paul McMahan, 17.270; 13. 24-Rico Abreu, 17.271; 14. 33-Danny Lasoski, 17.320; 15. 53-Christopher Bell, 17.344; 16. 7S-Jason Sides, 17.366; 17. 1S-Logan Schuchart, 17.424; 18. 5W-Lucas Wolfe, 17.431; 19. W20-Greg Wilson, 17.628; 20. 18-Ian Madsen, 17.667; 21. 9W-Derek Hagar, 17.686; 22. 59-Tim Kaeding, 17.694; 23. 71MX-Paul May, 17.706; 24. 9P-Parker Price-Miller, 17.728; 25. 3G-Dave Blaney, 17.779; 26. 4S-Danny Smith, 17.789; 27. 12-Robert Ballou, 17.828; 28. 11N-Randy Hannagan, 17.858; 29. 4K-Kody Kinser, 17.881; 30. 3B-Bradley Greer, 17.987; 31. 1A-Jacob Allen, 18.490; 32. O7-Jacob Wilson, 18.975; 33. 71-Bryan Clauson, 18.134
Heat 1 – (8 Laps – Top 5 finishers transfer to the A-feature) – 1. 83-David Gravel [2]; 2. 24-Rico Abreu [1]; 3. 71M-Joey Saldana [4]; 4. 2-Shane Stewart [3]; 5. 9W-Derek Hagar [6]; 6. 3G-Dave Blaney [7]; 7. 1S-Logan Schuchart [5]; 8. 4K-Kody Kinser [8]
Heat 2 – (8 Laps – Top 5 finishers transfer to the A-feature) – 1. 29-Kerry Madsen [3]; 2. 9-Daryn Pittman [2]; 3. 15-Donny Schatz [4]; 4. 33-Danny Lasoski [1]; 5. 5W-Lucas Wolfe [5]; 6. 59-Tim Kaeding [6]; 7. 3B-Bradley Greer [8]; 8. 4S-Danny Smith [7]
Heat 3 – (8 Laps – Top 5 finishers transfer to the A-feature) – 1. 21-Brian Brown [2]; 2. 49-Brad Sweet [4]; 3. 53-Christopher Bell [1]; 4. 11-Steve Kinser [3]; 5. 71MX-Paul May [6]; 6. W20-Greg Wilson [5]; 7. 1A-Jacob Allen [8]; 8. 12-Robert Ballou [7]
Heat 4 – (8 Laps – Top 5 finishers transfer to the A-feature) – 1. 51-Paul McMahan [2]; 2. 4-Cody Darrah [4]; 3. 11K-Kraig Kinser [3]; 4. 7S-Jason Sides [1]; 5. 18-Ian Madsen [5]; 6. 11N-Randy Hannagan [7]; 7. 9P-Parker Price-Miller [6]; 8. O7-Jacob Wilson [8]
Dash – (6 Laps, finishing order determined first 8 starting positions of A-feature) – 1. 15-Donny Schatz [2]; 2. 71M-Joey Saldana [1]; 3. 49-Brad Sweet [3]; 4. 4-Cody Darrah [4]; 5. 83-David Gravel [6]; 6. 51-Paul McMahan [8]; 7. 21-Brian Brown [7]; 8. 29-Kerry Madsen [5]
Last Chance Showdown – (12 Laps – Top 4 finishers transfer to the A-feature) – 1. 1S-Logan Schuchart [1] [-]; 2. 59-Tim Kaeding [3] [-]; 3. 4S-Danny Smith [6] [-]; 4. W20-Greg Wilson [2] [-]; 5. 9P-Parker Price-Miller [4] [$200]; 6. 3G-Dave Blaney [5] [$180]; 7. 11N-Randy Hannagan [8] [$175]; 8. 4K-Kody Kinser [9] [$160]; 9. 1A-Jacob Allen [11] [$150]; 10. 3B-Bradley Greer [10] [$150]; 11. 12-Robert Ballou [7] [$150]; 12. O7-Jacob Wilson [12] [$150]; 13. 71-Bryan Clauson [13] [$150]

World of Outlaws STP Sprint Car Series Championship Standings
| | | | | | | | | |
| --- | --- | --- | --- | --- | --- | --- | --- | --- |
| Pos. | Car | Driver | Total | Diff | Wins | Top 5's | Top 10's | QT |
| 1 | 15 | Donny Schatz | 10959 | 0 | 22 | 55 | 71 | 7 |
| 2 | 9 | Daryn Pittman | 10723 | -236 | 13 | 43 | 68 | 4 |
| 3 | 51 | Paul McMahan | 10612 | -347 | 5 | 41 | 68 | 10 |
| 4 | 29 | Kerry Madsen | 10465 | -494 | 6 | 40 | 63 | 6 |
| 5 | 71M | Joey Saldana | 10440 | -519 | 5 | 34 | 55 | 23 |
| 6 | 49 | Brad Sweet | 10195 | -764 | 5 | 26 | 53 | 2 |
| 7 | 4 | Cody Darrah | 9837 | -1122 | 2 | 16 | 41 | 4 |
| 8 | 11 | Steve Kinser | 9656 | -1303 | 1 | 10 | 37 | 0 |
| 9 | 11k | Kraig Kinser | 9397 | -1562 | 1 | 7 | 29 | 0 |
| 10 | 83 | David Gravel | 9269 | -1690 | 4 | 21 | 46 | 10 |
| 11 | 7s | Jason Sides | 8836 | -2123 | 0 | 2 | 20 | 0 |
| 12 | 1S | Logan Schuchart | 8214 | -2745 | 0 | 5 | 14 | 1 |
| 13 | 1A | Jacob Allen | 7048 | -3911 | 0 | 0 | 1 | 0 |
| 14 | 1 | Sammy Swindell | 5990 | -4969 | 2 | 11 | 19 | 1 |
| 15 | 59 | Tim Kaeding | 4106 | -6853 | 0 | 3 | 14 | 0 |
| 16 | 2 | Shane Stewart | 4070 | -6889 | 2 | 10 | 20 | 4 |
| 17 | 5W | Lucas Wolfe | 3654 | -7305 | 0 | 2 | 8 | 1 |
| 18 | 21 | Brian Brown | 3194 | -7765 | 0 | 5 | 12 | 0 |
| 19 | 77X | Wayne Johnson | 2689 | -8270 | 0 | 0 | 0 | 0 |
| 20 | W20 | Greg Wilson | 2658 | -8301 | 0 | 0 | 2 | 0 |