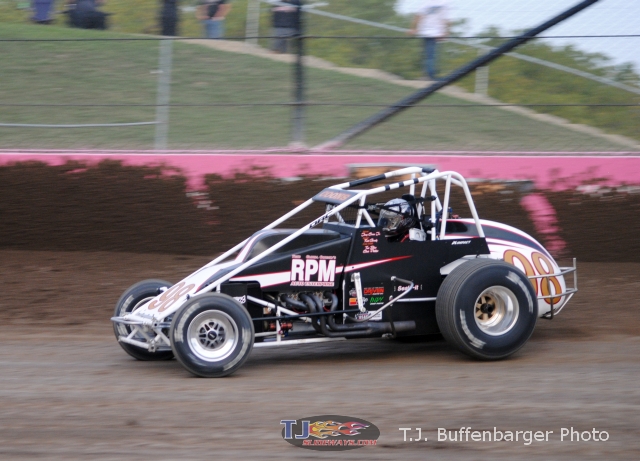 By T.J. Buffenbarger
Rossburg, OH – (September 21, 2014) – Jerry Coons, Jr. won what turned out to be an unusual USAC Silver Crown Championship event Sunday afternoon during the 4-Crown Nationals at Eldora Speedway. Coons was awarded the victory after apparent winner Caleb Armstrong was scored one lap down for changing a left rear tire under caution that was not flat. The victory was Coons' first of the season in the Silver Crown series and the first time he has visited victory lane in that division during the 4-Crown.
Coons led the first 12 laps before Swanson started to pressure him for the lead. Coons slid out of the groove enough for Swanson led lap 13 before Coons got the lead back when Swanson overshot the groove himself in turns one and two.
Swanson was able to wrestle the lead from Coons off turn four on lap 20 and then led through multiple cautions and a red flag for Patrick Lawson. Lap 22 was a key moment when Caleb Armstrong brought out the caution flag for a flat right rear tire. Armstrong rejoined the feature at the tail of the field. Following a caution on lap 26 for Christopher Bell hitting the wall in turn one Swanson continued to pull away from the field. Two laps later Chris Windom also brought out the caution flag for a flat right rear tire. Windom was able to get the tire changed and join the tail of the field for the restart.
Swanson continued to dominate until seven laps to go when Jacob Wilson brought out the caution for a flat right rear tire. Clauson then brought out the caution again when his right rear tire let go. This was followed by a flip by Patrick Lawson in turns one and two. Lawson was uninjured. This was followed up by a caution for C.J. Leary's flat tire with five laps to go
The restart saw Armstrong motor up to the cushion and drive from mid-pack up into third position after the restart. One lap later Amstrong quickly disposed of Coons for second and Swanson to take the lead lead. Swanson quickly dropped through the field as his right rear tire had lost all of its forward grip. It appeared at the time that Armstrong would pick up his first career victory, but after the race USAC officials learned of the tire change and scored Armstrong one lap down in 10th position. Coons was declared the winner over Chris Windom, Tracy Hines, Shane Cockrum, and Bobby East.
33rd 4-Crown Nationals
USAC Silver Crown Championship
Eldora Speedway – Rossburg, OH
Sunday September 21, 2014
QUALIFICATIONS: (Sept. 20) 1. Jerry Coons Jr., 98, RPM/Gormly-16.513; 2. Kody Swanson, 63, DePalma-16.607; 3. Bobby East, 10, Stewart/Curb-Agajanian-16.637; 4. Tracy Hines, 16, Lightfoot-16.658; 5. Chris Windom, 17, RW/Curb-Agajanian-16.883; 6. Bryan Clauson, 20, Nolen-16.898; 7. C.J. Leary, 35, Ferns-17.081; 8. Aaron Pierce, 26, Pierce-17.215; 9. Caleb Armstrong, 9, Armstrong-17.340; 10. Shane Cockrum, 66, Hardy-17.342; 11. Davey Ray, 25, Sachs-17.421; 12. Jacob Wilson, 07, Wilson-17.615; 13. Robert Ballou, 53, SET-18.336; 14. Jack Hewitt, 21, Six-R-18.391; 15. Patrick Lawson, 2, Lawson-24.150; 16. Christopher Bell, 99, RPM/Gormly-NT; 17. Brady Bacon, 14, McQuinn-NT; 18. Russ Gamester, 51, Gamester-NT; 19. Jake Simmons, 31, Simmons-NT; 20. Dave Darland, 19, Longworth-NT.
REMAINDER OF EVENTS CONDUCTED SEPTEMBER 21
FEATURE: (50 laps) 1. Jerry Coons Jr., 2. Chris Windom, 3. Tracy Hines, 4. Shane Cockrum, 5. Bobby East, 6. Bryan Clauson, 7. Aaron Pierce, 8. Jacob Wilson, 9. Kody Swanson, 10. Caleb Armstrong, 11. Russ Gamester, 12. C.J. Leary, 13. Patrick Lawson, 14. Christopher Bell, 15. Davey Ray, 16. Jack Hewitt, 17. Robert Ballou. NT
——————————–
**Gamester flipped during practice. Darland flipped during practice. Lawson flipped on lap 45 of the feature.
FEATURE LAP LEADERS: Laps 1-12 Coons, Lap 13 Swanson, Laps 14-19 Coons, Laps 20-46 Swanson, Laps 47-49 Armstrong, Lap 50 Coons.
NEW USAC SILVER CROWN POINTS: 1-Swanson-522, 2-Hines-510, 3-East-477, 4-Windom-418, 5-Coons-366, 6-Wilson-308, 7-Cockrum-264, 8-A.J. Fike-263, 9-Armstrong-261, 10-Darland-234.