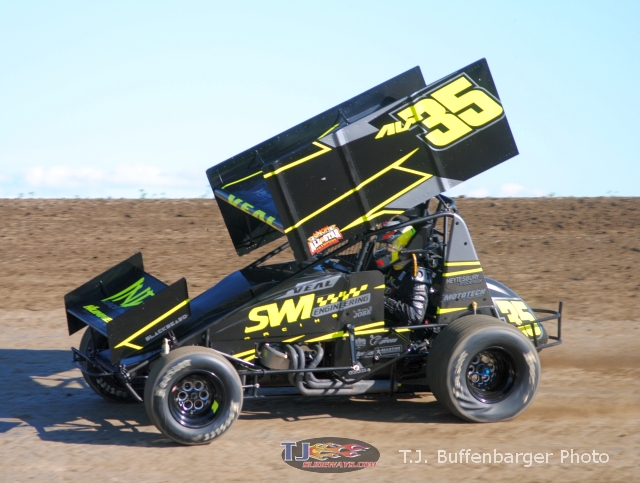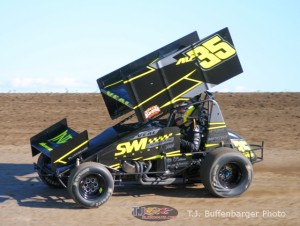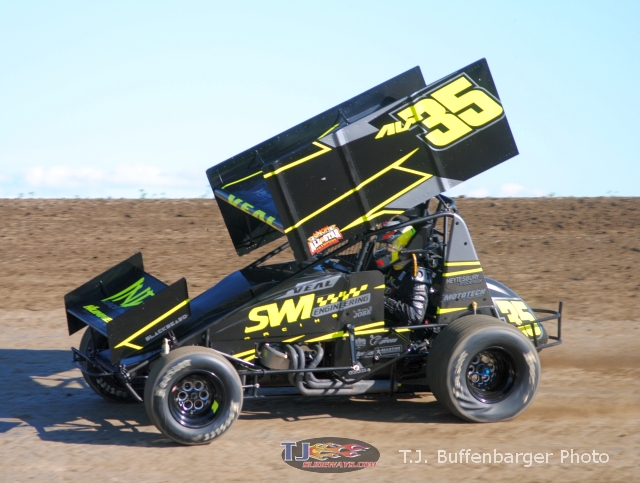 From Valvoline Raceway
Sydney, AU — (October 4, 2014) — Warrnambool's Jamie Veal stormed to victory in tonight's 30 lap Brian Healey Cup Sprintcar main event at Sydney's Valvoline Raceway in what was a brutal contest in front of a huge opening night crowd.
The 26 year old Victorian shot his jet black #35 SWI Engineering Maxim across the line to take the victory from Sydney brothers Roddy and Toby Bellbowen in their Hogs Breath Café Maxims.
"We always love coming here," smiled the jubilant winner, "Beato and Juddy had the car set beautifully and we could move around the track pretty well anywhere we pleased. It's great to get the first win of the season here, it was pretty busy in lapped traffic that's for sure but it's cool to get a win for my Dad and the boys on the team."
Veal picked up $3,000 for the win plus a further $2100 from the lap leader sponsorship program for a tidy total of $5,100.
For the Bellbowen brothers their respective podium finishes were a fitting reward for a strong performance all night.
"I'm not the fittest guy in the pits," Roddy Bellbowen mused, "so I knew I'd struggle with my fitness in the first race of the year. Considering that, finishing second tonight is a really great result. It's cool to be up here with my little brother too."
Toby Bellbowen was equally pleased.
"It was cool to lead this race for as long as we did," he admitted, "it doesn't take much though in this kind of field for the challengers to come but I'm really happy for the team that we could hold on for third."
Queensland based Northern Territorian Danny Reidy was solid in the Desert Palms Resort #5 with a stout fifth place finish ahead of Terang Victoria's Jack Lee in the Lee Contracting #25 home in sixth, Sydneysider Max Johnston seventh in the #38 Ultimate Karting Sydney entry, Matt Dumesny in the Fineline Fabrications #57 Maxim eighth, Robbie Farr (Hi-Tec Oils #7 Maxim) in ninth and Max Dumesny's Valvoline #5 Maxim rounding out the top ten.
The race was marred by a huge crash in turn two of the first lap when Robbie Farr uncharacteristically spun in front of the field and had several cars crash into the melee and roll over.
Involved in the crash were Warren Ferguson (who rolled spectacularly trying to avoid the crash) Jeremy Cross (rollover) Trevor Green (rollover) Jordyn Brazier (damage) Kelly Linigen, Jackson Delamont (damage) Paul Jeffrey (damage) and Darryl Campbell (rollover).
Farr came back from the rear of the field at the restart to claim ninth.
Just outside the top ten were James Thompson (Stahlwille Tools #22) in eleventh, Ryan Davis (RAK Davis #95) in twelfth, Jimmy Matchett (#88 Ian Cubitt's Granny Flat Specialists) in thirteenth, Steve Caunt's #9 C1 Speed Electric KPC in fourteenth, Marty Perovich (Network Painting #17) fifteenth, Andrew Wright in sixteenth in the Hitachi Construction Machinery #78, Kelly Linigen in the Linigen Pallets #25 in seventeenth, Peter Gordon's #14 Challanger Kitchens entry eighteenth and Trevor Green's Natrad #11 Maxim rounding out the field.
Green limped home with substantial damage to his Barry & Vivienne Lewis owned Maxim that was sustained in the opening corner crash.
Earlier in the night Max Johnston set quick time in qualifying with a 12.3140s lap ahead of Robbie Farr's 12.3530 and Toby Bellbowen's 12.3670.
Heat wins went to Robbie Farr, Steve Caunt, Jack Lee and Ryan Davis.
Gary Rooke won the C-Main ahead of fellow transferee Sean Dyson.
The B-Main was won by Darryl Campbell ahead of Jeremy Cross, Matt Dumesny and Kelly Linigen in fourth.
Toby Bellbowen won the A Dash and Robbie Farr collected the B Dash.
Speedcar action was truly memorable with Nathan Smee and Adam Clarke putting on a clinic in their main event before it was cut short prematurely when a spectator required medical attention with several laps still remaining.
Heat wins went to Nathan Smee, Adam Clarke, Dean Meadows and Matthew Jackson.
Heat wins in the Legend Car category were hard to come by with some great racing all night in the heats – victors included Warren Maybury, Brett Morris, James Duckworth and Brett Morris again.
Unfortunately the Legend Car main event was cancelled due to the impending time curfew.
Valvoline Raceway will be back for the second round of the Track Championship with Late Models and wingless sprints also on the program next Saturday night, October 11.
For more information please visit www.valvolineraceway.com.au
Ends release.