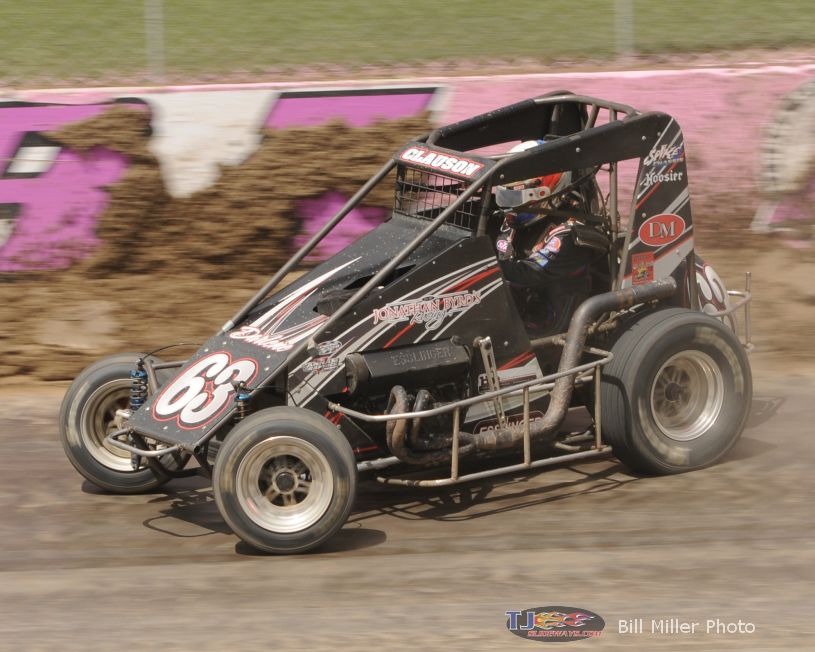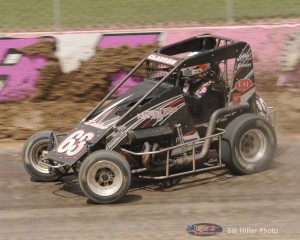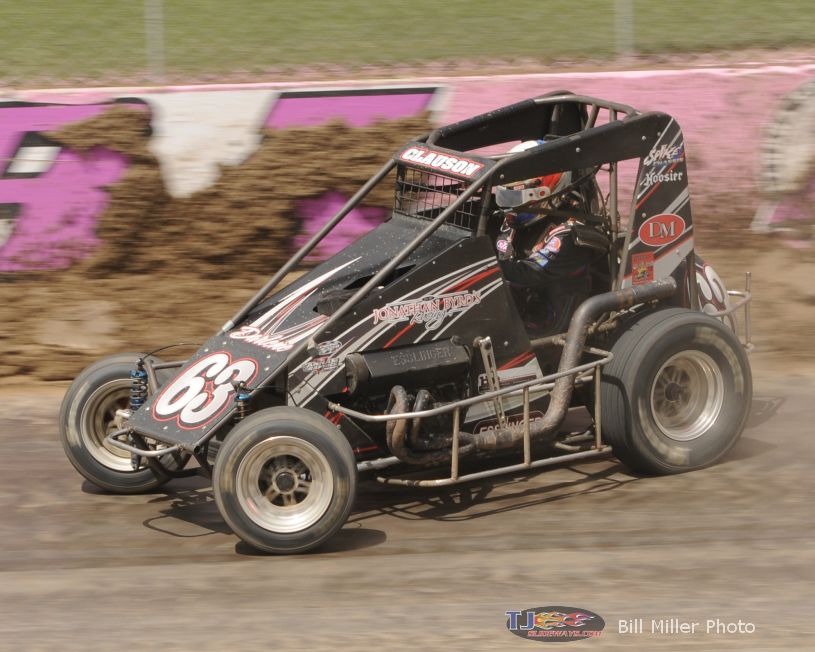 From Bill W
10/11/14
Jacksonville Speedway
Jacksonville, IL
Ron Milton Race of Champions
28 MOWA Sprints
28 POWRi Midgets
Sprints
Heat one (started, *qualified for feature): 1. Zach Daum 5D (2*) 2. Parker Price-Miller 9P (1*) 3. Joe B. Miller 51B (4*) 4. AJ Bruns 2 (6*) 5. Blake Nimee 79 (5*) 6. Trent Beckinger 75 (3) 7. Korey Weyant 99w (8) 8. Brett Samonds 47 (7) 9. Joey Moughan 17m (9) 10. Bryan Clauson 67 (10)
The track was fairly one-lane around the cushion for the 10-lap heats. Clauson bicycled and stopped before a lap could be completed and then eliminated himself by spinning at the halfway point. Daum led the distance.
Heat two (started, *qualified for feature): 1. Jerrod Hull 12 (2*) 2. Jeremy Standridge 10s (5*) 3. Paul Nienhiser 9 (4*) 4. Robbie Standridge 10K (7*) 5. Bret Tripplett 22 (8*) 6. Seth Motsinger 44 (9*) 7. Travis Howard 63 (6) 8. Kevin Thomas Jr. 9K (1) 9. Hunter Schuerenberg 20N (3)
On the first lap, Thomas hiked the turn three berm, climbed the wall and got upside down. That collected Schuerenberg. Both were done for the heat, but uninjured. Hull led the distance, while Standridge, who inherited the pole after the crash followed.
Heat three (started, *qualified for feature): 1. Brad Loyet o5 (2*) 2. Chris Urish 77u (4*) 3. Jimmy Hurley 35 (7*) 4. Trey Datweiler 23D (1*) 5. Ryan Bunton 7K (9*) 6. Russ Hall 83 (6) 7. Austin Brown 7 (5) 8. Logan Faucon 52F (8) 9. Vinny Ward 82 (3)
Loyet led the distance. Hurley was the driver on the move, grabbing third by lap two.
Dash (started): 1. Jimmy Hurley (2) 2. Jerrod Hull (4) 3. Chris Urish (6) 4. Zach Daum (3) 5. Brad Loyet (5) 6. Jeremy Standridge (1)
Hurley led Hull the entire 6 laps. Daum spun with two laps in the books, but came back to register fourth. Urish moved into third on the restart for Daum.
B main (started): 1. Korey Weyant (2) 2. Joey Moughan (8) 3. Bryan Clauson (10) 4. Kevin Thomas Jr. (7) / 5. Logan Faucon (6) 6. Austin Brown (5) 7. Vinny Ward (9) 8. Travis Howard (4) 9. Trent Beckinger (3) 10. Russ Hall (1) DNS – Brett Samonds, Hunter Schuerenberg
On the first go-around in the 12-lapper, contact from Weyant sent Hall skyward, though he landed on all fours. He would come to a stop after lap one. Beckinger led Weyant, Faucon, Moughan and Brown on the restart. Moughan moved into third before Hall spun and had to exit with two laps in. The leader went up in smoke and exited on lap five. Weyant inherited the lead. With nine laps in, Ward got over the gnarly cushion in three and four and got upside down. Weyant led Moughan, Faucon and a back and forth battle for the final transfer between Thomas and Clauson. Both got by Faucon for the last transfer in a three-way battle for two transfers.
A main (started): 1. Jerrod Hull (2) 2. Jimmy Hurley (1) 3. Paul Nienhiser (11) 4. Joe B. Miller (10) 5. AJ Bruns (12) 6. Robbie Standridge (7) 7. Chris Urish (3) 8. Trey Datweiler (15) 9. Kevin Thomas Jr. (20) 10. Zach Daum (4) 11. Seth Motsinger (14) 12. Korey Weyant (17) 13. Bryan Clauson (19) 14. Bret Tripplett (13) 15. Brad Loyet (5) 16. Jeremy Standridge (6) 17. Blake Nimee (16) 18. Ryan Bunton (8) 19. Parker Price-Miller (9) 20. Joey Moughan (18)
Hurley led early in the 25-lapper. Price-Miller tumbled in turn one with four laps in. A charging Moughan had nowhere to go and was collected. The restart saw Hurley leading Hull, Urish, Daum and Loyet. A lap later, Urish would spin out of third, collecting the fourth place car of Daum. Both would restart at the tail. Nimee slammed the wall and came to a stop with 8 laps in. He would retire. Hurley led Hull, Loyet, Nienhiser and Miller back to green. Hull would slide into the lead at that point, and Loyet would take second on lap 12. Nine laps later, Hull was maneuvering the turn three cushion when Loyet got too hot and into his tail. Loyet would tip over, while Hull would do a complete 360 spin and keep it going. Hurley would inherit second ahead of Nienhiser, Tripplett, Miller and a charging Clauson. Lap 22 would be unlucky for Tripplett who jumped the cushion in four and flipped. That collected Clauson and Weyant, who would continue. Hull was able to hold off Hurley and Nienhiser for the win. He clinched his fourth MOWA title in the process.
Midgets
Heat one (started, *qualified for feature): 1. Austin Brown 7 (2*) 2. Tanner Thorson 67 (5*) 3. Jake Neuman 3N (1*) 4. Andrew Felker 11A (7*) 5. Ryan Robinson 71 (3) 6. Gage Walker 7x (6) 7. Lance Bennett 58x (4) 8. Dave McKay 3D (8)
Brown led the 8-lap distance. Thorson had a good battle with Robinson, his teammate for the night. It was Robinson's first midget start after numerous wins in the Outlaw karts in California. Thorson grabbed second from Neuman on the last lap.
Heat two (started, *qualified for feature): 1. Bryan Clauson 63 (2*) 2. Zach Daum 5D (6*) 3. Cole Wood 17w (1*) 4. Keith Rauch 47 (5*) 5. Terry Babb 88 (4) 6. Andy Baugh 6B (7) 7. Dave Camfield 86c (3)
Clauson led Wood and Daum early. On lap three, Daum shot by Wood into second. Clauson was able to hold him off after a good battle.
Heat three (started, *qualified for feature): 1. Seth Motsinger 2 (2*) 2. Daniel Robinson 57D (3*) 3. Andy Malpocker 22 (5*) 4. Parker Price-Miller 9P (7*) 5. Mark Chisholm 56x (1) 6. Dave Camfield Jr. 86s (4) 7. Tyler Robbins 5H (6)
Wyoming's Chisholm took the early lead, but Motsinger grabbed it on lap two. Robbins flipped hard in turn three at the halfway point. He was unhurt, but done for the night. On the restart, Malpocker shot by Chisholm for third, while Price-Miller took fourth on a last lap that saw chaos in positions two through five.
Heat four (started, *qualified for feature): 1. Darren Hagen 56 (4*) 2. Justin Peck 5x (3*) 3. Ryan Criswell 11R (2*) 4. Spencer Bayston 39 (5*) 5. Dalton Camfield 87 (7) 6. Tyler Roth 0z (1) 7. Brian Rieck 0 (6)
Criswell led Roth and Hagen early. Hagen would grab second on lap two, while Roth would spin. Another spin a lap later by Bayston would slow things again. Criswell and Hagen dueled for the lead, before Hagen took charge on lap five. Peck would slide by Criswell on the last lap.
B main (started): 1. Ryan Robinson (4) 2. Andy Baugh (3) 3. Gage Walker (6) 4. Dave Camfield (10) 5. Mark Chisholm (5) 6. Dalton Camfield (1) / 7. Dave Camfield Jr. (7) 8. Lance Bennett (9) 9. Dave McKay (11) 10. Tyler Roth (8) 11. Terry Babb (2) DNS – Brian Rieck, Tyler Robbins
Babb exited on the first lap of the 12-lapper. Robinson went to the front immediately when the green dropped and never looked back. One caution slowed things when Roth clipped an infield tire with a lap in. Baugh shot from third to second at that point. A good battle ensued for the final transfer with three Camfields in the mix.
A main (started): 1. Bryan Clauson (5) 2. Darren Hagen (1) 3. Andrew Felker (10) 4. Tanner Thorson (3) 5. Justin Peck (8) 6. Zach Daum (2) 7. Daniel Robinson (7) 8. Spencer Bayston (14) 9. Austin Brown (4) 10. Parker Price-Miller (11) 11. Ryan Criswell (12) 12. Keith Rauch (13) 13. Gage Walker (19) 14. Jake Neuman (15) 15. Mark Chisholm (21) 16. Andy Malpocker (9) 17. Andy Baugh (18) 18. Dave Camfield (20) 19. Cole Wood (16) 20. Dalton Camfield (22) 21. Ryan Robinson (17) 22. Seth Motsinger (6)
Motsinger broke a rear-end on the first lap of the 30-lapper. Thorson grabbed the early lead over Hagen and Daum. R. Robinson broke a front end and collected Baugh and Dave Camfield. Robinson retired. Thorson led Hagen, Daum, Clauson and Felker on the restart. Daum would check up and lose power with seven laps in while running third. On lap eight, Wood retired with a broken front end. A three-way duel for first ensued that will be fun to watch on MavTV, but was a nightmare for scorers. Clauson shot to the lead in a three-wide battle on the restart. Baugh spun on lap 15, while Bayston changed a flat right rear. Clauson led Thorson, Hagen, D. Robinson and Felker on the restart. Thorson would surge back to the lead on lap 17, before Clauson would take it back on lap 20 in a fierce three-way battle with Hagen. The final caution flew for Malpocker, who stopped while vying for a top five on lap 22. Clauson held on, ahead of Hagen and the hard-charger, Felker.