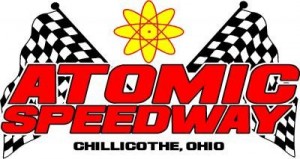 From Scott Wolfe
Chillicothe, OH — (October 16, 2014) — The countdown is on for what looks to be perhaps the biggest 3-day open wheel event this side of the Mississippi River. The historic Atomic Speedway near Chillicothe, Ohio–Ohio's Fastest 3/8 mile high-banked oval—will host a mega event for three classes of open wheel cars next weekend.
"If you build it, they will come!" was the famous line from the Kevin Costner movie "Field of Dreams". For open wheel racers, Atomic Speedway 'is' the "Field of Dreams". Owner Brad McCown has posted one of the biggest purses nationwide for open wheel race cars and the racers indeed are coming.
"Now, we need the fans to come out in numbers like the racers are," smiled McCown. "If the fans come out to support this show, they won't be disappointed in the quality of racing and the quality of drivers that next weekend will bring. If we can pack this place, the 2nd annual Open Wheel Championship will be even bigger."
In the world of 'Open Wheel' racing all eyes are focused on the October 23-24-25 Open Wheel Championships, an event that will pay out over $115,000 in overall prize money for 410 Outlaw winged sprint cars, non-winged sprints, and AMRA Open Wheel Modifieds.
Already, 64 winged entries have rolled into the Atomic Speedway office for the 410 winged sprint cars along with phone calls indicating numerous other drivers will be on-hand for the weekend. Over 100 entries are registered in the three divisions collectively. 100 entries are expected for the Renegade Sprint Series winged spectacular.
The "Dash-for-Cash" alone–in all divisions– pays $1,000 to win, $500, $400, $300, $200, $150 and $100 through tenth. In the winged outlaw sprints, the winner's share is $15,000 to win and $1000 to start for a 22-car field. Non-qualifiers will furn for $2,065 in the Charlie McCann Memorial and $200 to start. The #65 in the winner's share stands for McCann's longtime car number. Forty-two cars and drivers will go home with at least $200. The non-winged sprints and modifieds run for $5,000 to win and $500 to start.
Below is a driver roster and race schedule for the weekend!
The Open Wheel Championship flaunts a $115,000 guaranteed purse! There is no entry fee and primitive camping is available at the track or full hook-ups at Trackside Camping. Once again we reiterate that the winged 410 Outlaw sprints pay $15,000 to win and $1,000 to start; the non-wing sprints pay $5,000 to win and the AMRA Modifieds pay $5,000 to win. Both pay $500 to start. Pits open at 12 noon and general admission gates at 4 p.m.
VIP seating is available for the OWC for just $25 per night. Fans can upgrade general admission tickets to the VIP Tower for only $25. Enjoy the climate controlled atmosphere at a great price.
Ervco Sanitation has put up $1000 for the fast-car dash in each class, while Bobst Auto Parts has put up $500 fast time for Modifieds, and Callies Performance Products has posted $500 for the Renegade Sprints Fast Time.
Fine and Dandy Cotton Candy has posted $500 fast time for Non Wing Sprints. Bobst Auto Parts will continue to sponsor cautions and will provide the Wreckers for the weekend. Bobst will have wreckers on duty all weekend, while Accords Pizza and Subs will be supporting the entire three-day weekend.
For more information please call 740-703-9749 or 740-663-4141 or visit the Atomic Speedway website at <<< www.atomicspeedway.net >>> or visit <<<http://atomicspeedwayowc.webs.com/ >>> Atomic is located 12 miles South of Chillicothe, Ohio off SR 23, two miles out Blain Highway between Chillicothe, Ohio and Waverly, Ohio at Alma.
Upcoming Schedule
October 18-No Racing
3 DAY OPEN WHEEL CHAMPIONSHIPS:
410 Renegade Sprints, Non Wing Sprints Unsanctioned, with AMRA Modifieds
October 23- Sprint Practice, Non Wing Qualifying & Heats, Modified Qualifying & Heats
October 24- Sprint Qualifying & Heats, Non Wing B-Mains, Modified B-Mains, DASH FOR CASH in ALL 3 CLASSES $1,000 TO WIN
October 25- Sprint B-Mains & Feature $15,000 TO WIN, Non Wing Feature $5,000 TO WIN, Modified Feature $5,000 TO WIN, "Charlie McCann Winged Sprint Memorial" Non-Qualifiers $2,065 to win
November 1- Topless Weekend- DAN RENO MEMORIAL WEEKEND $2,222 TO WIN for Modifieds, plus Late Models, Street Stocks, Sport Mods, plus Dreadland Haunted Woods Enduro
You can check out the info at:
http://atomicspeedwayowc.webs.com/
Open Wheel Championships schedule
October 23 , 24 & 25
Modifieds – $5,000 to win!
Non – Wing Sprints – $5,000 to win!
Renegade Sprint Cars – $15,000 to win!
www.atomicspeedway.net
2535 Blain Highway
Waverly, Ohio 45690
Schedule of events:
Thursday Oct. 23 – 12:00 – Pits Open
4:00 – Grandstands Open
6:30 – Modified/NW Sprint Hot Laps
7:30 – Modified/NW Sprint Qualifying
8:30 – Modified Heats
9:00 – NW Sprint Heats
9:30 – Modified C Mains
10:00 – NW Sprint C Main
Friday October 24 – 12:00 – Pits Open
4:00 – Grandstands Open
6:30 – Sprint Car Hot Laps
7:30 – Sprint Car Qualifying
8:30 – Sprint Car Heats
9:30 – NW Sprint Bmain Hot Laps
9:45 – Modified Bmain Hot Laps
10:00 – Sprint Car C Mains
10:30 – NW Sprint Bmains
11:00 – Modified Bmains
11:30 – Sprint Car Bmains
Saturday Oct 25 12:00 – Pits Open
4:00 – Grandstands Open
4:30 – Mandatory Autograph Session
6:00 – Hot Laps
7:00 – Sprint Charlie McCan Memorial
7:30 – Mod/Sprint/NW Dash
8:30 – Modified A-Main
9:30 – Sprint Car A-Main
10:30 – NW Sprint Car A-Main
Atomic Open Wheel Championships
OWC 410 SPRINT CAR ENTRIES
RICO ABREU
CHRIS ANDREWS
BRADY BACON
RONNIE BLAIR
DALE BLANEY
BRANDY BOWER
STEWART BREWBAKER
RYAN BROUGHTON
ROB CHANEY
MARK COLEMAN
BRANDON CONKEL
JEFF CONRAD
TYLER COURTNEY
KORY CRABTREE
JOSH DAVIS
CRAIG DOLLANSKY
COLE DUNCAN
TAYLOR FERNS
RANDY FINK
DJ FOOS
RICK FRALEY
CODY GARDNER
RANDY HANNAGAN
JORDAN HARBLE
MITCH HARBLE
JAC HAUDENSCHILD
SHELDON HAUDENSCHILD
CALEB HELMS
AARON HIGGINS
DANNY HOLTGRAVER
MARK IMLER
DEAN JACOBS
KIRK JEFFRIES
TODD KANE
CHAD KEMENAH
DEAN KESTER
IAN MADSEN
TERRY MCCARL
JESSE MCCREARY
JAMIE MILLER OWNED #6 – DRIVER TBA
JAMIE MILLER OWNED #9 – DRIVER TBA
CRAIG MINTZ
CHRIS MYERS
JAMIE MYERS
RYAN MYERS
JIM NIER
BRYAN NUCKLES
ED NUMEISTER
ANDREW PAULKER
PHOENIX RACING #59 – DRIVER TBA
TRAVIS PHILO
BRYAN SEBETTO
TIM SHAFFER
JOHN SHEWBROOKS OWNED #A79 – DRIVER TBA
NATHAN SKAGGS
EDDIE SLONE
DANNY SMITH
DAVID SMITH
JIMMY STINSON
ADAM STRAUSSER
KODY SWANSON
NATE REESER
GREG WILSON
BRANDON WIMMER