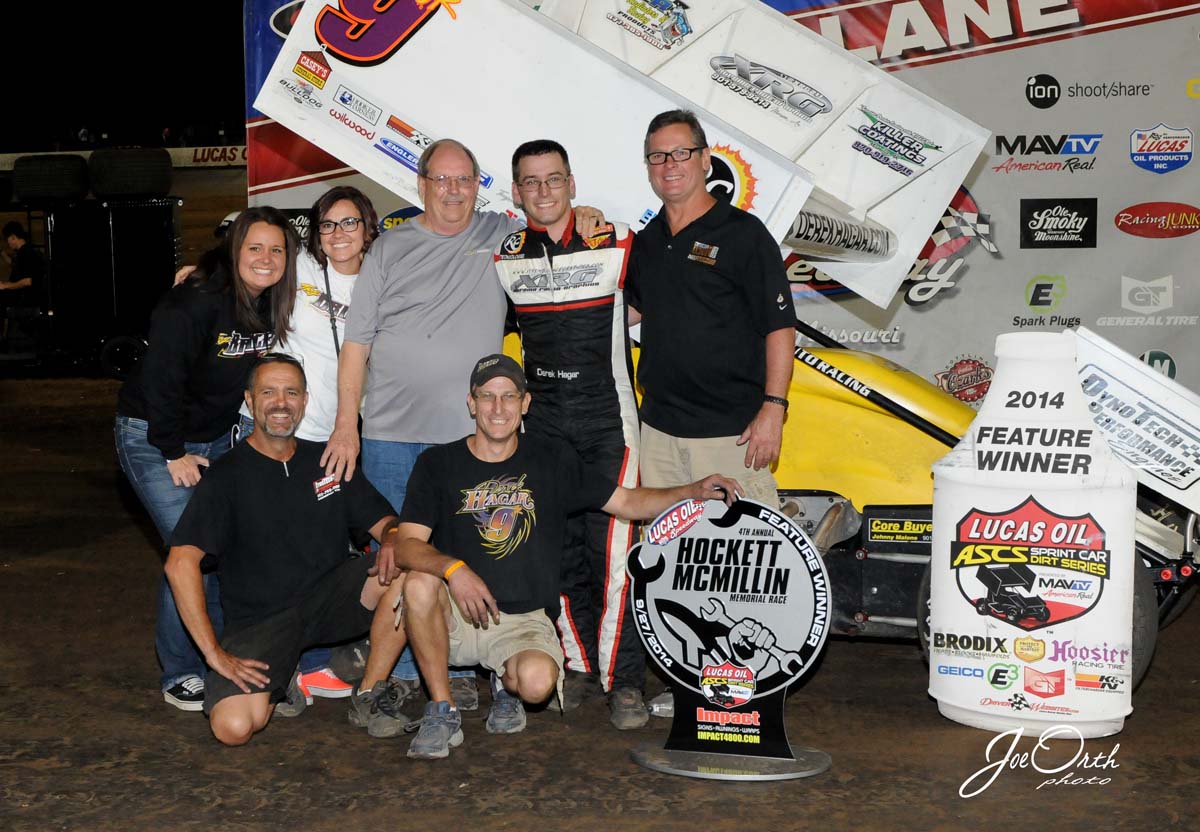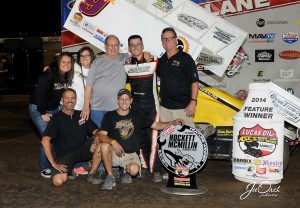 From Inside Line Promotions
Rossburg, OH — (October 15, 2014) – Derek Hagar has a new opportunity this weekend.
Hagar will drive the famed No. e85 sprint car owned by Danny King during the Lucas Oil ASCS National Tour's 41st annual Winter Nationals this Friday and Saturday at Devil's Bowl Speedway in Mesquite, Texas.
"I don't know exactly what that car is like so there will be a little bit of a learning curve," Hagar said. "We want to go out there and win. We'll take it as we get it, but hopefully we go up there and get a couple of wins."
Hagar, who has picked up a career-high 15 feature wins this season, was victorious in his most recent Lucas Oil ASCS National Tour event. However, he is coming off a pair of frustrating outings last weekend in Ohio.
Hagar piloted a sprint car for Destiny Motorsports on Friday at Waynesfield Raceway Park in Waynesfield for the 2nd annual Harvest of Sprints.
"We started out in hot laps and the valve cover came off and oil went everywhere and ruined my suit," he said. "Then in the heat race it just died. The MSD box went out I think."
Hagar, who was running third late in his heat race, was unable to restart. That relegated him to line up on the outside of the 11th row for the 25-lap feature.
"They had a wreck on the first lap," he said. "By the time that happened the engine died again. We pulled in and noticed the fuel pump fell off."
The team tightened everything back up and Hagar was able to restart the race last.
"I had to go out there and run as hard as I could," he said. "We didn't have very long to get to the front. We got up there slowly but surely. If we didn't have all those issues I think we would have been a contender for the win."
Hagar rallied from 22nd to a sixth-place finish.
The weekend concluded on Saturday at Eldora Speedway during the UNOH All Star Circuit of Champions season finale.
"Saturday started off the same way," he said. "We went to go push off to put heat in the motor and it wouldn't crank. The fuel pump fell out of it."
Following the issue Hagar then qualified 10th quickest and he finished fifth in a heat race to lock himself into the main event, which he started on the outside of the fifth row.
"The car just kept getting worse and worse," he said. "They were trying out some things and had a different shock package."
Hagar battled the handling of the car throughout the main event before he posted a 17th-place result.
"I want to thank Destiny Motorsports for the opportunity," he said. "It was a good experience and I learned a lot."
QUICK RESULTS –
Oct. 11 – Waynesfield Raceway Park in Waynesfield, Ohio – Heat race: DNF (3); Feature: 6 (22).
Oct. 12 – Eldora Speedway near Rossburg, Ohio – Qualifying: 10; Heat race: 5 (4); Feature: 17 (10).
SEASON STATS –
44 races, 15 wins, 22 top fives, 27 top 10s, 31 top 15s, 37 top 20s
UP NEXT –
Friday and Saturday at Devil's Bowl Speedway in Mesquite, Texas, for the 41st annual Winter Nationals with the Lucas Oil ASCS National Tour
MEDIA LINKS –
Website: http://www.DerekHagarRacing.com
Twitter: https://twitter.com/HagarDerek