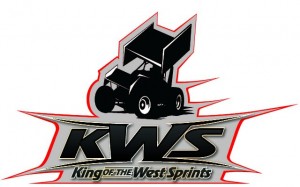 From Gary Thomas
Stockton, CA — (October 31, 2014) — Impending storm postpones the KWS & Civil War Series Tribute to Gary Patterson at Stockton Dirt Track until this Sunday November 2
Stockton, CA – October 30, 2014…Due to the weather front that will be passing over Northern California the next couple days, the decision has been made to postpone the Tribute to Gary Patterson at the Stockton Dirt Track until this Sunday November 2.
The Tribute to Gary Patterson showcases championship night for the King of the West 410 Sprint Car Series & the Civil War 360 Sprint Car Series presented by Flowmaster. The scheduled times will still remain the same for this Sunday November 2. Will call opens & ticket sales begin at 2pm, with the front gate opening at 4pm.
Chico's Kyle Hirst & Fremont's Shane Golobic are in search of titles with the King of the West 410 Sprints & the Civil War 360 Sprints respectively. The night of racing is a historical first for both of Nor Cal's premier Winged Sprint Car Series' competing on the same night.
We will everyone this Sunday for the 31st annual Tribute to Gary Patterson!
The physical address for the Stockton Dirt Track is 1658 S Airport Way, Stockton, CA 95206. Visit the track website www.stocktondirttrack.com for all your info pertaining to the 3/8 mile clay oval.