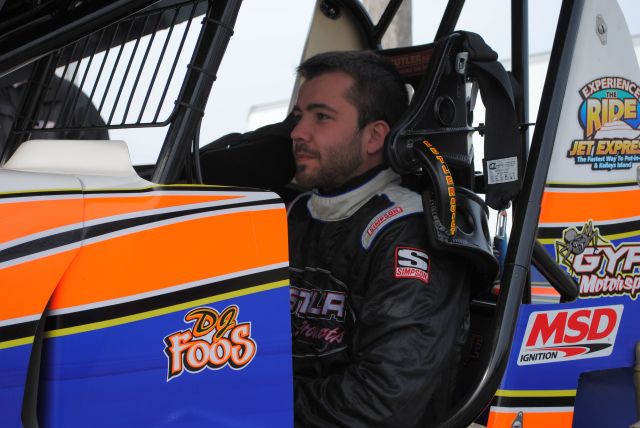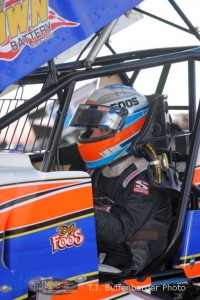 From Coomer Motorpsorts
With an impressive four race showing while finishing out our 2014 season, 24 year old Fremont, OH native D.J. Foos has been selected to pilot the Coomer Motorsports #21 in 2015. Aj Havens, also from Fremont, will be turning wrenches on the car. Having never worked together before, Foos and Havens were able to adapt well at the end of 2014 and secure their future positions with Coomer Motorsports for 2015. Brad Murphy will also continue as team manager for 2015.
D.J. got off to a hot start in his first appearance in the car at Fremont Speedway setting quick time out of 20 cars in attendance. After troubles in the heat race, he was able to bring it home in 7th position in the feature after starting 11th. The following weekend with the All Star Circuit of Champions at Eldora Speedway, D.J. gave Coomer Motorsports their first ever appearance in a main event at Eldora in the sprint car division against a strong field of 36 cars. After qualifying 14th overall and finishing 3rd in the heat race, he was able to make it up to the 11th finishing position after starting 14th in the A-main. Foos's home track of Fremont Speedway was up next again as the World of Outlaws were in town. Out of the 45 cars, D.J. qualified 25 overall and finished 6th in the heat race which had him lined up to start the B-main. D.J. was unable to advance to an A-main transfer position missing it by one spot after starting 5th and finishing 5th but was granted a provisional to be the 26th starter at the tail of the A-main. After the 40 lap main event, he was able to advance nine positions and finish in the 17th spot. In the final event of the 2014 season, D.J. made his first ever appearance at Atomic Speedway for the inaugural Open Wheel Championship featuring the newly formed Renegade Sprints series. Qualifying did not go as well as we had hoped after ending up 39th out of 53 cars. This would line D.J. up starting 7th in the heat race and after finishing 5th, he would have to go to the B-main. As the B-main got under way starting in the 19th spot, D.J. was one of the fastest cars on the track after Aj Havens and crew hit the setup for the B-main a lot better than in qualifying and the heat race. After making it up to a top 6 transfer position, D.J. was passing for 5th with three laps to go when the current 5th place runner made contact with D.J. sending him into the fence and ending the night.
Although the 2014 season has come to an end, the team will be busy preparing for 2015 and participating in various off-season events. Coming up on December 11-13 of 2014, Coomer Motorsports will make an appearance in the Aesthetic Finishers, Inc. booth at the Indianapolis PRI show where we will have a brand new car on display in booth 2039. After the PRI show, we will begin to assemble a racing schedule for 2015 as most tracks will be releasing their schedules during this event. As of now, you can anticipate to see us participating with various series such as the World of Outlaws, Renegade Sprints, and All Star Circuit of Champions in the broader Ohio region and surrounding states. If you cannot make it to the PRI show, you will also be able to catch our 2015 car on display at the Piqua Mall Racing Expo in March of 2015 right before the season gets under way. Don't forget to follow along and stay up to date with the latest news by liking us on Facebook or following us on Twitter.