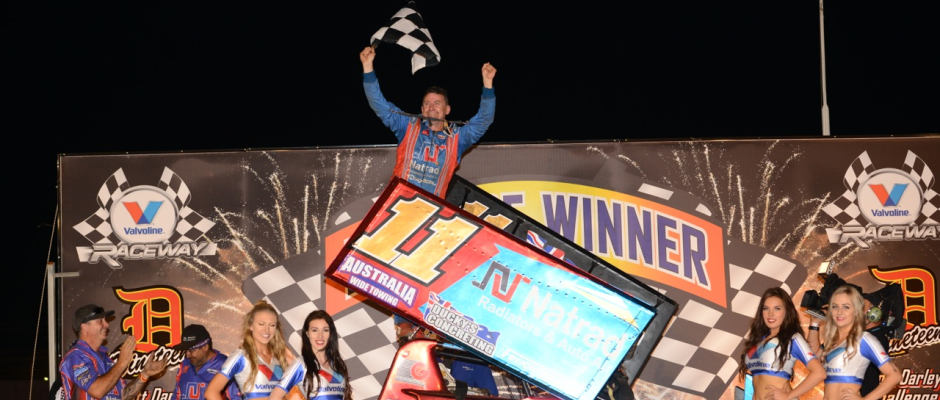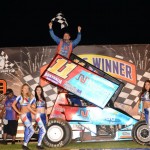 From Valvoline Raceway
Sydney, AU — (January 17, 2015) — South Aussie Trevor Green was a jubilant back-to-back winner of the Scott Darley Challenge tonight after romping home with the $19,000 winner's cheque at Valvoline Raceway in the 40 lap A-Main in his new colour-schemed Natrad #11 Maxim.
"Evergreen" led for much of the epic main event and almost succumbed to a sensational play for the top spot from Victorian Jamie Veal and NSW youngster Jackson Delamont in the last two laps.
Delamont had led for a large portion of the race in his Mad Harry's Steel #48 KPC in what was his best performance in his short career to date to hold off Brad Sweet, Green, Veal, Steven Lines and Brooke Tatnell in the early stages.
"He did a really good job," said Brooke Tatnell later of Delamont, "lately he's been a really fast car and he's improved so much since last year. To finish on the podium like this is such a great result for him and his Dad and Granddad. He made us all work really hard to try and get by. A podium finish in a field like this is a major achievement."
For Green, and his trusty motor "snowflake" it was a moment to stop and savor, and an incredible result for Sydney car owner Barry Lewis who now has three consecutive Scott Darley Challenge wins to his credit (two with Green and one with Ian Madsen in 2011).
"It's such an honour to win this race again," grinned Green on the podium, "Barry (Lewis) and I are just about broke, so it's great to get a good payday like this. We've had a shocking month so it's good to get a bloody win! I can't thank Barry Lewis and all our guys for a huge effort this month. We've been chasing our tails for such a long time but tonight we really got going and I knew we had a fast car."
Jamie Veal came on like gangbusters in the last five laps in his SWI Engineering Maxim, as did Delamont who clawed his way out of the fingertips of Lines and Tatnell to gather up the lead duo with the white lights flashing.
Veal threw several desperate attempts at Green using the cushion and almost pullet off the pickpocket victory as the chequers flew.
"We were probably a bit cautious in the middle of the race," Veal explained, "but then Trev slowed down a bit towards the end and I thought I'd better get rolling and have a crack. We almost got him, I wasn't going to let him have it easy."
Kerry Madsen bravely took the #D19 Challenge accepting the lure of double the $19,000 prize money if he could win the race from position #19 (a right he earned after winning Night One).
Passing was difficult from the tenth row of the grid and the American Racing Custom Wheels #29 fought bravely back to twelfth but was never really a factor for the win.
His electrifying drives from the night before however still lived large in every fan's memory regardless of the Saturday night finish.
The night was peppered with personal best performances from several drivers.
Pennsylvanian Danny Holtgraver really got going in the #36 Titan Garages Maxim and came from deep within the pack to score a rapid fourth place and almost nudge his way on to the podium with a handful of laps remaining.
The top four finish was a confidence boosting result for the Titan Team and the affable PA youngster.
Brad Sweet certainly had his chances throughout the race but an eventual fifth place after battling in a hectic pack for much of the 40-lap affair was all the talented Californian could muster in his final night at Valvoline Raceway for the season.
Steven Lines also showed blistering speed, particularly around the cushion in his #3 Halls Motorsport KPC where he consistently showed potential to claim the win before eventually succumbing in sixth.
"We had our chances for sure," Lines conceded later, "we were fast at times but we ran off the track in turn three and four and coughed up several positions that we had to scramble back for later. You can't lose positions like that in a field like this and not pay for it."
Brooke Tatnell was lively in the KMS #2 COOL and arm-wrestled his way throughout the top two, top three and eventually top ten for seventh in his final VR race this season also.
Muswellbrook's Andrew Wright's improvement since going out on the road with WSS was clearly evident with the #78 Hitachi entry looking very racy and qualifying into the Pole Shootout before eventually recording a career best eighth in the main event in front of his rabid and passionate fan club in the corporate area.
American Kyle Hirst rallied for a top ten finish in the Milwaukee Power Tools Monte Motorsport #17 and certainly had his chances.
"There were a couple times there where we really got going but it wasn't easy out there and we couldn't seem to move forward later in the race," conceded the Californian post race.
20 year old Sydney racer Matt Craft was superb in the Craft Differentials #86 looking the raciest he's been all season for an eventual tenth place finish behind Hirst with a result that probably belies just how competitive he was all weekend.
Ben Atkinson brought the #2 Pick n Payless J&J home in eleventh place behind Craft with Kerry Madsen in twelfth, Max Johnston in thirteenth and Jeremy Cross (who flew under the radar) placing fourteenth and getting some confidence boosting track time in A-Main trim under his belt.
South Aussie Dylan Jenkin faded to fifteenth by the chequers but throughout the weekend the classy South Aussie certainly showed his potential even though he was disappointed to get disqualified from the Pole Shootout for an alleged jump-start.
Blake Skipper finally seems to have mastered the differential problems that the One Steel #24 has been suffering and his sixteenth place finish in the main event was a just reward for what has been a season of frustration until now.
Americans Jason Sides and Jac Haudenschild were nineteenth and twentieth respectively.
DNF's were posted for Toby Bellbowen, Brent Aprile, Grant Anderson and Robbie Farr.
Steven Lines pocketed a cool $1900 for winning the most amount of Pole Shootouts thanks to KCP Racing (Ian Madsen's Des Moines Iowa team).
Trevor Green picked up the $1900 on offer for the Network Industry Quick Time and the spectacular trophy provided by Marty Perovich of the D19 logo.
Kerry Madsen picked up a further $350 from KCS catering for passing seven cars from his original #19 starting spot.
Ian Madsen unfortunately made the TV highlights reel for all the wrong reasons when he rode Jason Sides' right rear wheel in turn three in his heat race and flipped violently into the tyre wall, completely destroying his #10 D&B Goodyer entry in the process.
"I'm really sorry for Darren and Belinda Goodyer and Dave Sharman for destroying the car," he explained at the scene, "I was pushing really hard to get the transfer and got over Jason's right rear. We've had a great run with this car here and it's a shame we can't take it on to our next week down south."
Madsen actually returned later that night in a gutsy effort driving his team car of Callum Zizek in the C-Main but he struggled with the unfamiliar car and never really made an impact on the event from there.
Highlight of the night was many of the drivers carrying their helmets into the huge crowd on hand to collect contributions towards Garry Coleman's Motorsport Ministry – Valvoline Raceway are particularly grateful to the drivers and the fans for their time and effort in assisting this wonderful cause.
The biggest crowd of the 2014/2015 season was on hand to witness some courageous Sprintcar racing on the night in difficult hot conditions where the track team had to re-work the track several times.
"We apologise for the dusty conditions early in the night," said VR Managing Director Steven Green, "it was 40 degrees plus all day and to have so many cars here in those conditions plus racing last night made it very difficult to keep moisture in the surface. The racing was excellent despite the conditions and I'm proud of our team for working so hard and for our fans for being so patient."
Final finishing positions in the A-Main were:
1. Trevor Green (SA)
2. Jamie Veal (VIC)
3. Jackson Delamont (NSW)
4. Danny Holtgraver (USA)
5. Brad Sweet (USA)
6. Steven Lines (SA)
7. Brooke Tatnell (NSW)
8. Andrew Wright (NSW)
9. Kyle Hirst (USA)
10. Matt Craft (NSW)
11. Ben Atkinson (NT)
12. Kerry Madsen (NSW)
13. Max Johnston (NSW)
14. Jeremy Cross (NSW)
15. Dylan Jenkin (SA)
16. Blake Skipper (NSW)
17. Sam Walsh (NSW)
18. Jason Sides (USA)
19. Jac Haudenschild (USA)
20. Garry Brazier (NSW)
21. Toby Bellbowen (NSW)
22. Brent Aprile DNF (QLD)
23. Grant Anderson DNF (NSW)
24. Robbie Farr DNF (NSW)
The next event at Valvoline Raceway is on Saturday night, January 31.