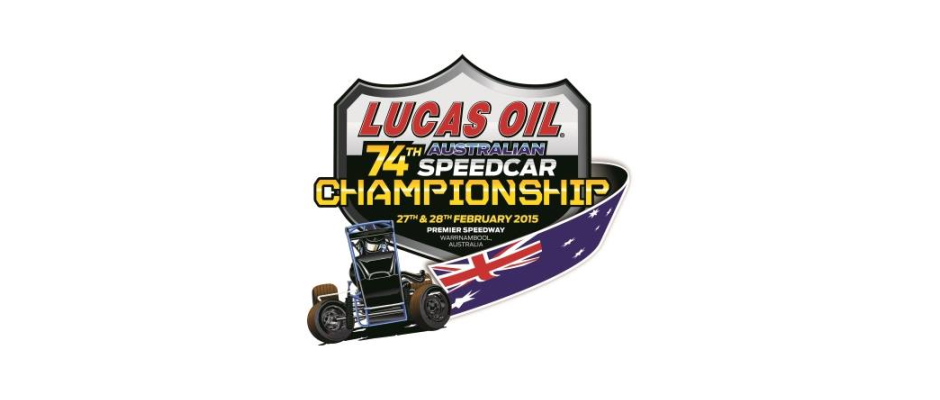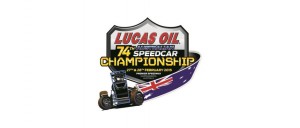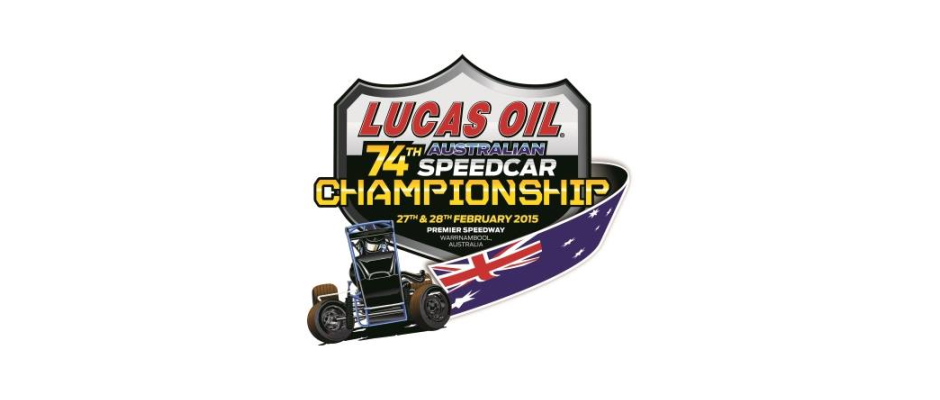 Warrnambool, AU — (February 28, 2015) — On a night that produced plenty of drama, simply to get the show in, Adam Clarke added his name once more to the long and illustrious list of Australian Speedcar Championship winners when he claimed victory in the 40 laps finale to the 74th Lucas Oil Australian Speedcar Championship.
After a warm and steamy day, Mother Nature decided that she would like to impart some of her finest work on Sungold Stadium as rain, thunder and lightning all reared their heads at one point or another.
With time slipping away the Management team at Premier Speedway made the call to give the event one last chance of being completed without requiring a return visit to the venue on Sunday, something that at one point looked a mere formality.
While some may have wish the meeting had of been postponed it was Clarke who was all smiles as he stood embracing a tirelessly hard working crew in victory lane post race.
Throughout a caution punctuated event Clarke withstood challenges from the likes of Tyler Thomas who rode around the high side of the early pace setter Clarke while fellow American Alex Bright was also in the thick of the action.
Nathan Smee was all class as he hounded the race leader, at times especially late in the race, guiding an ill handling car around a super quick Sungold Stadium.
Preliminary night feature winner Brendan Palmer was another to battle manfully as he was locked in a battle mid pack with the likes of Davey Ray, Matt Greenwood and Jerry Coons Jnr.
Ben Hall, Kaiden Manders, Travis Mills, Dayne Kingshott and Paul Farrell rounded out those who completed the grueling 40 lap journey.
The DNF's robbed the event of some of its biggest stars with the likes of Troy Jenkins, Todd Waddell, Nicholas Rowe, Domain Ramsay, Scott Wilson, Lee Redmond, Neville Lance, Anthony Chaffey and Gabe Goode on the infield. Goode in particular was the victim of a violent roll as he exited turn two. Thankfully he walked away.
Earlier in the night the final four heat race events were completed after a couple of aborted attempts to get the final nights program underway.
The heat wins and some valuable points went the way of Clarke, Tyler Thomas, Dayne Kingshott and Lee Redmond with firstly Thomas bettering the 10 lap record with a time of 2:09.56 before Kingshott went faster again with a 2:05.73 performance to etch his name into the record books.
The R&M Security and Lightning Clean Best Presented Car and Crew Award went to Victorian Travis Mills who as always turned out the V10 entry in immaculate style.
The Oval Express Hard Charger award went the way of New South Wales driver Mark Brown who made his way to fifth having originally started deep in the 24 car B-Main field.
Premier Speedway would like to thank Lucas Oil for their support of the 2015 Australian Speedcar Championship along with R & M Security and Lightning Clean for their support of the Best Presented Car and Crew and Oval Express Magazine for their generosity in supporting the Hard Charger award.
Feature:
1. A1 – Adam Clarke
2. N7 – Nathan Smee
3. WA4 – Alex Bright
4. Q42 – Tyler Thomas
5. N9 – Mark Brown
6. Q41 – Brendan Palmer
7. N42 – Jamie McKinlay
8. WA71 – Davey Ray
9. Q98 – Matt Greenwood
10. N14 – Jerry Coons Jr
11. SA71 – Ben Hall
12. WA11 – Kaiden Manders
13. V10 – Travis Mills
14. WA24 – Dayne Kingshott
15. V2 – Paul Farrell
16. W97 – Nicholas Rowe
17. W7 – Todd Waddell
18. Q25 – Scott Wilson
19. V97 – Gabe Goode
20. WA52 – Lee Redmond
21. WA14 – Nevile Lance
22. SA3 – Anthony Chaffey
23. V20 – Domain Ramsey
24. N78 – Troy Jenkins