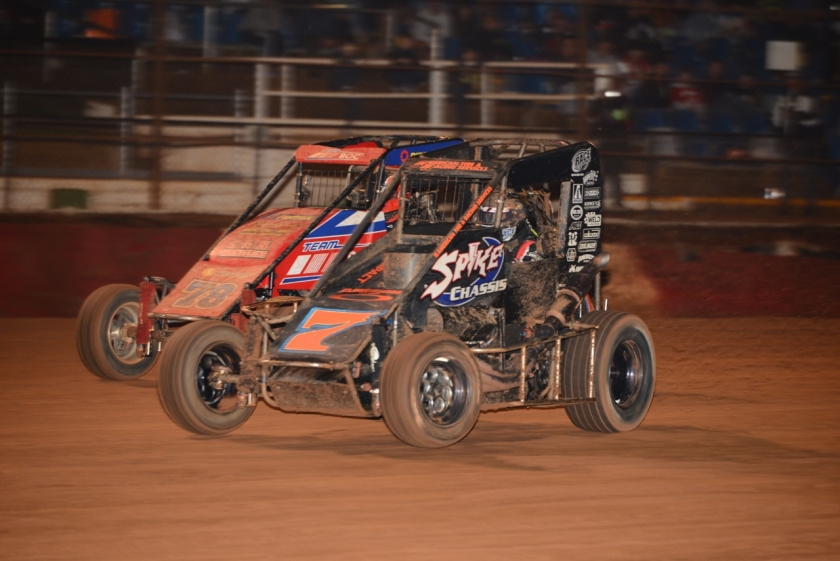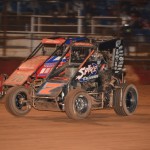 Sydney, AU — (April 10, 2015) — Never say that Nathan Smee gives up.
Ever.
Not even with a race that seemingly had gotten out of his grasp with a handful of laps to go did Smee let up on the throttle of his #7 Race Safety Spike and it paid off on the final two metres of the 30 lap Speedcar Super Series finale feature.
Adam Clarke led the greater majority of the race in his #1 Polar Ice entry after winning the IGA Liquor Plus Pole Shootout and starting on pole but Smee had other plans and pipped the multiple Australian champ by 0.010's of a second as the chequers flew.
"He got away at the start," said Smee of Clarke after the race, "I just kept persisting with the bottom but then I went to the top and I made a mistake with about six (laps) to go, but I didn't give up and just hoped when he went down the back straight he went to the bottom so I just gassed it as hard as I could around the top and it was just a luck deal. I didn't even know I'd won it really."
Clarke (who also set quick time in Qualifying) was disappointed but credited his archrival.
"Full points to Nathan, he deserves to win the series and he deserves to win tonight. I thought we had it but we just came up short and I'm just so grateful to this Jack Berry Polar Ice team for giving me such a great opportunity to race this car."
Matt Smith was a strong third despite the fact his #13 Precision Air XXX Chassis was a handful in the last half of the race.
"We were good early but I smacked the cushion pretty hard later in the race and I think that might have really changed the car. A couple of times it just snapped loose midway through the corner and that cost us speed. Nathan and Clarkie did a great job though."
Fourth place home was rising Canberra speedster Michael Stewart who registered what is possibly the fastest lap time ever clocked in a Speedcar around Valvoline Raceway with a sizzling 13.7750s pass on lap 20.
The youngster was certainly coming on as the laps wore down.
Darren Jenkins finished a strong fifth place in his #0 Stealth in a good effort despite the fact that it was only his fourth race meeting for the season whilst Queenslander Brett Thomas finished a gallant sixth in the Illuminated Industries #9.
Valvoline Raceway Sprintcar Track Champion James Thompson impressed a lot of people with 2nd fastest time in qualifying and an eventual seventh place in the main event driving the #6 Dominator Engines entry.
Jaimie McKinley was rapid all evening and placed eighth over Adam Wallis in ninth and Troy Jenkins tenth.
Eleventh home was Mitch Brien ahead of West Aussie youngster Nick Rowe twelfth, Glen Shaw thirteenth, 16 year old Braydan Willmington fourteenth, Dave Lambert fifteenth, Paul Murphy sixteenth, Scott Hill seventeenth, Gary Rooke eighteenth and Mark Brown nineteenth.
Rusty Whittaker, Matt Jackson, Reid Mackay, Michael Harders and Matt Hunter registered DNF's.
Hunter's race damage was a bitter pill to swallow for the Newcastle hard charger after he accounted for four battles in the Pole Shootout and earned the Woodstock Bourbon hard charger mantle.
The Litre Sprint Gold Cup honours went to Canley Vale accountant AJ McTaggert who successfully defended his title from last year with a polished and all the way win in the 20-lap final.
Lismore's Ethan Eyears was second ahead of Matt Reed third, Adam Burkey fourth, Chris Davis fifth, Dean Eden seventh and Brett Davies classified as the last car running in eighth.
DNF's went to Robert Taylor, David Atwood, Paul Freeman, Craig Transton, Matt Geering and Rodney Waters.
Brad Giffen was a jubilant winner of the NSW Legend Car Championship after enduring a race long challenge from the combination of Robbie Rawlings and Todd "the Weet Bix kid" Davey.
Giffen was able to weather the storm to lead home Rawlings, Davey, Glen Philpott, Harley Smee, Brad Rawlings, Rob Rawlings Sr, Michael Cook, Glen Arnold and Greg Morris rounding out the top ten.
The Street Stock main event saw Newcastle second generation racer John Lodge Jr claim his second consecutive feature win over Jay Davey in second place and NSW Champion Aaron Barnes third.
Lodge, the current Australian Champion, claimed he might just be able to make it a hat trick of successes when the Bryan Foyle Memorial is staged next weekend.
Next Saturday night sees the epic Speedcar 50 lapper with USA star Zach Daum and Kiwi superstar Michael Pickens added to an already stellar line up of cars.
The Caravan, Boat and Dunny Derby will also co-headline the show plus Legend Cars, Street Stocks and Fender Benders.